Ex-convict found guilty of trying to kill L.A. County sheriff's deputies in 2016, holding man hostage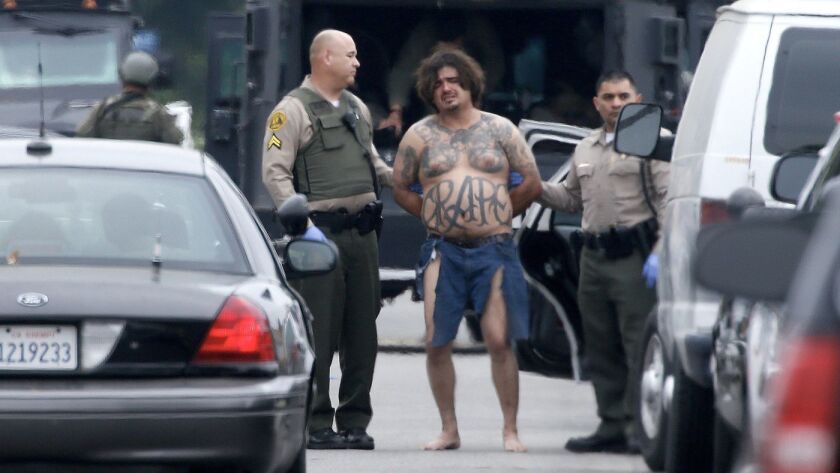 A Burbank man was convicted on Thursday of the 2016 attempted murders of six Los Angeles County Sheriff's deputies after he was stopped at a DUI checkpoint.
It took jurors only two hours to find 41-year-old Juan Manuel Martinez guilty of six counts of attempted murder, five counts of assault on a peace officer with a semiautomatic weapon as well as one count each of false imprisonment of a hostage, dissuading a witness by threat of force and possession of a firearm by a felon, according to the Los Angeles County district attorney's office.
Martinez, who has previously been convicted on drug and grand-theft charges, was driving through Bellflower on June 23, 2016, when he was stopped at a DUI checkpoint near Lakewood Boulevard and Oak Street.
Authorities said, at the time, that Martinez passed through the checkpoint but was then pulled over by a motorcycle officer. Martinez then stepped out of his vehicle and shot at the motorcycle officer, hitting the deputy multiple times.
The deputy then returned fire, but Martinez was not injured, according to a statement sheriff officials released after the shooting.
Martinez fired on more deputies as he fled from the checkpoint on foot, injuring another officer near Lisa and Laurel streets. He then hid in a guest home in the 9000 block of Mayne Street with a male hostage for eight hours.
Members of the sheriff's SWAT unit eventually used tear gas to force their way into the home and arrested Martinez, authorities said. The hostage was not harmed during the incident.
The injured deputies, Christopher Allende and Chad Vandenberg, were transported to nearby hospitals for treatment of their wounds.
Martinez faces a possible maximum of more than 200 years to life in prison and is scheduled to be sentenced on July 30.
Twitter: @Andy_Truc
---