Burbank Masonic Lodge to celebrate anniversary of Freemasonry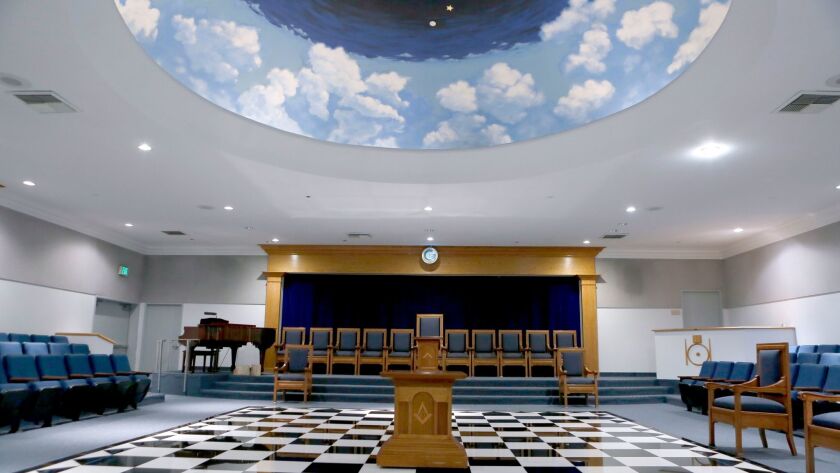 People have their choice to join many nonprofits and philanthropic organizations, but none has been in existence longer than modern Freemasonry.
Chapters all over the world, including the Burbank Masonic Lodge No. 406, will celebrate the 300th anniversary of the oldest fraternal organization, which was founded in 1717.
The local lodge, which has been around for more than a century, will open its doors to the community from 4 to 9 p.m. on Saturday for an open house, where there will be food trucks and displays showcasing the work that the organization does in the community.
Simon Lutterbie, the marshal of the local Masonic lodge, said that masonry originally had two sides to it — operative masonry, which was the practice of constructing buildings, and speculative masonry, which focused on the philosophical, personal development and symbolic sides of masonry.
"The two of those combined, and now, what we practice today is speculative masonry," Lutterbie said. "We aren't actually building physical buildings, but we're building stronger characters."
Freemasonry revolves around bettering one's self and trying to make the community around them better, which was something that drew Lutterbie, who has been a Mason for about four years, to the organization.
He said he always looked up to his grandfather and respected all the community work he did and the lifelong friendships he made with others. Lutterbie, 33, of Burbank, didn't find out until after his grandfather had passed away that he was a Mason.
When Lutterbie started looking into joining the Burbank Masonic Lodge, he said he started connecting the mission of freemasonry to his grandfather's actions.
"It was like meeting my grandfather all over again," Lutterbie said. "Suddenly, so much of who he was and so much of who my family was really fell into place. I realized this was something that I needed to be a part of."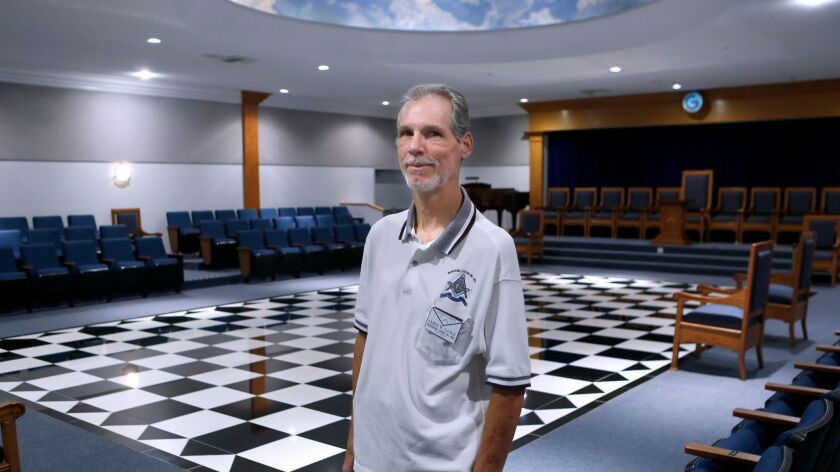 Jim Laage, the worshipful master of the Burbank Masonic Lodge, said he was looking for ways to give back to the community when he turned 60 years old in 2010 and his wife suggested masonry. Though her father and brothers have been worshipful masters — the head member of a lodge — Laage's wife knew nothing about the organization or what it entailed.
"It used to be that Masons didn't say anything about the organization, even to their family, but that has gradually changed," Laage said.
After learning about the mission and values of the organization, Laage decided to become a Mason shortly after his birthday and has been a member ever since.
Laage, who is now 67 years old and resides in Granada Hills, said that being a Mason has taught him how to see the world from other perspectives, which helps him look for ways to find solutions to issues and avoid getting into arguments.
"Rather than getting upset at someone, you just calm down and have a dialogue instead of contention with that person," Laage said.
Lutterbie concurred with Laage, adding that he tries to continue the level of service to the community his grandfather was able to give.
"It's important to recognize that we're a part of something larger and play what role we can to make it better," Lutterbie said.
The Burbank Masonic Temple is located at 406 Irving Drive, Burbank.
anthonyclark.carpio@latimes.com
Twitter: @acocarpio
---