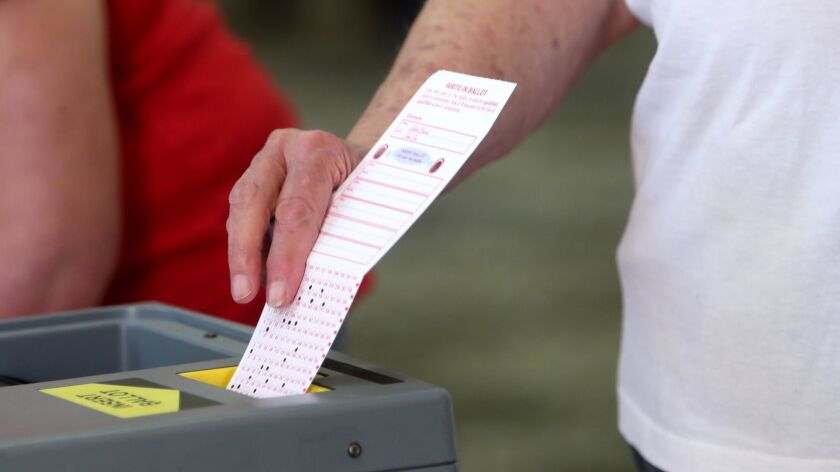 A parcel tax known as Measure QS, proposed by the Burbank Unified School District, appears to have been defeated Tuesday night because it didn't receive a two-thirds (67%) majority of votes to pass, according to Proposition 13 regulations.
It was expected to generate a little more than $9 million annually for the district.
With all precincts reporting, 16,354 voters, or 61.68%, supported the measure, while 10,161 residents, or 38.32% voted against it, according to unofficial results.
The 10-cents-per-square-foot annual tax on real estate property was estimated to have cost the average Burbank homeowner $170 a year.
In terms of funding breakdown, 48% of the tax money would have come from commercial properties, 35% from homeowners and 17% from owners of apartment buildings.
Senior citizens 65 and older who live on their property could have opted out of the tax, which would have had no termination date and could have only been repealed by voters.
The ballot wording for Measure QS said the tax was for "attracting and retaining teachers and staff; maintaining low class sizes in transitional kindergarten through third grade, expanding college and career courses; increasing mental-health support and increasing instruction in science, technology, engineering, arts and math programs."
If the parcel tax would have passed, the school board would have taken the next step in the process, which would be to create an oversight committee that would have been entrusted to monitor spending.
One group that has a lot at stake with the measure was district employees, who have received a one-time 3% raise tied to the parcel tax.
A "yes" vote, coupled with a 2% salary raise negotiated in October, would have given long-term faculty and staff a chance at gains after years of wage stagnation. Between 2007 and 2014, there were no raises and some furloughs.
Approximately $3.3 million of Measure QS dollars was slated to go to raises.
Other funding from Measure QS was designated to help repair musical instruments and purchase new band uniforms, while allowing for the hiring of new counselors, a custodian and a nurse.
Measure QS was the second city parcel tax the city of Burbank has attempted in five years.
A city sewer-and-refuse relief bill designated for seniors and low-income residents, known as Measure S, was soundly defeated, 56.43% to 43.57%, in 2013.
---