Man enters Burbank MMA studio with a gun, leaves handcuffed and bloodied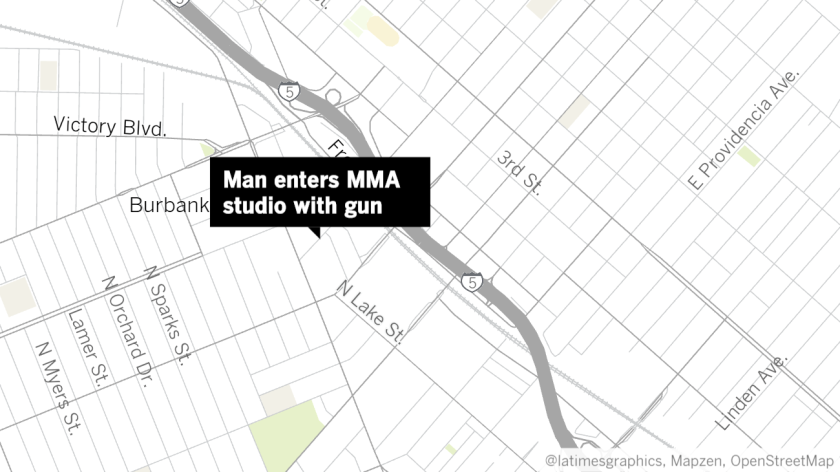 A man got more than he bargained for when he entered a Burbank mixed martial arts studio armed with a gun Tuesday night while a class was in session.
The incident occurred sometime around 9 p.m. at the Defiant MMA and Fitness studio at 146 W. Cypress Ave.
According to Sgt. Derek Green, a spokesman for the Burbank Police Department, the man entered the studio carrying a black bag and approached one of the instructors in a reportedly aggressive way.
As he reached inside his bag, a scuffle ensued between him and the instructor — 34-year-old Jacobe Powell.
Powell, a lightweight MMA fighter, told KTTV in an interview that he thought the man was reaching for a weapon, so his instincts kicked in to defend himself.
"[I] got the weapon away from him before the cops arrived," he said. "One of my guys who was training called the police, and I just subdued him until the police showed up."
News footage at the MMA studio showed the suspect with a bloodied face. He was placed into custody and transported to a nearby hospital.
Green said police recovered a loaded handgun from the scene, but no shots were fired. Although it's unknown why the man entered the gym with a gun, Green said the suspect and the gym instructor may know each other.
As of late Wednesday morning, the man had not yet been booked into a jail because he is still being treated at a hospital. Police have identified him as 30-year-old Matthew Lloyd of Los Angeles.
Lloyd was carrying a Virginia identification card at the time of his arrest, Green said.
He faces, at minimum, a charge for assault with a deadly weapon.
Twitter: @Andy_Truc
---
UPDATES:
Aug. 31, 2017; 2:50 p.m.: This article was updated with the suspect's name.
This article was originally published at 4:00 p.m. on Aug. 30, 2017.
---