Marshmallow bar Plush Puffs to hold grand opening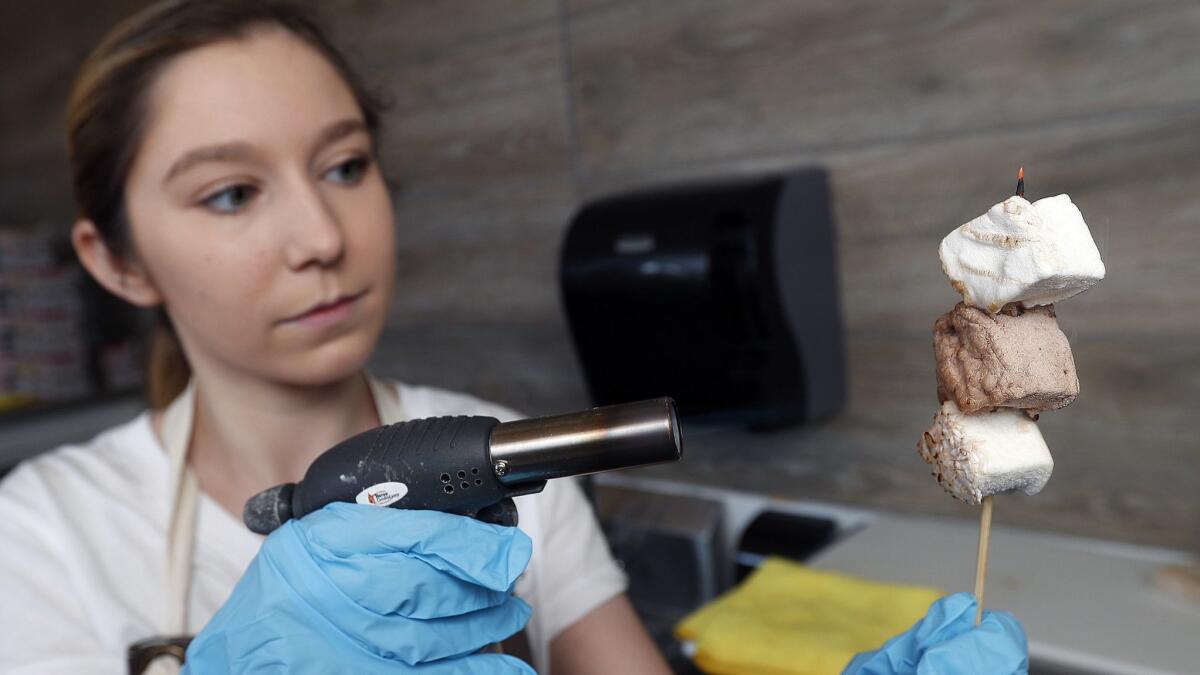 A new dessert experience in Burbank is looking to puff things up for customers.
Plush Puffs, a boutique marshmallow bar in Magnolia Park, opened over Labor Day weekend and is one of a few confectioneries in the county that offers an array of marshmallows in different flavors.
Ann Hickey-Williams, owner of Plush Puffs, said her brick-and-mortar business, located at 3811 W. Magnolia Blvd., sells 12 flavors of marshmallows including caramel swirl, chocolate chip and a s'more variant that has chocolate and graham cracker bits in it.
Additionally, customers can choose to have the marshmallows as is or they can choose to have them turned into a s'more. Hickey-Williams said people can choose their own combination of marshmallow, graham cracker, chocolate and toppings to make one-of-a-kind creations.
"It's a little bit like glamping but without going outside," she said.
Plush Puffs was started back in 2004 by Hickey-Williams after she decided that she should pursue her passion of healthy cooking.
Initially, the business was only an online retail store, where people could order her unique marshmallows in bulk.
However, Hickey-Williams said she had always envisioned her business to have a storefront and offer a make-your-own s'mores bar.
"You might as well go all the way," she said. "I wanted to go the nines with it."
Before starting her business, Hickey-Williams was a health education professor at the University of Southern California and had been teaching there for 10 years.
She said that raising her children and teaching full-time at the university became a difficult task, and she decided to fully dedicate her time to her children and her love of cooking.
Though there is still plenty of sugar in her marshmallows, Hickey-Williams said she focused on making her treats as healthy as possible.
There is no artificial flavoring used nor any high-fructose corn syrup, she said.
Though it has been open for about a month, Plush Puffs will hold its grand opening on Saturday.
"The community has been great and really receptive," Hickey-Williams said. "I'm so lucky to have my business here in Burbank."
anthonyclark.carpio@latimes.com
Twitter: @acocarpio