16-year-old pedestrian hurt after car collision near Burbank Porto's, police say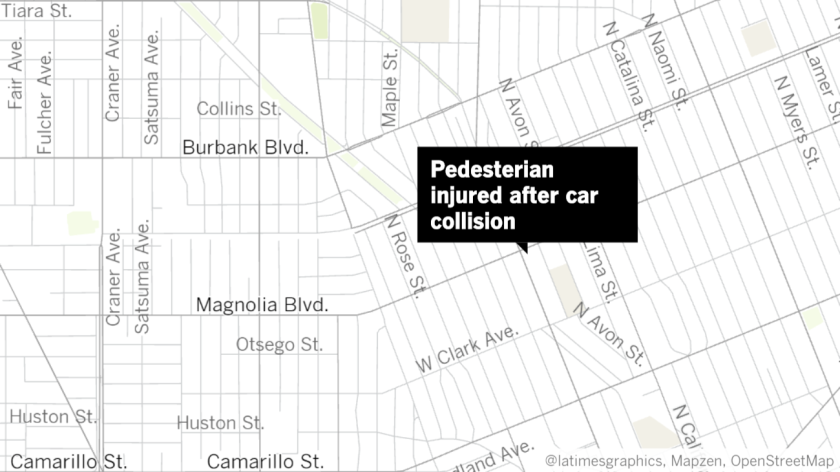 Burbank police are investigating a traffic collision in front of Porto's Bakery and Cafe Sunday morning that left a 16-year-old boy seriously injured.
The incident occurred around 9:35 a.m. when two cars collided at the intersection of West Magnolia Boulevard and North Hollywood Way.

For the record:
5:31 p.m. Nov. 30, 2021An earlier version of this story stated that the boy who was injured was 12-years-old, based on information provided by Burbank police. The boy is 16-years-old.
Sgt. Derek Green, a spokesman for the Burbank Police Department, said one of the vehicles was traveling westbound on Magnolia when it made a turn south onto Hollywood Way. It turned in front of a second vehicle, which was traveling eastbound on Magnolia.
Green said the resulting collision caused one of the vehicles to spin-out and jump onto the curb in front of entrance to Porto's. A 16-year-old boy was standing on the sidewalk at the time and was struck by the vehicle.
The boy suffered serious injuries and was transported to a local hospital.
Alcohol and drugs were not factors in the collision, Green said.
Twitter: @Andy_Truc
---
UPDATES:
Sept. 19, 2017; 11:20 a.m.: This article was updated with additional details about the crash and the boy's actual age.
This article was originally published on Sept. 17, 2017 at 11:20 a.m.
---