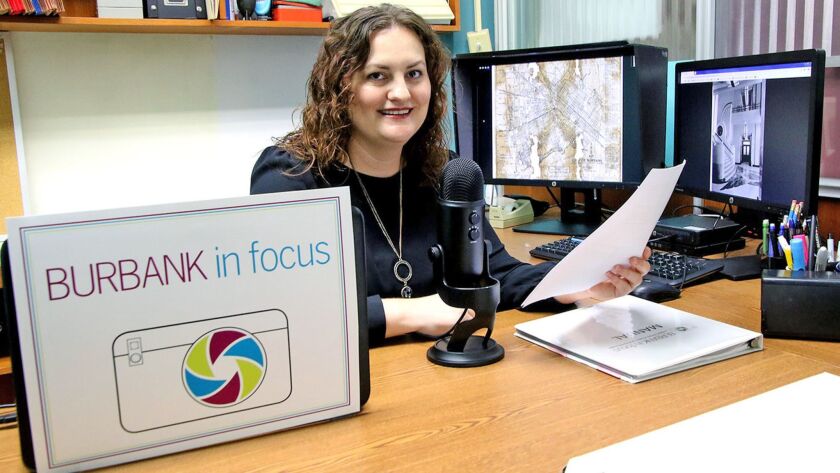 The Burbank Public Library is working on a compilation of short stories that will not be published in a book, but instead be available through wherever people get their podcasts.
Earlier this month, the library launched rememBURBANK, a monthly podcast hosted by history librarian Janae Kambestad, who tells short stories — about 10 minutes in length each — about significant and interesting events that have occurred in Burbank.
The inaugural episode was about President John F. Kennedy attending the John Burroughs High School prom in 1963, an event that Kambestad did not know about and found interesting.
"I stumbled across, through the digital public Library of America, these photos of JFK at the prom," Kambestad said. "Why did he go to this prom? There was no explanation."
Curious about the photos, Kambestad started doing research about the event and found out that John Burroughs school officials had booked the ballroom at the Beverly Hilton. However, the president was going to be at the hotel at the same time as the prom, but for a fundraiser for the State Democratic Central Committee, and a new location needed to be found for the prom.
When the hotel told the students they needed to move their event to accommodate the president, many of the students were upset.
One of the students told her uncle, who happened to work for the Los Angeles Times, and a story ran about how Burroughs students were being displaced because of the fundraiser.
Word about the prom finally reached President Kennedy, who decided that the fundraiser would be held in a smaller conference room at the hotel and allowed the high school students to use the ballroom.
As a gesture of kindness, the students invited Kennedy to their prom. The president accepted and spent a few minutes at the event, thus resulting in the photos.
After learning about the president at the prom, Kambestad started finding out about other stories that have taken place in Burbank over the years and thought that sharing them through podcasts would be a great way to engage with the community, especially history buffs.
She pitched the idea to the Friends of the Burbank Public Library, and the organization's members loved the idea. They gave her a grant to pay for recording equipment to turn the idea into a reality.
As a self-proclaimed podcast junkie herself, Kambestad said she was excited to create her own podcasts after years of listening to others.
"To listen to a story is a lot different than to read a story," she said. "There's room to add more to a story. If I wrote [the Kennedy story] in a blog piece, I couldn't have added the recording of JFK at the prom in the story. I could have linked to it, but that's just an extra step that readers would have to do."
rememBURBANK can be streamed and downloaded on Apple Podcasts, Spotify or other streaming services.
Support our coverage by becoming a digital subscriber.
anthonyclark.carpio@latimes.com
Twitter: @acocarpio
---