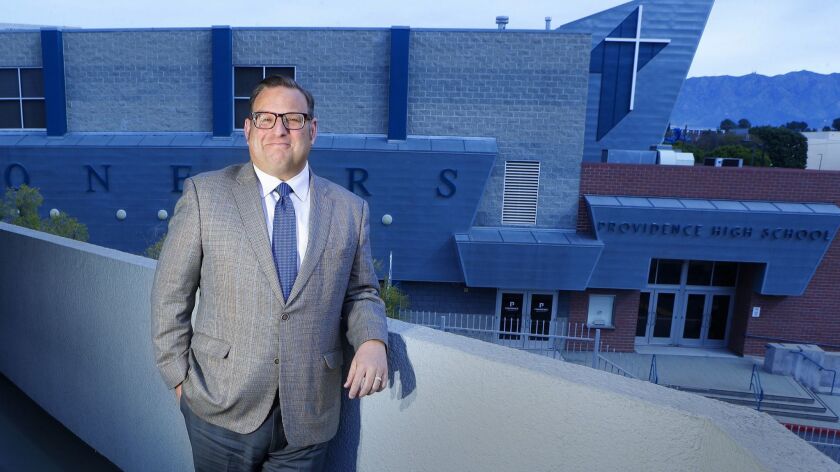 On a recent overcast late Friday afternoon, Providence High School's head of school Joe Sciuto walked around a ghost town of a campus.
No students were to be found, with most having gone home for the weekend and others at a track and field meet in Simi Valley.
There were only hints of noise as Sciuto made his rounds, finally stopping by a packed multipurpose room.
Inside, one person held the attention of teachers and faculty who asked questions and listened intently.
It was then a reality washed over Sciuto.
"At that moment, I thought, 'that's not me leading a meeting, that's someone else getting an interview,' and it started to hit me," he said. "My time with Providence would soon come to an end."
Sciuto, 52, was witnessing a candidate interview for his position before his time at Providence ends June 30, when the Topanga resident will bow out after eight years that saw revitalization and growth at the school.
Providence High has narrowed its list of finalists for a new head of school to three, with school tours and question-and-answer sessions wrapping up this week.
A selection announcement is expected by the end of the month, and the new head of school is expected to start July 1.
"One of things I'm most proud of is our ability to continue the legacy set by the Sisters of Providence, who started [the school] in 1955," Sciuto said. "Our success is based on finding that niche and knowing what people are looking for."
Sciuto added, "It's really important that you have a culture and a climate of a school that is welcoming, safe and educational."
As for Sciuto, he'll be heading to Pasadena Mayfield Junior School, where he will be head of school at the elite middle school.
"It was a really difficult decision because I love this school, I love this community," said Sciuto, who along with his wife, Marcie, have put Providence in their living trust. "As a Catholic, I wanted to be in a Catholic school environment, but I was also looking to be in smaller, independent Catholic school mode, and Providence completely provided that."
Sciuto added, "Now, it's on to new challenges."
In a letter sent to parents in November, Stuart Posin, chair of Providence's board of regents, credited Sciuto with helping revitalize the school.
"When Mr. Sciuto began his leadership of our school, Providence was struggling in its finances, enrollment and reputation," Posin wrote. "Under Mr. Sciuto's steady and strategic leadership, we have increased our enrollment by 23% and improved our educational offerings, facility and financial position."
Posin added, "In eight short years, Providence has transformed into a selective school while not losing focus on our wonderful Mission due in large part to Mr. Sciuto's warmth and dedication."
Sciuto also helped usher in a new era, as Providence adopted a headmaster-principal co-leadership model before the 2014-15 school year when it welcomed alumnus Allison Castro as principal.
While Castro handled day-to-day operations and oversaw faculty, Sciuto worked on long-term strategic planning, fundraising and community outreach. Previously, Sciuto had handled all of those duties.
"It's been an absolute joy to lead alongside Joe," Castro said. "He's a great human being, a joyful leader, and he's got quite a sense of humor and genuineness in his everyday interactions. It's been a real pleasure, and he's going to be dearly missed."
Sciuto not only saw potential in Providence as a school but also in its faculty, staff and administrators, including four years ago when he hired Ernest Siy — at the time the athletic director at Holy Family High School — for a position away from the court.
"He hired me. He brought me in. He guided me, and I learned school discipline," said Siy, Providence's dean of students. "So when I say he's been a mentor, it's because he been a very good leader in moulding me into an administrator, and I couldn't be more grateful. He won't be replaced."
---