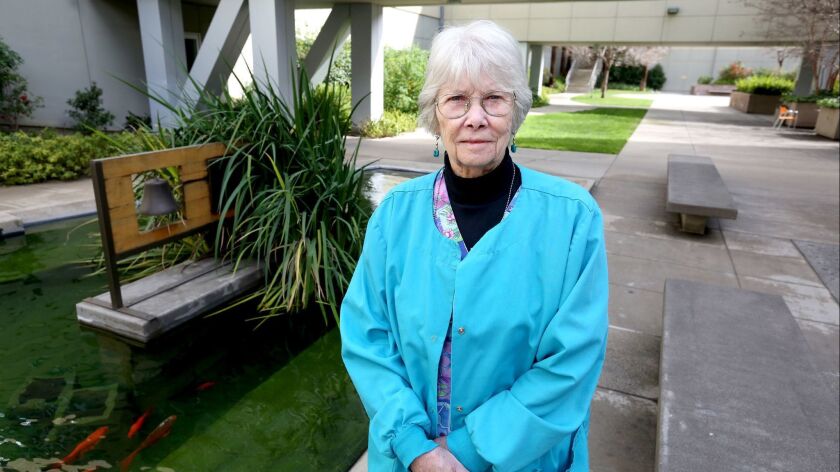 Providence St. Joseph Medical Center in Burbank has gone through many changes over the past 75 years, but several longtime employees and volunteers say its values and level of service have remained the same.
The hospital celebrated its 75th anniversary this past Friday and, coincidentally, the medical facility at 501 S. Buena Vista St. started the day the same way it did when it first opened in 1944, which was by delivering a healthy baby.
St. Joseph started off as a single-story hospital with a small staff and cared for 7,000 patients during its inaugural year. Today, the hospital has four multistory buildings, with 393 beds, 731 physicians and more than 400 volunteers.
Kathryn Warner, a senior surgery scheduler at the hospital, has been an employee at St. Joe's for 53 years. Warner, a Burbank native, recalled when the front area of the medical facility was a parking lot and when open-body surgeries were commonplace.
Now, surgeons often perform laparoscopic surgeries — making a small incision and using a camera to aid in the procedure — and the length of stay at the hospital has been reduced.
"Within the last 20 years, a multitude has changed as far as what we're capable of doing," Warner said. "Years ago, if you had cataract surgery, you had to lay straight for like 10 days with sandbags at the side of your head so you wouldn't move. Now, you just go to your doctor, have the procedure and leave the same day. That's just amazing."
Next to Warner was Ollie Vick, a 55-year volunteer for St. Joseph. She, too, remembered the hospital during its early years. She started her volunteer work in the front lobby and now focuses her time on fundraisers and the gift shop.
Vick agreed with Warner, saying community need has become greater than ever. Even though she is 95 years old, Vick continues to put in hours to make sure the hospital and its patients have what they need.
"People used to make fun of me because I worked so much here for nothing," Vick said. "They had no idea I got more back than I gave."
She added that St. Joseph volunteers have helped raise more than $2 million for the hospital over the years and have recently pledged to raise $1 million for a new emergency department.
Warner and Vick each have been at St. Joe's for more than half a century, and agree the reason they've stayed is because of their relationships with patients, physicians and other employees and volunteers.
"We made friends with our staff, and if we needed them, we would call them," Warner said. "I still get calls from people who have left here asking me for tips on how to help their patients. We want to make sure that every patient gets the best care possible."
Vick said she's proud of having been a part of the hospital's 75 years of service and hopes to continue helping the facility be the best it can be.
"It's just been a joy to be here," Vick said. "We've done well, and we're happy to have done it, and we'll continue to do it."
anthonyclark.carpio@latimes.com
Twitter: @acocarpio
---