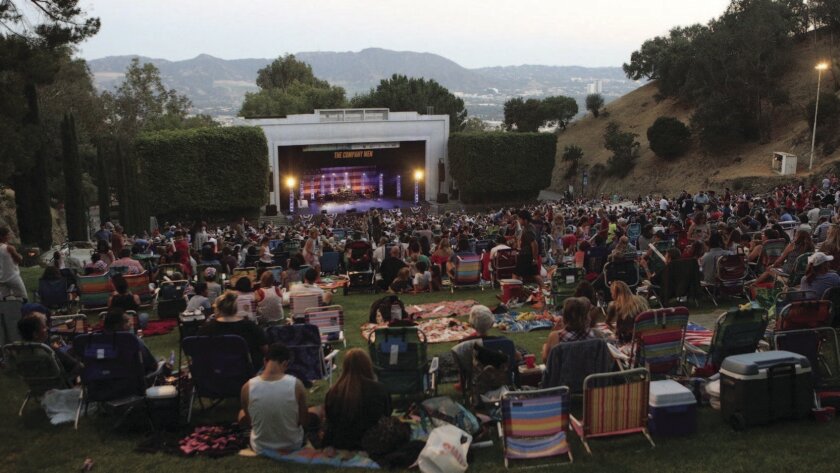 Among music venues, the Starlight Bowl in Burbank is considered to be a hidden gem.
While the facility is known for hosting the city's annual Fourth of July celebration and as a place to catch entertaining cover bands, Burbank officials hope this year's expanded summer concert series will help put the outdoor theater on the map.
This summer, the city's Parks and Recreation Department is working with two concert promoters — L.A. Concert Group and Sterling Venue Ventures — to present 12 concerts at the Starlight Bowl, located at 1249 Lockheed View Dr. in Burbank.
Last year, there were only about eight concerts and events at the outdoor venue, said Kristen Smith, deputy director of the department.
City Council members in December entered into an agreement with the promoters to expand the concert series at the Starlight Bowl, which the city owns. Burbank officials have been looking forward to the project for several years, Smith said.
"We're extremely excited about offering this expanded season," she said. "It gives a variety of offerings for the community to enjoy."
Upcoming concerts include performances by Big Bad Voodoo Daddy, which will kick off the series on July 4, and later John Waite and the Beatles tribute band the Fab Four.
Additionally, L.A. Concert Group and Sterling Venue Ventures have booked Kenny G, Tower of Power, Average White Band, Kris Kristofferson, Air Supply and Ara Malikian for local performances.
Smith said the series' goals are to provide family-friendly entertainment for residents and, more importantly, to learn which event-organizing approaches work best for the city and to reinvest revenues that are generated into the venue.
She said city officials will take different approaches in event organizing depending on which entity is presenting a show.
If it's a city-sponsored concert, city staff members take a hands-on approach, but Smith said that can be taxing on employees.
On the other hand, Sterling Venue Ventures will bring in its own team to handle every aspect of the event — from ticketing to concert operations. Some city staff members will be at those performances to make sure the event runs smoothly, Smith said.
When L.A. Concert Group organizes an event at the venue, it will be more of a collaborative effort between the two entities, Smith said, in which the city will provide staffing for functions such as ticketing, while the promoter will run the actual performance.
"We're able to use different business models, which will give us valuable insight into what's best for our resources moving forward," Smith said.
She added that the Parks and Recreation Department will use the information gathered during this summer's concert series to determine which type of event organizing works best for the city and venue.
"This will be a year of learning," Smith said. "Maybe we'll stick with this hybrid approach, where [the city puts] on its summer concerts and has a hands-off approach when we have outside operators that we trust."
For concert and ticket information, visit starlightbowl.com.
---