Several Burbank residents cheered and wept tears of joy after City Clerk Zizette Mullins tallied the votes supporting a request to add stop signs at two intersections along Edison Boulevard.
After about two years of residents telling the Burbank City Council about the numerous accidents they've witnessed or been involved in near the intersection of Edison and Evergreen Street, council members on Tuesday unanimously voted to direct city staff to draft a resolution to create a four-way stop at Edison and Evergreen and a multi-way stop where Oxnard Street meets Edison and Valley Street.
"It's a no-brainer as far as I'm concerned," Mayor Jess Talamantes said.
Additionally, bicycle lanes are proposed to be added on Edison from about Clybourn Avenue to Burbank Boulevard. According to city traffic engineer Ken Johnson, the bike lanes would push motorists closer to the center median and make it easier for drivers trying to turn onto Edison to see oncoming traffic.
I feel like something has been lifted off me, and I can breathe a little bit better.
Burbank resident Sandy Costantino
Councilman David Gordon was close to voting against the motion because he did not think bicycle lanes add any safety to motorists.
"I'm definitely supportive of the stop signs," he said before his affirmative vote. "I've got issues with the bike lanes, but given the nature of the situation, I'll support it."
City staff suggested council members approve installation of bike lanes on the street, but did not support the stop signs because the street doesn't meet requirements for them. According to a traffic study done in 2015, the street had only two recorded crashes in a 12-month period and that it was not heavily traveled.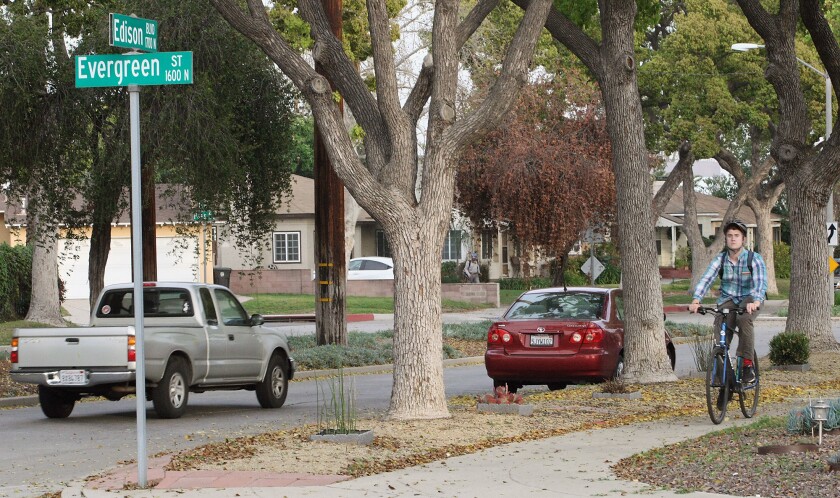 However, residents in the area have said for about two years that there is an accident or close call at the intersection of Edison and Evergreen almost every week.
About 10 residents told council members during public comments about the various incidents they have seen or heard at the intersection for the past few years.
Resident Bill Sebastian showed those in the council chambers a video he recorded of him driving south on Evergreen as he tries to make a left turn onto Edison. As he slowly rolled forward onto Edison, another vehicle traveling at a high rate of speed drove toward Sebastian, who would have been T-boned by the other car had he driven out any farther.
"I ask you tonight to use your common sense and common sense of decency and install stop signs, visible crosswalks and appropriate signage to inform drivers of the new features," Sebastian said.
For Charlie and Sandy Costantino, the unanimous support for the stop signs provided them with closure. In March 2014, Sandy Costantino was driving through Edison and Evergreen when another vehicle hit her at a high rate of speed and caused her vehicle to spin multiple times.
She suffered a broken neck that night and since then has had to have her shoulder replaced, has had surgeries on her vocal chords and soon is going to have knee surgery. Charlie Costantino said that his wife's medical bills are roughly $750,000.
After Mullins called for the vote, the couple embraced each other and cried. For about two years, they have asked the city to install stop signs on Edison and have been denied multiple times by the Transportation Commission.
Sandy Costantino, who has avoided the intersection since her accident, said that now she can relax a little bit, knowing that she and others who drive through that intersection will be safer soon .
"I feel like something has been lifted off me, and I can breathe a little bit better," she said.
--
Anthony Clark Carpio, anthonyclark.carpio@latimes.com
Twitter: @acocarpio
---