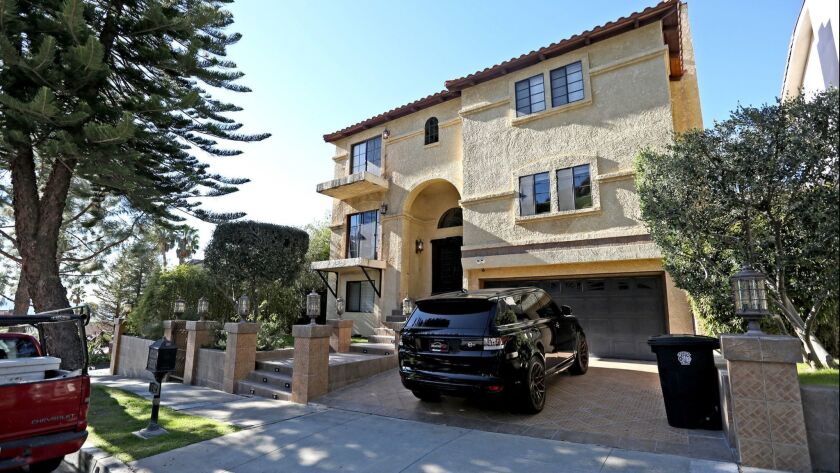 Federal authorities allege that two men made more than $25 million over the span of five years in a cellphone unlocking scheme targeting T-Mobile devices.
Argishti Khudaverdyan, 41, of Burbank, and Alen Gharehbagloo, 40, of La Cañada Flintridge, were arrested Monday morning and charged with multiple felonies, including wire, bank and computer fraud, money laundering and conspiracy to commit wire fraud.
Federal officials said they plan to seize more than $2.5 million from several bank accounts belonging to the men and homes purchased with proceeds from the alleged fraud.
The operation spanned August 2014 to January 2019, according to the U.S. Attorney's Office. The accused pair allegedly told customers that T-Mobile granted them the authority to unlock its devices.
T-Mobile and the other major carriers sell devices that only work on their own networks. A customer can take an unlocked device and use it to sign up for service with a different carrier.
Khudaverdyan and Gharehbagloo advertised their unlocking services online and by email solicitations and referrals. They would also reactivate cellphones that were reported lost or stolen, according to the charges.
Authorities said the two gained the ability to unlock phones by illegally obtaining T-Mobile employee credentials. Khudaverdyan allegedly sent phishing emails made to look like official T-Mobile correspondences to the employees, who would log into a fake company webpage, where he would harvest their information.
In turn, according to the attorney's office, the men used that stolen employee information to unlock phones. Authorities said the men also had help from a co-conspirator to use the Wi-Fi access points in T-Mobile stores to log into an internal company network with the stolen employee credentials. From January to June 2017 Khudaverdyan and Gharehbagloo briefly co-owned a T-Mobile franchise store in the Eagle Rock Plaza as well.
The men used the profits from the scheme to purchase real estate in Burbank, Northridge and La Cañada Flintridge, authorities said.
In late January, agents from the Federal Bureau of Investigation and U.S. Secret Service conducted an early-morning raid on two homes connected to the men.
If convicted, Khudaverdyan faces a maximum of 237 years in federal prison. Gharehbagloo face a maximum of 235 years.
---