John Burroughs High student selected as clarinetist for Los Angeles Youth Orchestra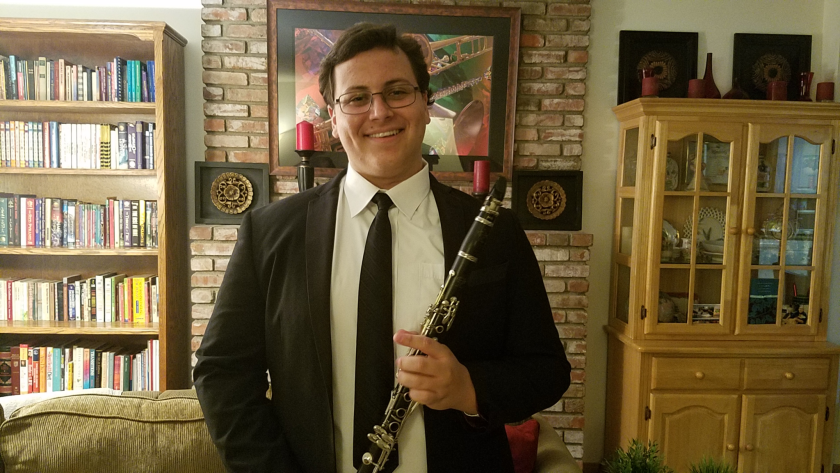 Although he's been playing the clarinet for only a little more than a year, a John Burroughs High School junior was selected last month as one of four clarinetists in the Symphony Orchestra of the Los Angeles Youth Orchestra.
Turner Perez, 16, auditioned for a seat in the advanced group at the Encino Community Center on Aug. 20 after being encouraged by his teacher Marcus Eley, a professional clarinetist.
Turner said he felt confident in his newfound skills even though he's been playing for a limited time. He currently plays tenor and baritone saxophones at Burroughs High.
The audition required Turner to play orchestral clarinet excerpts from Aaron Copland's "Hoe-Down" and Antonín Dvořák's "Carneval Overture" as well as scales and sight-readings, where a musician reads and plays music in an arrangement they've not seen before.
He said he was slightly nervous on his way to the audition, but that soon changed once he walked into the practice room.
"When I heard the other players play, I thought 'I should be here,'" he said during a phone interview.
At the end of his audition, he said he had an inkling he snagged a spot based on feedback he received, and he walked out with a smile.
A few days later, his mom received a call from the youth orchestra notifying her that Turner had earned a spot in the clarinet section.
"I'm elated that he will be part of [such] a prestigious symphony as the L.A. Youth Orchestra," Kimberly Perez said. She credited Eley's support of her son as a main reason why he was successful in his audition.
Turner's Sundays will now be dedicated to rehearsing with the youth orchestra along with other young musicians from more than 60 schools throughout the Los Angeles area.
He will practice alongside faculty, perform in concert halls and work with visiting "world-class guest conductors," according to the Los Angeles Youth Orchestra's website.
Turner said he is looking forward to performing at UCLA and at the Ambassador Auditorium in Pasadena in November. Once he graduates from high school, he said he plans to continue studying music at the Colburn School.
Twitter: @vegapriscella
---