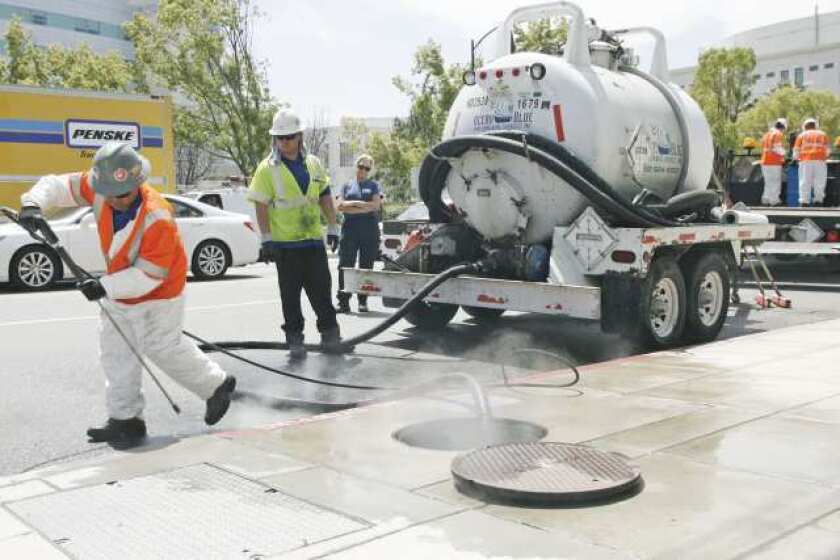 A spill of about 150 gallons of diesel fuel on Alameda Avenue on Wednesday prompted an eight-hour road closure after some of the fuel entered a storm drain, creating the potential for explosion or fire.
Burbank police closed streets around Alameda at Buena Vista Street just before 8 a.m. to clean up the spill. Los Angeles County hazmat crews were called in to assist after authorities discovered that about 36 gallons of fuel had entered the county storm drain system, delaying a cleanup that was initially planned to take just a few hours.
The incident began at about 6:45 a.m. Wednesday, when the drive shaft of a fuel tanker truck broke, "causing damage to the off-load pipe that unloads fuel from the truck," Burbank Police Sgt. Darin Ryburn said.
The damage was between the tank and shut-off valve, so the driver was unable to control the fuel that began to leak out, Ryburn said.
The driver pulled over and called police when he realized there was a problem, he said.
About 150 gallons of fuel was lost and roughly 3,500 gallons of fuel was transferred to another fuel truck that arrived to assist, Ryburn said.
The street closures included westbound Alameda Avenue at Buena Vista Street and southbound Frederic Street to Alameda Avenue, according to police, who said streets were reopened by about 1:30 p.m.

---