The expectations with the Providence High boys' basketball program remain high this season.
The Pioneers are hoping to build on a wildly successful 2018-19 campaign that saw them earn a title in their first season in the Prep League, advance to a CIF Southern Section championship game and earn a spot in the state regional semifinals.
However, things will likely get a bit tougher for the Pioneers come playoff time, as the team has been moved from Division IV-A to III-A after the CIF realigned its divisions in the off season.
At Burbank, the Bulldogs will look to get back to the CIF playoffs under a new coach, veteran Sid Cooke.
For Burroughs, the Indians will look to get back to the playoffs after missing the postseason a year and improve on their league finish last season. The team returns three starters.
Here is a closer look at the teams.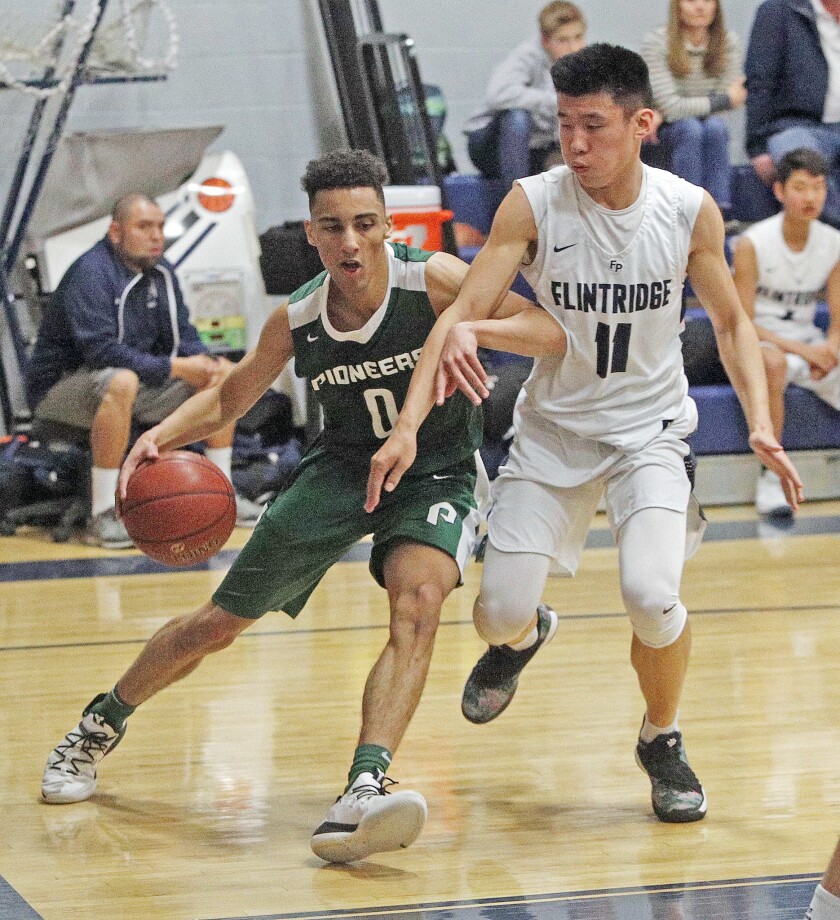 PROVIDENCE
In was an impressive inaugural Prep League showing for Providence, which went undefeated (8-0) in storming to a championship.
Providence (28-8) enjoyed a lengthy playoff road to the CIF Southern Section Division IV-A championship game. However, for the top-seeded Pioneers, their quest for their first basketball title fell short in a 56-45 loss to Ribet Academy.
On its way to the championship game, the Pioneers bested Foothill Tech, 84-45 in the opening round, Pomona, 77-64, in the second round, Wiseburn-Da Vinci 75-49 in the quarterfinals and No. 4 Orange Vista, 73-54, in the semifinals.
Behind the All-CIF trio of A'Jahni Levias, Jordan Shelley and Bryce Whitaker — the Burbank Leader Boys' Athlete of the Year — the Pioneers extended their season in the Division IV CIF State Championships as the No. 2 seed.
The team convincingly won their first two rounds of the state championships, but their run was halted in the regional semifinal at home against third-seed Silverado with a 50-41 loss.
The Pioneers defeated Roybal, 73-33, and seventh-seed Independence, 64-58, to book a spot in the regional semifinal.
Shelley averaged16.8 points and five rebounds per game, Levias contributed 13.8 points and nine rebounds and Whitaker recorded 9.9 points, 4.6 rebounds, 5.1 assists and two steals.
Those three players all return this season for their senior campaigns for Providence, as the expectations remain high for the program.
"After last season, we want to continue to grow the program and we want to continue to have the success, so our expectations remain very high," Providence coach Brandon Lincoln said. "We just need to take the necessary steps to continue to get better as the kids grow and mature.
"We want to go out and face the challenges, and that means playing a tough schedule to get us ready. Even if sometimes we have to face adversity, we can definitely learn from that and really make the most of those challenges."
Another key returner is junior Collin Ferrell, who will be joined by seniors Andrew Dabbaghian and Michael Joanou. Two newcomers who could make an impact after the sit-out period after transferring from Golden Valley are juniors Cameron McRae and Braxton Williams.
Lincoln expects a tough time in league and realizes the postseason will be more competitive after the move up.
"Our league is going to be challenging," Lincoln said. "It's going to be definitely something that we're going to have to prepare for. We were the new kids on the block last year and I know they all want to knock us off this year.
"We know this new division is definitely a step up for us. I tell the guys that I'm not sure that we do the same thing that we did last year, but we want to do everything that we can to go as far as we can this season."
BURBANK
Cooke, a former longtime coach at Renaissance Academy and most recently an assistant at Glendale Community College, brings a wealth of experience to the Bulldogs.
Under former coach Ernest Baskerville, Burbank went 17-12 and had an 8-6 record in the Pacific League a year to finish in fourth place.
In the CIF Southern Section Division II-A playoffs, the Bulldogs fell in the first round to La Cañada, 57-43. La Cañada went on to advance to the division championship game.
The Bulldogs' best player from a year ago, Miles D'Agostin, graduated. Last season, D'Agostin earned All-CIF Division II-A second-team honors after averaging 26.3 points a game.
"I came in at the end of August, so I didn't have summer with this team," said Cooke, who won two CIF championships at Renaissance Academy. "The kids have been trying and putting the work in, but I just think the transition has been different for them with having to learn some new things. But we have to be patient.
"We have a lot of young guys, some guys from JV who will have to come in and step up. As a whole, they did pretty well on JV and soph-frosh, but they didn't play up so they are going to have to get used to the varsity level.
Returning this season for the Bulldogs is senior Ben Burnham, who is coming off a successful football season. Also returning are seniors Leo Tahmasian and Kevin Sarkes, along with junior Abiel Pearl. Cooke also said junior Vartan Avetisyan is much improved.
"I have played all the teams in the Pacific League before over the years, so I know what to expect," Cooke said. "But that's the past and we have a new program this year. I know some of the kids at Glendale and they will be good this year. Crescenta Valley is always good and Pasadena is good as well.
"I think we are just looking it at the standpoint of just getting better each game. We are still learning to stay together, so we just want to stay positive and still play our game."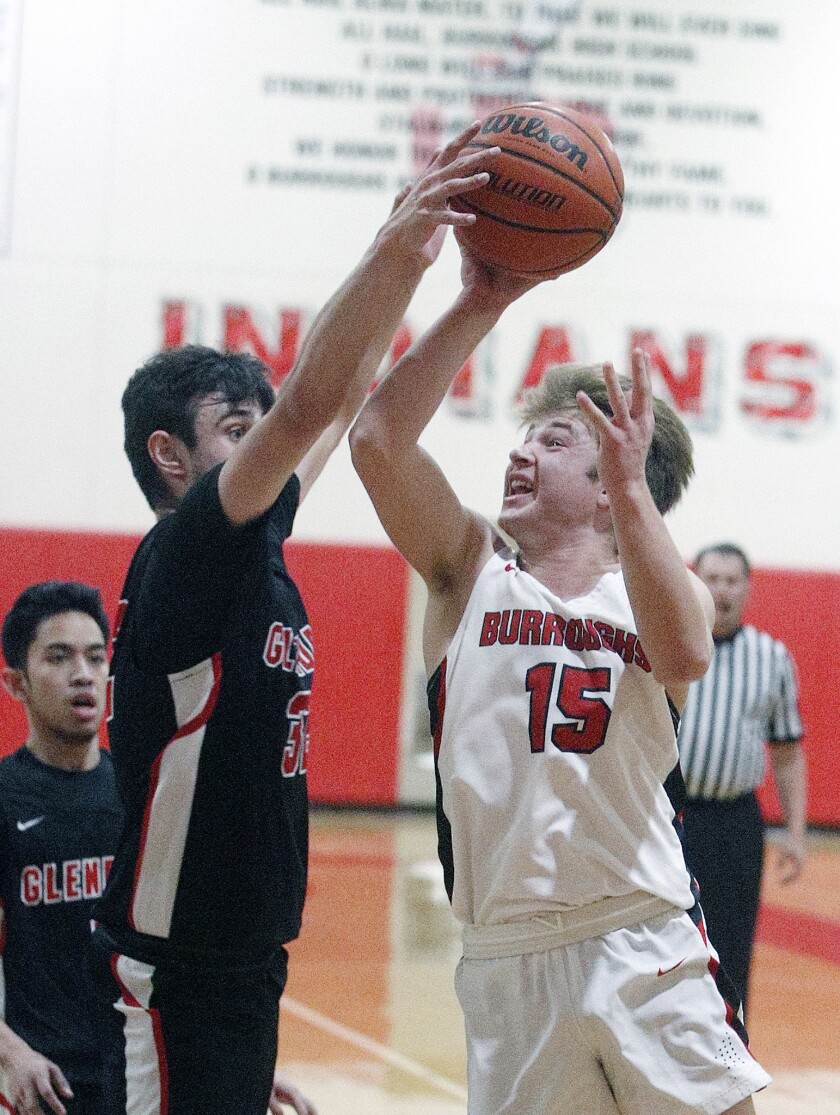 BURROUGHS
The Indians are coming off a season in which it they went 11-16 and 4-10 in the Pacific League for sixth place, missing the postseason.
Coach Allan Ellis believes is team has the talent to turn things around this season and he is looking for his squad to make a return trip to the playoffs.
"We are optimistic about this season and we are definitely hoping to improve on what we did last season," Ellis said. "We have a couple of football players who are coming in after their season and it just takes a little time for them to get acclimated. But the guys are very excited.
"We have three varsity returners who started last year and we have two more coming off the bench. This is kind of the group that came in with me and has been with me for four years, so they know what we want to do and want to accomplish and it's their senior year for a lot of them ... We are hoping to surprise some teams this year."
Returning from successful football seasons are seniors Nick Garcia and Carson Cardenaz. The other returning starter for Burroughs is senior Emery Goulet. Other players who will be expected to contribute are junior Tyler Cantrell and juniors Corwin Smith, who is 6-feet-6, and Evan Zamora.
Pasadena captured the Pacific League championship last season.
"It's a tough league for sure," Ellis said. "Every single night you have to be ready to play. There are some quality teams in the league and they are well coached. I think my guys know that and we as a coaching staff need to have them prepared to league play.
"Pasadena has won it the last couple of years, so until someone knocks them off they have to be the main contenders. But at the same time CV returns most of their guys and I know they are going to be tough."
---