Vicky Oganyan was an accomplished girls' basketball player at Glendale High, graduating in 1997.
In her final season with the Nitros, Oganyan averaged 17 points and four assists per game to earn All-Pacific League and All-Area first-team honors. She also led Glendale to the CIF Southern Section Division I-AA playoffs.
Already accepted to Cal State Northridge, Oganyan was excited about the next chapter of her basketball life and had aspirations of showcasing her skills on the court as a collegiate player — if not for the Matadors, for another college.
However, Oganyan never got that chance.
Instead, her parents, in no certain terms, told Oganyan that she should forget about her basketball aspirations and only focus on her academics.
"I did really want to play," said Oganyan, who is in her 16th season as head girls' basketball coach at Burroughs High. "My parents had done a lot for me and my brother and they raised us the right way with a lot of good qualities.
"But at that time, they just wanted me to go to a four-year college right away and graduate. So I went straight to CSUN. It was a bit disappointing for me, but now I understand now why my parents did what they did."
Fast forward more than 20 years.
Oganyan has established herself as one of the most decorated basketball coaches in the area. In 15 seasons, her Burroughs teams have made the playoffs 14 times, had 12 winning seasons, captured six Pacific League championships and advanced to the playoff semifinals twice. In addition, Oganyan notched 300th career win as a coach Saturday.
If that wasn't enough, Oganyan is also a teacher at Burroughs and, prior to this season, served as an assistant women's basketball coach for three seasons under Joel Weiss at Glendale Community College.
Despite her wealth of success in coaching, Oganyan never lost her desire to compete and still had a yearning to play college ball, taking part in an adult league in attempt to quench her competitive thirst.
But that wasn't enough.
Though the idea had been brewing in her mind for some time, Oganyan decided to finally fulfill her dream and talked with Weiss about coming out for the 2019-20 Vaqueros team — as a 40-year-old freshman.
"I think because I never played in college, that desire was always still there," Oganyan said. "The only time I would play competitively was in an Armenian league. And every summer when I would play for my Armenian league, it would fire me up and give me that competitive feeling again; that feeling you get as an athlete playing in front of a crowd.
"So, I think every year in the summer I would get that feeling and then it would go away because I had really no where else to go to progress in basketball."
Oganyan knew her basketball skills were still sharp and she also maintained her physical fitness working out and playing against her Indian and Vaqueros players.
"When I started coaching [at Glendale college] I was practicing with the team in drills and I was able to do pretty well," said Oganyan, who teaches anatomy and biology classes at Burroughs. "That's when the idea first crept in my brain that 'Hey, I can kind of keep up with them.' It really gave me the confidence that I could kind of hang with them.
"I also wanted to take classes at GCC. Even though I have my Masters, I could take more units here and move up the pay scale at Burroughs. So I decided to take some units at Glendale. And I decided if I was taking classes here, why not play basketball for the team as well."
Oganyan said that when she first brought up the idea to play for the Vaqueros, Weiss gave her his blessing and he was behind her 100%.
"It was not surprising to me given how much she enjoys playing and how good of a player she is," Weiss said. "I was just happy that she decided to do it and she has fit in with the team very well ... We're just happy to have her.
"Her work ethic is incredible and her character is among the best. She's not only a great coach and player, but she is just a terrific person. She is very respected."
Weiss said because Oganyan has spent so many years as a player and coach, she brings a wealth of knowledge and a unique perspective on the floor for this season's squad.
"She is really super intelligent and, obviously, being around the game for so long, she often sees things before they happen," he said. "She is also mentally tough, physically tough, strong, sees the floor well, can shoot, pass and she's very unselfish as a player. Players also look up to her because she operates the right way.
"She just represents what good basketball is all about."
So, with the backing from her coach and the support of her Burroughs players, Oganyan took the floor as a 5-foot-3 freshman point guard for the Vaqueros.
With Oganyan in place, Glendale lost its season-opener before reeling of 12 straight wins in tournament and nonconference play. Glendale is currently 12-1.
Even with her busy schedule, Oganyan has played in all 13 games games.
Last season, Tess Oakley-Stilson, a La Cañada High graduate, was a freshman player for the Vaqueros who was coached by Oganyan. This season, however, the two are playing side-by-side on the court as teammates.
"When I first heard she wanted to play, I was a bit surprised," said Oakley-Stilson, who earned all-conference honors last season. "But I always knew that she could do it. I've see her play before and she just has so much energy, she's so quick and you know she loves the game.
"One of the things I'm happy about is that she chose to play for our team and not another team. I sure wouldn't want to go up against her. And it's really fun to play with her ... I'm just so excited for her and this opportunity for her."
In preparation to get into game shape to compete at the collegiate level, Oganyan didn't have to start from square one with her conditioning. In fact, she prides herself at being in good physical condition.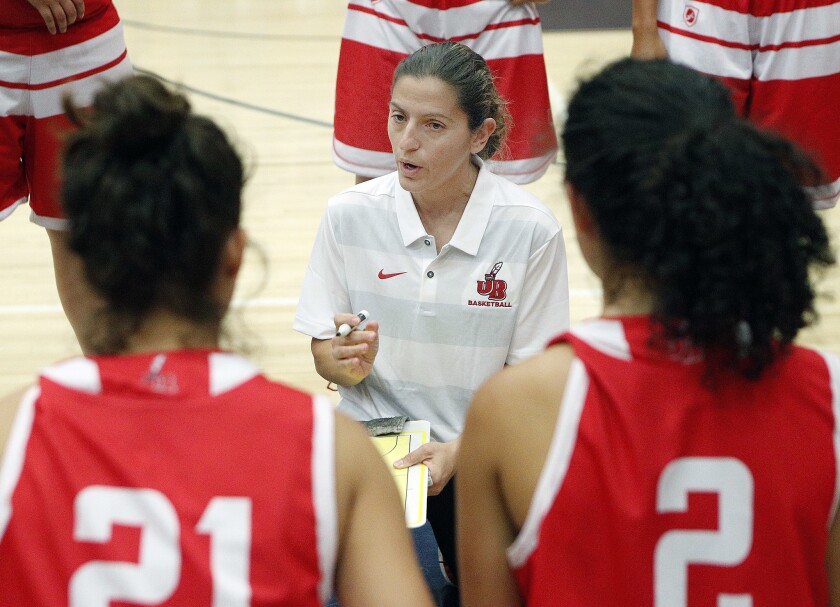 When she was an assistant coach at Glendale, Oganyan would often work out in the weight room and go through conditioning and skills drills with the Vaqueros, then head to Burroughs to practice and workout with her Indians team.
"She's by far the strongest person on our team," Oakley-Stilson said.
And what do her Burroughs players think of Oganyan and her latest endeavor?
"At first I thought it was crazy, but I think all of us support her because we know it's something she really wants to do," said Burroughs junior Faith Boulanger, a two-time All-CIF Southern Section player. "I knew she could do it. She is an extremely dedicated person and when she puts her mind to something she does it.
"We all know how much basketball means to her and this is such a great thing for her."
In the midst of her first college season, competing against some players half her age, Oganyan has more than held her own. She is averaging a team-best in assists with 3.9 and steals with 2.3 to go along with 6.5 rebounds and 6.2 points a game. She also tops on the team in minutes played at 32.1 per contest.
Along with playing for the Vaqueros, coaching for Burroughs and teaching and grading papers, Oganyan has also immersed herself in her classes at Glendale and gets in studying when she can.
"Some days it does get a little hectic for sure," Oganyan said. "But I just try and plan ahead and organize things as much as possible in advance. But I have kind of gotten used to multitasking, and I really need that now.
"But all in all, things have been going good so far. Age is just a number for me and I feel really good. I just want to be able to go out and compete. Just playing on a team where things matter has been great ... I'm glad I decided to do this."
Glendale and her teammates have to be glad as well.
---