Burroughs' Boulanger, Providence's Levias earn All-CIF first-team honors
Faith Boulanger was a driving force this past season for the Burroughs High girls' basketball team.
Across town, A'Jahni Levias was putting together a fine campaign for the Providence boys' squad.
Along with both players enjoying fine individual accomplishments, Boulanger and Levias also helped lead their respective programs to league success and deep runs in the CIF Southern Section playoffs.
Both players were recognized for their accomplishments Monday, when the CIF office released All-CIF first-team selections for boys' and girls' basketball. While Boulanger was a Division II-A honoree, Levias was named to the Division III-AA first team.
Earning spots on the second team were Pioneers' Bryce Whitaker and Indians' Kayla Wrobel.
It is the third straight All-CIF honor for Boulanger, a junior, as she earned second-team recognition in both her freshmen and sophomore campaigns.
"Making second-team All-CIF for me the first two years was great," Boulanger said. "But I knew if I wanted to make it on the first team I would have to try harder. So I worked very hard this season to get to that level.
"To make it on the first team this year is such an honor. It was a great season this year, not just for me but for the entire team."
Boulanger adds her All-CIF award to a co-Pacific League Player of the Year honor she received this season. For the season, she averaged 14.5 points. 8.2 rebounds and 2.1 steals per game.
"It is definitely a huge honor for her and it really shows how much work she's put in to make that happen," Burroughs coach Vicky Oganyan said. "She helped us to be successful this season. We are very proud of her being able to get this honor. I'm really happy for her.
"You don't earn All-CIF if you're not working hard and doing all the things needed to succeed. She helped us out by playing different positions and she helped us out with rebounding, she helped us out defensively, she helped us out with scoring — all of those things combined."
Wrobel, a junior who was also an all-league first-team honoree, averaged 9.5 points and 7.9 rebounds a game.
"Kayla really worked hard at becoming a better player," Oganyan said. "She was just tough defensively and she gave us a lot of rebounding. She also improved her offense this year and that helped us with scoring."
Burroughs (25-8) enjoyed a lengthy season as the Indians reached the CIF Southern Section Division II-A semifinals and hosted its first-ever state playoff game in the CIF State Division III Southern California Regionals.
In the Pacific League, Burroughs went 12-2 and finished second by one game behind champion Pasadena.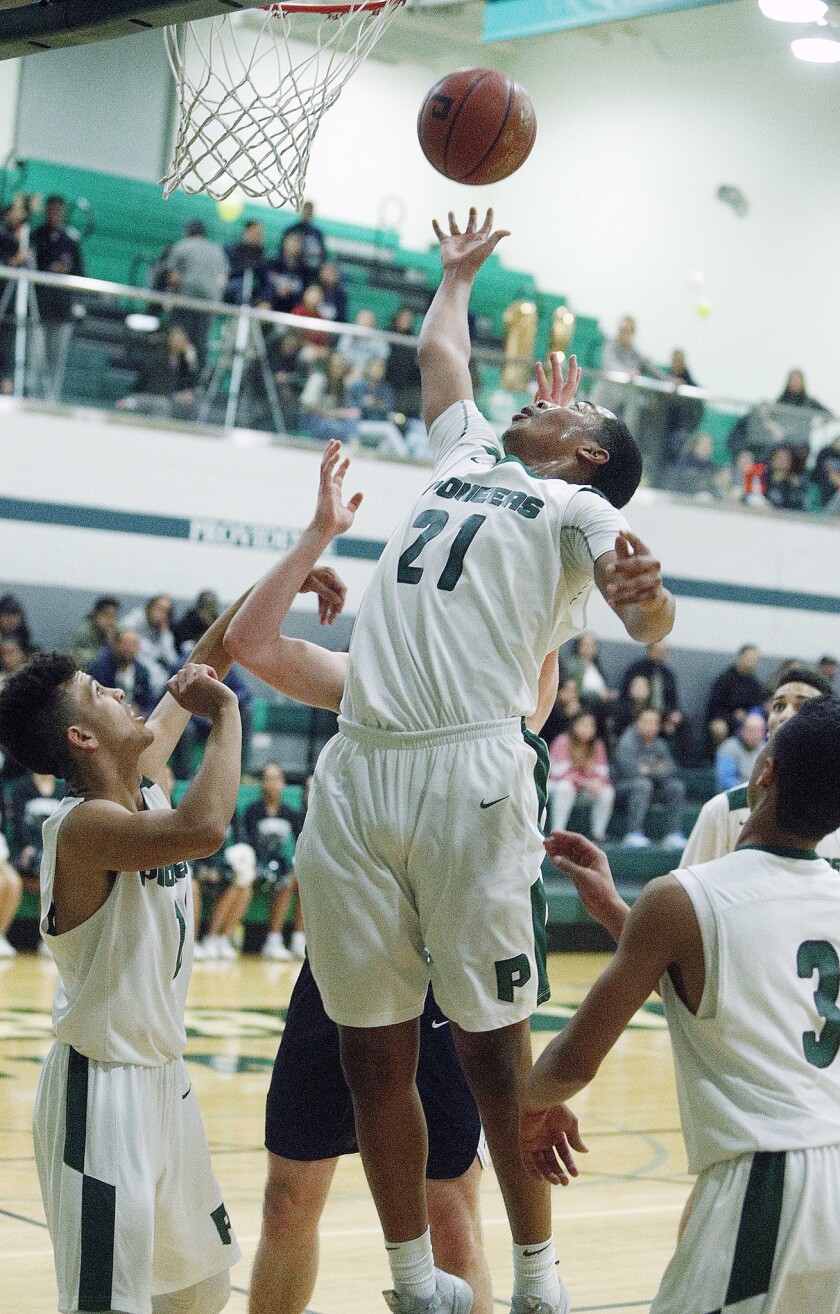 For seniors Levias and Whitaker, they were named All-CIF after earning co-Prep Player of the Year honors for the Pioneers, who captured a second straight league championship.
Levias averaged 15.5 points, seven rebounds and two assists per contest and provided a strong presence for the Pioneers around the basket. He finished with 1,034 career points.
"A'Jahni had a great year and he was just such an important part of our team," Providence coach Brandon Lincoln said. "He really came back and improved as a player and had some big-time games this past year.
"This is very well deserved for him. He is a player who really earned this and he stepped up for us."
Whitaker averaged 9.6 points, five assists, three rebounds and two steal per games. He finished with 1,133 career points with the Pioneers.
"Bryce was our play-maker and he got everyone involved," Lincoln said. "He ran our team. Without him we didn't really have that much success. He was very valuable to us ."
Providence finished 28-8, 10-0 in league and has not lost a league contest since joining the Prep League for the 2018-19 campaign.
Providence earned the No. 1 seed in the CIF Southern Section Division III-AA playoffs and advanced to the semifinals. As the No. 11 seed in the CIF State Division III playoffs, Providence lost to No. 5 Arroyo Grande in the Southern California Regional title game.
"I was hoping to get maybe one more selection, but there are a lot of talented player in our division," Lincoln said. "Honestly, we fell short of the division championship and we fell short of the state championship, but our guys played well.
"I was just hoping that maybe Jordan [Shelley] would have gotten a nod, but with so many talented players, to get two players on is a great accomplishment for our program."
---