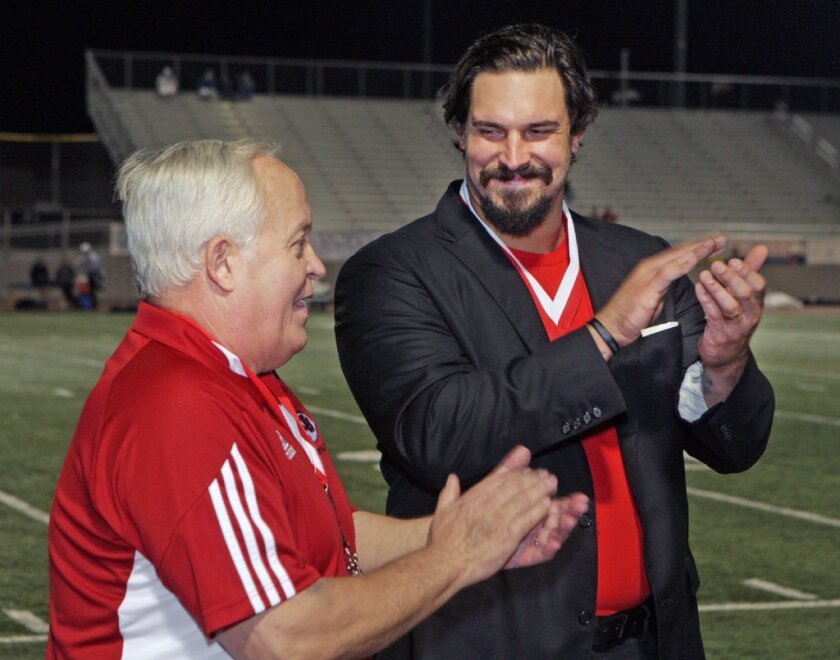 BURBANK — A storied athletic tradition added two pillars Friday evening.
Eben Britton and Jay Gudzin were inducted into the John Burroughs High Hall of Fame, joining an already illustrious group that includes community icons, Olympians and professional athletes.
The pair was formally recognized in a private ceremony in the school's gym and then introduced to the home crowd before the start of Friday evening's Pacific League contest pitting visiting Glendale and Burroughs.
"It's just such a huge honor to be back here, to walk through the halls of this school, to see people who were teaching here when I was here," Britton said. "This was just touching and special. The nostalgia and love I have for this place, I feel all that."
Britton returned to Burroughs as one of its highest-profile athletes, as the 27-year-old is in his sixth year in the NFL and second as an offensive lineman with the Chicago Bears.
The timing of this year's hall of fame ceremony was more than serendipitous for Burroughs and Britton as presenter Terry Scott made that known.
"You might think this just happened to take place this week, but the plan was to see if we could line this up for Eben's bye week," Scott said in reference to the Chicago Bears' week off.
"While most guys would have their feet up, Eben decided to come back home and be with us."
Britton was joined by his wife and daughter along with an assembly of extended family members, many whom wore red Britton No. 77 jerseys, his number at Burroughs.
"My experience at Burroughs is so fundamental to who I am," Britton said. "Everything I learned from coach [Keith] Knoop and coach [Mike] Reily. I know it's a small compliment, but everything I am as an offensive lineman can be attributed to them."
Britton surprised the Burroughs locker room and gave a pre-game speech, much to the appreciation of Knoop.
"The fact that he came back, he came into the locker room and talked to the guys before the game, that was really special," Knoop said. "He really understands where his roots are and where he got his foundation in football. I was really glad to have him here."
Britton was a three-year varsity starter in football and graduated in 2005 after earning All-Area, All-CIF and All-Foothill League honors as a two-way player. Britton also holds the school discus record of 160 feet, 6 inches.
From high school, Britton stared at the University of Arizona before being drafted by the Jacksonville Jaguars in 2009 and spending four years there before eventually joining the Bears in 2013.
"While this is a big night for the alumni inducted, it's also means a lot to the coaches here," said Burroughs co-athletic director Marty Garrison. "To have Terry Scott here to induct them too, it was a great night."
Britton was joined by long-time educator and coach Gudzin, whose wife Debbie helped organize the night's festivities.
"Having my name in the gym hall of fame means everything to me because athletics and activities as a student meant a lot to me," Gudzin said. "As a coach and athletic administrator I also saw the immense benefits of athletics and made sure our students were eligible, so they could take advantage."
Gudzin was employed at Burroughs from 1978 to 2009, but also spent time at Jordan Middle School and Monterey High.
As for athletics, Gudzin coached from 1978 to 1999 at Burroughs, with stints in both football and baseball. Gudzin's 1981 football team finished undefeated in the regular season and advanced to the 1981 Northwestern Division championship game, where the squad fell to Antelope Valley, 24-14.
"We had a great run here and I can appreciate it even more now being retired," said Gudzin, who regularly returns to campus for football and basketball games. "Burroughs has been great to me."
---