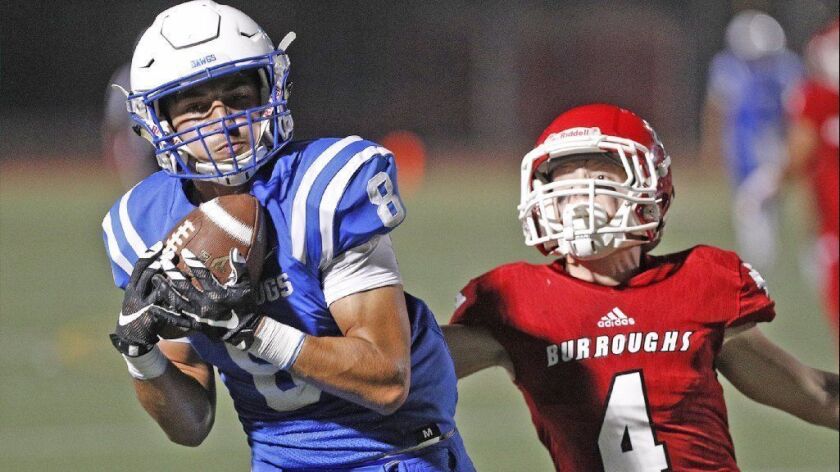 Erik Harutyunyan proved to be a valuable asset this past season for the Burbank High football team.
Harutyunyan a junior, was a threat on offense as a wide receiver and was a lock-down cornerback on defense. His presence was felt by opponents in every game Burbank played during the 2018 campaign.
It is because of his accomplishments that Harutyunyan was named to the All-CIF Southern Section Division V offensive team when the CIF office released honors for all 13 divisions Monday.
In using a new format this season, the CIF broke down the All-CIF awards in offensive and defensive categories.
"I think Erik could have won the award for offense or defense because he was just as good on both sides of the ball," Burbank coach Adam Colman said. "He did put up some great numbers on offense, but he was probably more valuable to us on the defensive end.
"On defense, he didn't have super good numbers because teams just didn't throw at him. And when they did, like against Pasadena, he had three picks in that game."
Colman said a great deal of hard work and dedication by Harutyunyan paved the way for the All-CIF recognition.
"It's really a great honor for him and something that is well deserved," Colman said. "It is really a culmination of the last three years for Erik that led up to the success that he had this past season.
"He's the kind of guy who will do all he can for a team and he just finds ways to be a factor in games."
Harutyunyan, who is headed to UC Davis, earned All-Pacific League first-team honors on defense this past season. He finished with 36 tackles and four interceptions.
On offense, Harutyunyan was a constant threat for the Bulldogs. A favorite target for quarterback Matthew Porras, who broke several program records in 2018, Harutyunyan had 53 catches for 878 yards and 12 touchdowns. The senior averaged a whopping 16.6 yards a catch.
"Erik is the kind of guy you want on your team because you know he is going to work hard and leave it all on the field," Colman said. "He was an asset wherever he was on the field.
"But more than what he did on the field, he is just as great of a person off the field. I really can't say enough good things about the guy … He really meant a lot to our program the last few years."
Burbank went 7-4 and 6-1 for second place in the Pacific Leagye behind Arcadia to qualify for the Division V playoffs.
Lawndale dominated the top awards in the division, as Jordan Wilmore was named the Division V Offensive Player of the Year, Naki Fahina was the Defensive Player of the Year and Travis Clark was the coach of the year.
Twitter: @jefftsports
---