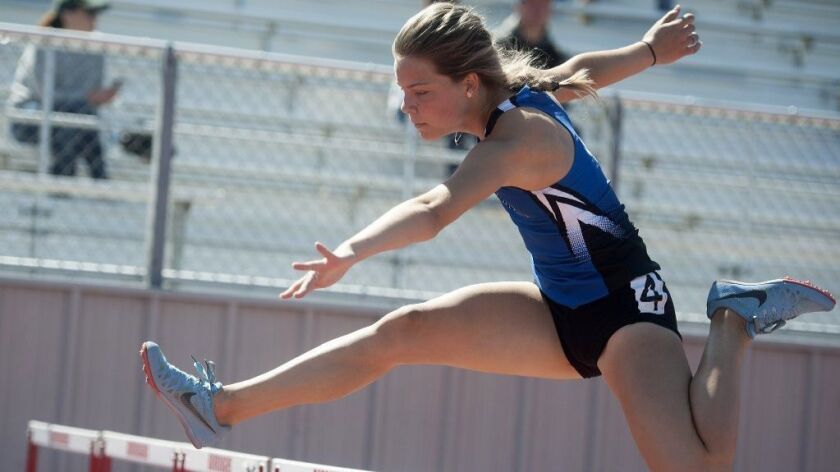 BURBANK — The Burbank Backwards Meet returned to Burroughs High's Memorial Field on Saturday after a one-year hiatus.
With a wealth of competition in a meet that runs a reverse format of a traditional track and field meet, a number of area athletes were able to measure their strengths.
Burbank High claimed eight race victories and a handful of field event titles for a strong showing, while Crescenta Valley had some fine efforts in distance events and Burroughs and Providence excelled in other events.
The Burbank boys' team scored 120 points, Providence followed with 56 and Burroughs had 44.
The Burbank's girls' squad scored 108, Crescenta Valley tallied 70 and Burroughs recorded 36.
"I think some of our sprinters were tired after running against Arcadia, but they ran tough," said Burbank coach David Card, whose squad competed in a Pacific League meet against the Apaches on Thursday. "There were not a lot of PRs there, but we're going to rest and we're going to league finals ready to come down in time.
"I think we're set up for some really good finishes and hopefully get further into CIF."
Pacific League rival Hoover also participated in the event, along with schools like St. Genevieve, Desert Christian and Canyon Country Canyon.
"The teams that came out brought kids that were trying to PR today," Burroughs coach Le'Von Davis said. "We had some really fast times in the 3,200-meters, which is kind of the purpose of the meet given that it's backwards and everyone wants run that 3,200 fresh.
"Given the purpose of the meet, it went well, just because those 3,200s were fast. Those 4x400s were fast. You got some fresh legs in those 200s. It was nice to see kids be able to run some of their events later in the meet."
The Bulldogs won the boys' 4x100-meter and 4x400 relay races with times of 44.61 seconds and 3:29.9, respectively.
Burbank's relay team benefited from the return of sophomore Kendall Fauntleroy as the fourth leg of the Bulldogs' team that included Jack Sapyta, Ian Miller and Bryan David.
"It felt good to be the fourth leg like I wanted to in the beginning," Fauntleroy said. "I was out for a while, so now since I'm back, it's time to shine a little bit. I'm still recovering from a little bit of an injury and still being the fourth leg is great."
Sapyta also added a victory in the 200 in 22.51 and Victor Goli had a win in the 800 (2:00.95).
"I think we're really poised, and with a meet like this, it really gets their spirits up," Card added. "It's something they're going to remember going into the summer and going into next year and just be positive."
Burbank's Zion Chavez won the boys' long jump (20 feet, 3 inches) and Providence's Bryce Whitaker won the triple jump (42-07).
Providence also received a first-place finish from Baker Jaden in the boys' 400 (52.52) and Pioneers' Ryan Clemen recorded a pair of second-place finishes in the boys' 110 hurdles and 300 hurdles with respective times of 16.11 and 43.54.
Burroughs received a strong effort from Raymond Berrelez in the boys' 3,200 with second-place finish in 9:53.03 and a first-place effort from Eli Gault Crabb in the pole vault (14-0).
"Our younger distance guys really put together some really good [3,200s]," Davis said. "Our sprints didn't really come to doing anything big today. We ran some relays, but we're not that really deep this season, so, it's just really for a lot of guys to get some experience."
The Burbank girls' relay team of Tamryn Betts, Amira Ottosson, Hannah Camacho and Stephan Powell won the 4x100 relay in 50.83 and the 4x400 relay in 4:10.34.
Betts also finished first in the girls' 100 (13:01) and Powell added a first-place finish in the girls' 200 (25.86).
Crescenta Valley received a second-place finish from Sophia Atin in the girls' 3,200 (11:43) and Samantha Moore had a second-place finish in the 1,600 (5:33.56) and placed third in the 800 (29.44).
One one the best efforts of the meet was turned in by Burbank's Emma Cusumano, who won three events with first-place finishes in the girls' 100 hurdles (16.05), 300 hurdles (48.48) and the high jump (4-10).
The Bulldogs also received wins from Alisa Petrosyan in the girls' pole vault (8-09) and Jayla Flowers in the girls' long jump (17-09) and the triple jump (36-08.5).
Crescenta Valley posted first-place efforts from Dylana Wolf in the girls' shot put with a 31-07 mark.
Hoover's Elizabeth Ghazanchian won the girls' discus event with a 96-06 effort.
Twitter: @ReporterVince
---