Shock, sadness and bewilderment were some of the reactions from former Bellarmine-Jefferson High athletes and coaches in the wake of news that the school will be closing.
The Archdiocese of Los Angeles sent out a press release Wednesday stating Bell-Jeff would be closing at the conclusion of the current 2017-18 school year because of low enrollment.
Hope of re-opening the school, though likely with many changes, was also stated in the release, but for now all is known is that the school's doors will close after the conclusion of this school year and along with that will be a string of final games played for Guards athletics.
The school has experienced a decline in enrollment for a number of years and that drastically affected the Guards sports programs. Programs such as the varsity baseball, football and softball programs were shuttered. Some returned, but some did not, so bleak news is not a novel concept for Guards athletics, but Wednesday was most certainly the bleakest of news.
"It's devastating to hear that your high school is closing down," said 2005 graduate Matt Magallon, who played football and baseball. "It was a school that was a great outlet for someone like me who tried a bigger high school like St. Francis and just didn't really enjoy that experience. Bell-Jeff was great place for me.
"I met my wife at Bell-Jeff and all my brothers went there and there is just so much history at the school; it's definitely a tough pill to swallow. I have two banners up in that gym, I was the starting quarterback on a football team that won the first league title in like 50 years and I was a shortstop in baseball for a team that won it. …I have a daughter now who is 3 months old and I wanted to take her to look at those banners when she gets older and show her, but the reality is that is probably never going to happen."
For many, it is a sense of community that Bell-Jeff provided that made the school a desirable place to be. There are also many instances of family members attending and graduating from the school.
"Bell-Jeff is where the dream started for so many. It has been such an instrumental part of my life and I will always be eternally grateful."
Bryan Camacho
"The Doyles alone, I want to say 10 went to Bell-Jeff, and on my mother's side there were even more, so I want to say north of 20 from our family have attended the school," said Brendon Doyle, a 2004 graduate who played football, basketball and volleyball for the Guards. "My parents were high school sweethearts, class of 1970, and we have so much history at the school with my brother going there as well, who graduated in '98.
"But it's very sad and I've shed a tear ot two, not just for our family, but just in general. The school helped lead me on a path and really made me what I am today and I will always be grateful for that."
Founded in 1944, Bell-Jeff has produced athletes who have gone on to play professionally in the U.S. and in Europe, as well as on the collegiate level.
Perhaps the most prominent athlete to emerge from Bell-Jeff is 1998 graduate Ruben Douglas, a former All-Area Boys' Basketball Player of the Year and All-CIF Division IV Player of the Year who ended his high school tenure as the No. 5 all-time scorer in California history. Douglas went on to play at the University of Arizona and the University of New Mexico, where he led the nation in scoring in 2002-2003. He also played in Europe and for Panama in the 2006 FIBA World Championship.
"It just took the air out of me when I heard that Bell-Jeff was closing," Douglas said. "How can that happen? I really can't believe it.
"I could have gone somewhere else, but I chose to stay with Bell-Jeff because there were good people over there; it was a good community, it was safe and we all got along and we were successful. The school really was a springboard for me for life. It put me on the right path in my life and helped me out a great deal. … I loved it there."
The most successful sports program in the annals of Bell-Jeff has been girls' basketball, which has captured three CIF Southern Section championships. The first came in 1996, when a team led by future WNBA player Jaclyn Johnson and coached by Jim Couch won a title. In 2009, a Bryan Camacho-coached squad not only captured a Southern Section crown but won a state title. It serves as the only state title in any sport in the city's history (Burroughs High's boys' volleyball team won a Southern California Regional title in 2016).
The most recent championship came during the 2016-17 season when the Guards captured the V-A title under coach Claudia Villa.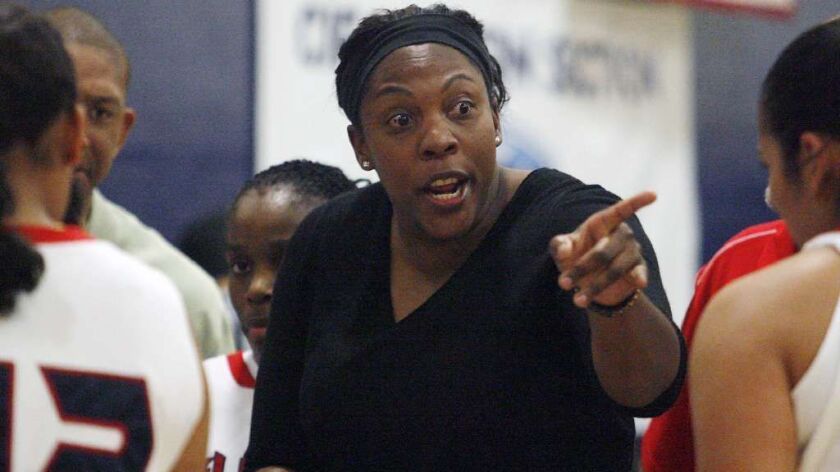 Only one other CIF championship has been won by the school, that coming by the softball program, which secured a Division VI crown in 2013 after advancing to title games the previous two seasons.
"Bell-Jeff is where the dream started for so many people," said Camacho, a 1992 graduate and all-league basketball player who returned to the school as a coach and athletic director. "I have been getting so many texts and so many voice messages about this and it is like a death in the family. It's such a great loss.
"But when a sad thing like this happens it makes you realize what a special place Bell-Jeff is, and was. Our little school and what a great impact that it has had on so many young lives can't be denied. I just feel so fortunate to have been a part of something so great. …It has been such an instrumental part of my life and I will always be eternally grateful for that. I will always be a Guard."
Couch has seen much of that history first hand, serving as a coach of multiple sports and as the school's athletic director over the course of his 44 years at Bell-Jeff. Couch's wife, nephew and eldest daughter graduated from Bell-Jeff and his youngest daughter, Caitlyn, attended the school for three years, winning cross-country and track and field league titles and a CIF basketball championship, before transferring prior to this school year.
"It's definitely disheartening to see this happen," said Jim Couch, who most recently led the Guards girls' cross-country team to a Camino Real title and a berth in the CIF State Championships in 2016 before the girls' program dwindled due to transfers. "Being here 44 years, I've seen the school through its heydays and through its lows. I have had the privilege of seeing and coaching some amazing athletes over the years. And a lot of those athletes I have still kept in touch with and that means a lot to me.
"The saving grace for me at the school over the last 44 years is really the sense of family. But the demographics have been changing in Burbank and people have been moving out and no longer can we survive on those family loyalties."
The school has experienced its share of athletic struggles the past few years. Because of a lack of numbers, the football team dropped down to the eight-man level three seasons ago after halting its program and canceling game years prior. Bell-Jeff has also canceled or curtailed its baseball, softball, girls' and boys' soccer and cross-country in recent years.
"I could kind of see the school struggling a bit when our graduating class was pretty small," said 2013 graduate and All-CIF and All-Area volleyball player Taryn Nelson. "You kind of knew that there might be some problems with the school.
"My sister and my brother went there before me, so Bell-Jeff has been a part of my life for a really, really long time, maybe from when I was 7 years old. It is really sad to know that the school isn't going to be around anymore because I have so many great memories from there and I have so many friends I made while I was there."
In the press release Wednesday the Archdiocese said it is looking to possibly restructure the school and it read in part: "Our hope is to complete the restructure initiative for the 2019-20 school year and offer an innovative Catholic education program that best meets the needs of the community we serve."
But there are some who feel that will never happen and Bell-Jeff will stay closed for good.
"No, it's done," said former Guards baseball coach Hector Perez, who led the program to nine consecutive playoff appearances and a Santa Fe League title in 2005. "Once they close the school they are never going to open it again. That's pretty sad to think about.
"Bell-Jeff gave me the opportunity to be a coach and a teacher and there are so many others just like me. The school has had so many tremendous student-athletes and it has such a rich history. …It's very hard to see it all come to an end."
There are others, however, who think that there might be a future for Bell-Jeff.
"I really think that Bell-Jeff will be like the Phoenix and rise from the ashes," said Eli Essa, who served at the Bell-Jeff boys' basketball coach from 1995-2009. "I, along with many others, are very optimistic that this isn't the last we've heard about Bell-Jeff.
"There is a real groundswell of support from alumni who really haven't shown their face, their spirit or their pride until now. I think when your back's against the wall, you come out fighting, and there are many who are ready and willing to fight to bring Bell-Jeff back. … But we will see."
Twitter: @jefftsports
---