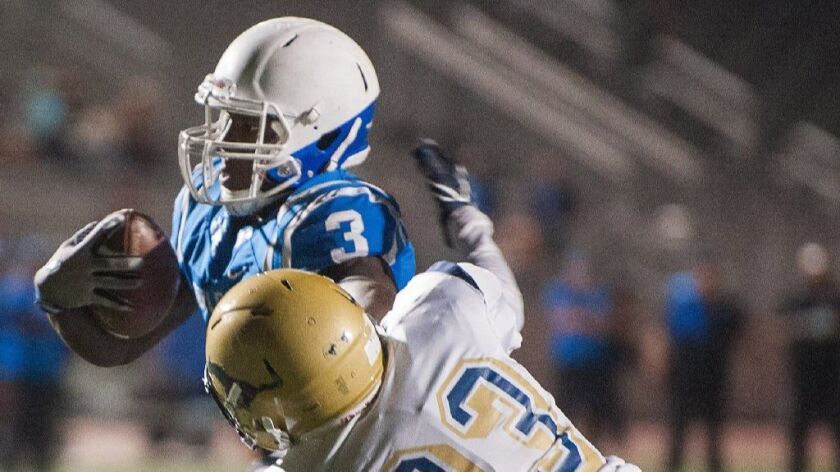 BURBANK — Prior to Friday evening's Pacific League game with Muir High, Burbank football coach Adam Colman took his team into the school's gym to look at the league championship banners.
"I told them to look up and see there are not many football banners hanging there," said Colman, who's in his first season. "I told them that they get a chance to add one and that never comes down."
Burbank had its problems against the Mustangs, who came seven yards away from the potential trying score as time ran out. But the Bulldogs, led by 127 yards and two touchdowns rushing in 13 carries by Darnell Williams, survived, earning a 38-31 victory at Memorial Field that gave them at least a share of the league championship.
For Burbank (7-2, 6-0 in league), it is its first league title since 2009, when it shared it with crosstown rival Burroughs. Colman was the Bulldogs quarterback on that 2009 squad.
It is also just the third league title in 45 years and fourth in school history, as the program won Foothill League crowns in 1956 and 1972.
With one game left in the regular season, Burbank has a one-game lead over Crescenta Valley and Arcadia, who have 5-1 league marks.
"We don't want to share the title," said Burbank junior quarterback Matthew Porras said, whose three-yard touchdown pass to Duncan Smith with 11:10 left served as the game-winner. "We want to win it for ourselves."
Burbank can accomplish that feat with a victory Friday against Burroughs in the annual Big Game rivalry.
Burbank received excellent efforts from Porras and junior running back Chaz Vang. Porras was 13 of 20 for 224 yards and touchdowns of 24 and three yards. Vang carried the ball 14 times for 139 yards and had an 18-yard touchdown.
Earning a share of the league championship looked in jeopardy late in the game against Muir (5-4, 3-3). With 3:50 remaining, the Mustangs began a drive on their 16-yard line. Muir had second down on the Burbank 20 as the clock ticked down to the final seconds. Quarterback Brian Love hit Dyllan Ross with a slant pass at the seven. The pass was complete, but the receiver hit the ground as time ran out.
"We did enough and we fought," Colman said. "We had a league championship on the line and Muir had a playoff spot on the line, so we knew it wasn't going to be easy.
"But we had some adversity and we fought back. I'm just so proud of this group and what they have accomplished this season. …This is really special."
Burbank took a 14-0 lead with 4:47 left in the opening quarter on a two-yard touchdown by Williams and a scoring run by Vang.
After a Muir score, Williams found the end zone on an eight-yard run with 17 seconds left in the first to take a 21-7 lead.
But the Mustangs seized the momentum, reeling off the next 17 points to take a 24-21 lead with 25 seconds remaining before half.
The Bulldogs were able to go into halftime tied at 24 after Andrew Rovira booted a 48-yard field goal as time ran out.
"We knew that Muir was going to come out strong," Porras said. "They just kept fighting and we kept fighting. Luckily we were able to come out on top."
On Burbank's first possession of the second half, Porras found Smith (four catches for 51 yards and two touchdowns) for a 24-yard touchdown pass with 7:21 left in the third to take a 31-24 lead.
However, with just 23 seconds remaining in the third, the Mustangs scored to knot things at 31.
Burbank senior Drew Pendleton had six catches for 110 yards.
Twitter: @jefftsports
---