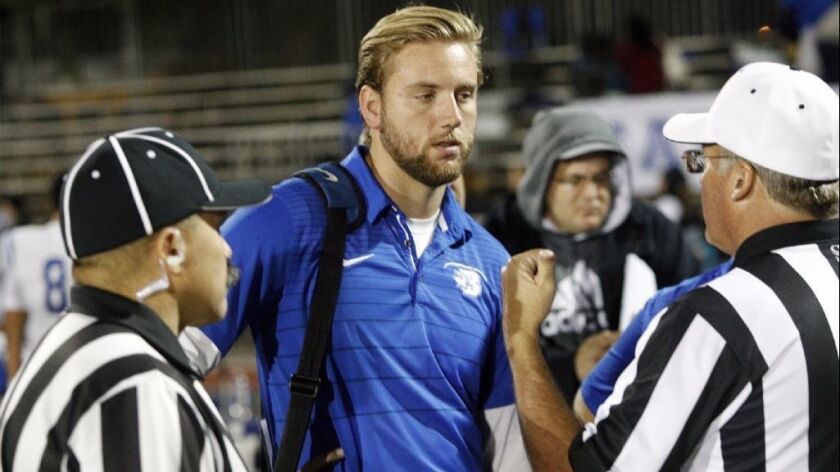 PASADENA — It was a thriller nearly a half-day in the making.
It was rise and grind for the Burbank High and Muir football teams as they took the field at 8 a.m. Saturday at Muir to do battle in a Pacific League contest.
The game was a continuation of a contest that began Friday evening before being postponed because of inclement weather that included lightning. When the game was halted, the Mustangs held a five-point lead.
The time off gave the Bulldogs an opportunity to regroup. After a slow start, Burbank was able to keep Muir in check with some stellar defensive stops, including one in the waning seconds with Muir in the red zone by Bulldogs' Duncan Smith.
With its defense setting the stage, Burbank embarked on a 98-yard winning scoring drive late in the fourth quarter to come away with a 15-14 victory.
"It's the strangest thing I've been a part of," Burbank second-year coach Adam Colman said. "Just coming back after [Friday] night and having to play so early [Saturday]. I woke up at 5:30 this morning and it's like 'We have a game right now?'
"But we talked about overcoming adversity and we've faced it all year and the kids are getting used to it."
The win was an important one for Burbank (5-3, 4-1 in league), the defending Pacific League champion. With two game remaining on the league docket, the Bulldogs trail Arcadia (6-2, 5-0) by just one game, while Muir (6-2, 3-2) falls behind by two.
"We needed that one," Colman said. "It took us some time to get going, but we made the plays when we had to.
"Defense carried us today. We have a young defensive team and they really stepped up. Defense is our calling card and that's what did it for us. They kept us in the game when the offensive was sputtering; bend but don't break and they made some big plays. Duncan had that strip, that touchdown and that sack — those are three [Division I] plays and that's why he's playing Division I."
Smith, a 6-foot-4, 240-pound tight end/defensive end and UC Davis commit, made his presence known on both sides of the ball Saturday. In a game resumed at the start of the third quarter with the Mustangs leading, 14-9, Smith made a huge play that secured the victory.
After Burbank took a 15-14 advantage with just more than three minutes left in the game, Muir made a valiant effort to get back the lead. With 31.4 seconds remaining, the ball on their own 26-yard line and no timeouts left, the Mustangs made their move. Following a Burbank holding penalty and the ball at the 36, quarterback Brian Love uncorked a 53-yard bomb pass that was caught by Aryonis Harrison at the Burbank 11-yard line.
On first down Love spiked the ball with 11.6 seconds left to give the Mustangs time to set up. On second down from the 11, Love went back to pass, but Smith penetrated through the right side and dropped the quarterback for a sack. Before Muir could set up for another play, time expired.
"I just tried to get to the quarterback as fast as possible," Smith said.
Smith was also on the receiving end of the winning touchdown.
With 6:46 remaining, Burbank set up offensive shop at its 12-yard line before a holding penalty moved it back to the 2. What followed was a mythological drive orchestrated by Burbank quarterback Matthew Porras (16 of 29 passing for 247 yards, two touchdowns, one interception). The Bulldogs worked the ball to the Muir 17 where they faced a third-and-10 situation with 3:11 remaining.
Porras dropped back and floated a ball to Smith on a fade to the back of the end zone. In between two defenders, Smith went up for the ball and came down with it, crashing to the ground for a 17-yard touchdown reception that put Burbank ahead, 15-14.
The two-point conversion attempt on a run was stopped.
"We do have the confidence that we can make that winning drive in a pressure situation when we need it," said Burbank senior receiver/cornerback Erik Harutyunyan, who had seven catches for 102 yards. "We proved that last year when we did it to win against Arcadia.
"It's about not getting too high on the highs and not getting too low on the lows. We had third and long a few times and it's just about keeping your composure and having confidence in everyone else around you."
Harutyunyan, who had a forced fumble and recovery in the first half, came up with an interception with the Mustangs driving in the red zone on Muir's first drive of the second half.
Also in the third quarter, a big turnover stopped a deep Muir drive. With the Mustangs up by five and in a prime position to add to their lead with second down and goal at the Bulldogs' 1-yard line, Smith stripped the ball from Love on a keeper for a fumble and the ball was recovered by senior Caleb Snowden at the 15.
Burbank will have a short week to prepare for its next game, as it will hit the road to take on Glendale on Thursday.
"It's a quick turnaround for us, so we have to get back to work," Colman said.
Twitter: @jefftsports
---