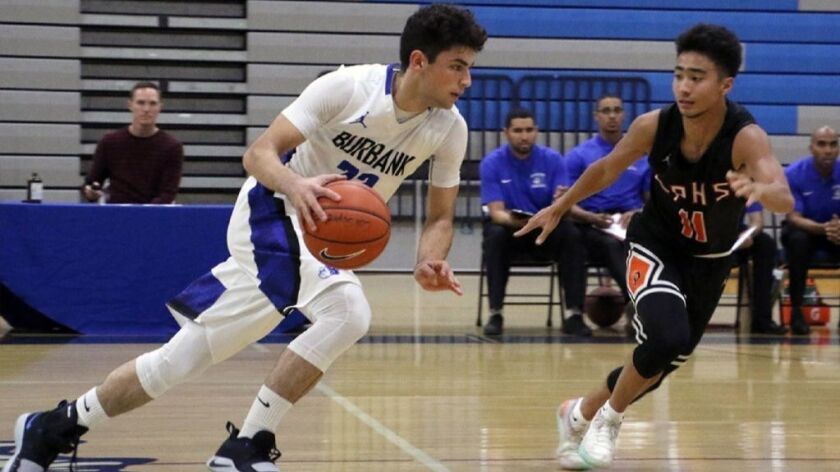 BURBANK — A double-digit lead in the first half of a nonleague boys' basketball game quickly flipped into just a two-point advantage for Burbank High against South Pasadena on Saturday evening.
The Bulldogs started with a 17-0 run in the first quarter, but scored just two field goals in the second quarter as the Tigers clawed their way back into the game by halftime.
Burbank regrouped in the final two quarters, however, as the Bulldogs strung together a better defensive effort to defeat South Pasadena, 69-48.
"They needed to be woken up, and that halftime score woke them up," Burbank coach Ernest Baskerville said. "They saw how close they got and they were like, 'you know what, let's get back to our brand of basketball.'"
The Bulldogs (7-4) were coming off of a close 74-72 win against Pacific League foe Crescenta Valley on Friday, and Baskerville attributes Burbank's first-half struggles to the league victory.
"It was a horrible second quarter," Baskerville said. "I think they were reeling off of last night's victory. They saw that we got up big quick and then started messing around.
"The fourth quarter was much better. We held them to five free throws up until that last minute with that layup, so that was much better and our brand of basketball. We play hard defensively and I tell my team to take pride on defense."
The defense definitely showed as the Bulldogs allowed the Tigers just seven points in each of the final two quarters.
The Tigers (1-10) were outscored in the first quarter, 27-17, but the Bulldogs' poor, second quarter gave the visitors' a 21-9 scoring advantage.
Burbank senior guard Miles Dagostin scored 10 points in the first quarter off of a pair of three-pointers as the Bulldogs embarked on a 17-0 run in the period to lead, 17-4, at the 3:31 mark.
The senior finished with a game-high 20 points to go along with four blocks and four assists.
"We were kind of were playing lazy at first, but we picked it up in the second half," Dagostin said. "We just weren't hitting shots, but we could all shoot, so once we get a rhythm, it'll all fall. We just kept hitting our shots [in the third quarter]."
The Bulldogs made two field goals on 14 shot attempts and the hosts didn't score a basket until 4:21 in the second quarter.
At that point, South Pasadena scored seven straight points to cut the Burbank lead to a single-digits, 30-22.
After a pair of Bulldog free throws, the Tigers scored another seven consecutive points to cut the Burbank lead to 32-29 with 2:46 left in the half.
South Pasadena guard Sebastian Au-Rivera gave the Bulldogs the most trouble in the second period, delivering two three-point plays and finished the quarter with 11 points and the half with 20.
Au-Rivera's three-point play with 1:20 left tied the score at 32 before Burbank could muster a layup and two free throws to close out the half with a 36-34 lead.
The Bulldogs came out in the second half scoring five straight points before junior guard Leo Tahmasian strung together a pair of mid-range jumpers late in the third to restore Burbank's double-digit advantage, 47-37.
"It was just a mindset thing, I guess," Tahmasian said. "We really didn't have things going in the first or second quarter and then coach talked to us at halftime. We picked it up and we played our game."
Tahmasian finished the quarter with seven points and posted 16 points and seven rebounds overall.
"My game is mostly getting my team involved, but after I saw that they didn't have it going, I put it upon myself to get going and pick everyone else up with energy," Tahmasian said.
Though the Tigers didn't score until 2:44 left in the third quarter, the Bulldogs' lead soon reverted back to single-digits, 50-41, at the end of the frame.
The Bulldogs pulled away in the final frame as the hosts closed in on a 19-1 run for a 69-44 lead with 2:01 left.
Twitter: @ReporterVince
---