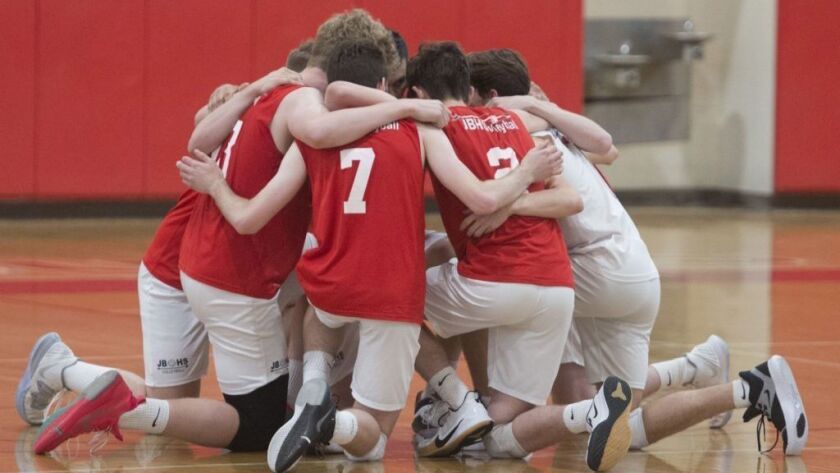 BURBANK — When Burroughs High boys' volleyball coach Joel Brinton checked how many errors his team made after the first set of its CIF Southern Section Division II second-round playoff match against Mission Viejo, he felt a bit uncomfortable.
Serve after serve, set after set, it looked like the Indians would recompose and overcome making simple mistakes. However, Burroughs gave up a seven-point lead and had 17 hitting errors in the first set.
Though the 10-time Pacific League champions rallied back from a four-point deficit in the second set, service errors eventually doomed the hosts.
Burroughs battled late in each set, but was unable to regroup from its mental lapses in a 26-28, 26-28, 24-26 loss to Mission Viejo on Thursday.
"It's happened all year. It's happened all year," Brinton said. "We preach learning and we didn't learn. All year, we've had issues with finishing sets, so, yeah, when we're up, 24-22, you better finish the set, especially in a playoff game. We didn't, and that's what happens when you get into the playoffs."
Burroughs lost in the second round for the third consecutive season, with the first two coming to Division I opponents: Loyola in 2018 and Huntington Beach in 2017. The Indians (20-13) last made it out of the second round in 2016, when they advanced to a Division II final.
Mission Viejo (24-5; Sea View League champion) trailed, 16-9, in the first set, but a 10-3 run from the Diablos tied the game at 19.
"We started to settle in and play volleyball," Mission Viejo coach Ryan Thurlow said. "This is a very tough place to play. This is a great, great program that they run, and they served great balls right at our faces and it was super tough. We finally settled in and our key is to our passing."
The Indians took a 24-22 lead and looked to close out the opener, but the Diablos battled late and closed secured the win with a kill from opposite Andrew Kim.
"We try to remind them that we had — I'm going to vomit — 17 total missed serves and hitting errors, alone, in the first set," said Brinton, whose squad committed three errors on the Diablos'10-3 run. "I know after the first set, we went over and tried to laugh about it because we literally gave them the set with 17 errors and almost won. Credit to Mission Viejo. They won. Yay them. Everybody in the locker room knows we're the better team and did not show it at all."
Burroughs held an early, two-point lead in the second set, but a 7-1 run propped Mission Viejo up to an 11-7 advantage.
The Indians rallied to take a 15-14 lead on a series of kills from hitter Connor Burroughs, before the teams went back-and-forth trading off kills and errors.
Burroughs regained the lead, 22-21, but Mission Viejo's Kim tallied a run of kills down the stretch of the second set to tie the score at 22. He then had four kills to hep the Diablos to a win and a 2-0 match advantage.
"We were giving away our own points," Kim said. "There were a couple net calls and a couple under-calls, but we know what kind of players we are. We know how to stay consistent, so, at that point, we said, 'Alright, boys. We got this. Let's get this lead back.' My guys are some of the most composed guys I know. Up until that, we knew we got it."
Burroughs trailed by four early in the third set, but a number of Mission Viejo errors and some fine plays by Burroughs sophomore Kade McGovern gave the Indians their first lead of the third, 16-15.
The two traded points again with seven ties down the stretch, but, with momentum on its side, a kill from Kim completed the Mission Viejo sweep.
Connor Burroughs finished with 22 kills, while McGovern recorded eight. Kim tallied 13 kills for Mission Viejo.
---