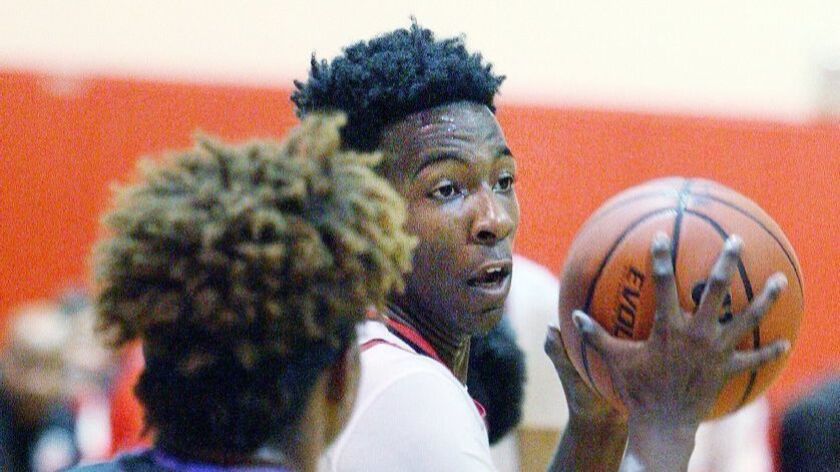 The following are updates on local athletes at the collegiate level.
Tristen Hull (Burroughs High, 2017) Highland Community College men's basketball sophomore: The 2017 All-Pacific League first-team forward has made his mark this season for the Scotties — ranked No. 3 in the National Junior College Athletic Assn. Division II.
Hull earned Kansas Jayhawk Community College Conference Division II Player of the Week honors last week after a career-high performance against Graceland, where his 19 points on eight-of-10 shooting catapulted the Scotties to a 112-65 win.
The former All-Area selection posted three consecutive games with double-figures in scoring with an 11-point showing against Central Community College, Columbus in a 73-71 win, and a 15-point outing against Southeast Community College.
His scoring run preserved the Scotties' perfect start to the season (16-0) and has also bolstered his season average to 10.7 points on 61.8 percent shooting.
The sophomore, who was also a 2016 All-CIF choice with Burroughs, currently leads the Scotties in free-throw shooting percentage (74.6 percent) and rebounding (6.3 a game).
Highland starts conference play Jan. 23 against Johnson County Community College.
Cosette Balmy (Bellarmine-Jefferson High) Pasadena City College women's basketball freshman: The 2017 CIF Southern Section Division V-A Player of the Year who helped the Guards to a CIF championship, is making an impact for the Lancers.
Balmy has started in all 13 games. She is averaging 31.9 minutes and 14.1 points per game to go along with 4.5 rebounds and 4.2 assists.
Balmy has scored in double-digits in the opening seven games and has led the team in scoring six times.
The former Guards standout posted a 26-point effort against Bakersfield, her highest mark of the season, to go along with two other 20-point performances.
The point guard's scoring production helped the Lancers open with a five-game win streak accompanied alongside a four-game victorious run before Pasadena gears up for South Coast North conference play against Rio Hondo College on Jan. 23.
The Lancers opened up the season winning back-to-back tournaments in the Bakersfield Crossover and their home tournament, the PCC Round Robin Classic.
Pasadena defeated Cerritos College, 51-48, in the consolation bracket of the 42nd Gilcrest Invitational to start December in winning fashion.
The Lancers (12-3) closed out the calendar year with a championship berth at the Lady Jaguar Invitational, where they lost to Merced College, 68-56, on Dec. 29 in San Jose.
Balmy was also named the second recipient of the 2018 Tiana No. 24 Scholarship for her strong sportsmanship, leadership and performances on and off the court.
Sienna Brown (Burroughs High, 2015) University of Saint Mary women's basketball senior: Though the Spires have experienced early struggles in the campaign, the Indians graduate has been a bright spot on the National Assn. of Intercollegiate Athletes team.
Brown's performance was recognized with Saint Mary Athlete of the Week honors after a 17-point outing against No. 19 Tabor College, as the Spires fell, 60-57, in a conference loss.
With an 3-9 record and a 2-7 showing in the Kansas Collegiate Athletic Conference, the Spires ended the year with a 57-46 conference victory against McPherson College, where the former All-CIF pick led the team with 14 points and added four blocks.
Brown is second in team scoring, contributing 9.4 points on 43.6 percent shooting per contest, and leads the Spires in rebounding with 6.9 per game in nine of 12 starts.
Saint Mary is still looking for its first home win of the season.
Amaad Wainright (Burroughs High) Louisiana State University, Shreveport men's basketball senior: The former Kansas State University guard is making a quick impact for the Pilots, who play in the NAIA Red River Conference.
Averaging 10.5 points and grabbing five rebounds a game, the senior's performances have helped the Pilots to a 10-6 record and a 3-1 conference start.
The guard finished the year posting up double figures in scoring in the final three games, which included 26 points in a 98-91 win against LeTorneau University at the 2018 Holiday Classic at the Centenary's Gold Dome.
Wainwright landed at LSU Shreveport after legal troubles hindered the Kansas City native while he played for Kansas State University last season. The Wildcats suspended the guard in April 2018. In August, Wainwright pleaded guilty to felony obstructing apprehension and aiding a felon, following his role in a road-rage shooting last January.
Wainright announced that he was joining LSU Shreveport in July after he was released from his KSU scholarship.
Jordan Meltzer (Burroughs High, 2016) Colorado College women's basketball junior: The former All-CIF point guard is enjoying her share of time with the Tigers, as she has started all 13 games so far.
The 2016 All-Pacific League co-Player of the year is shooting 42.2 percent from the field and 41.7 percent from three-point range. Her season-high in scoring came with 16 points in 76-66 loss Dec. 15 to Texas Lutheran, where she made four three-pointers.
She's averaging 7.4 points with 1.5 assists per contest.
The Tigers are 7-6 overall and had a rough stretch of games to start December, but the team pulled it together to end the year on a high note with a three-game win streak.
The year-end run puts the Tigers at 4-1 in the Southern Collegiate Athletic Conference, good enough for third place.
Twitter: @ReporterVince
---