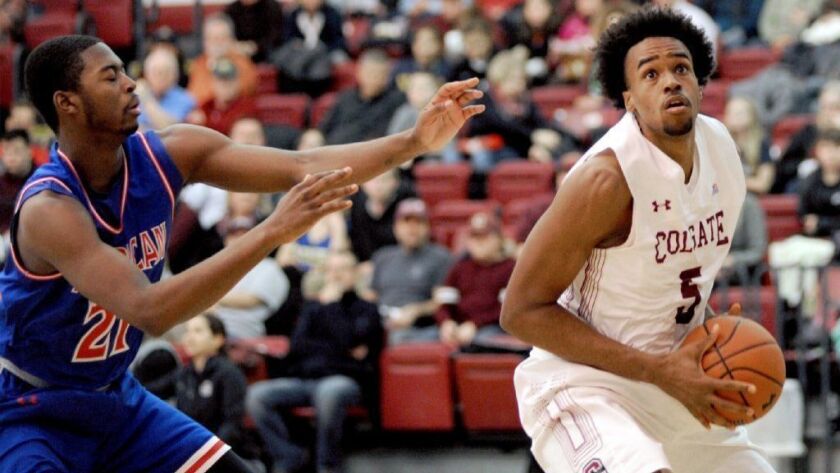 The following are updates on local athletes at the collegiate level.
Malcolm Regisford (Bellarmine-Jefferson High) Colgate University, men's basketball senior: For the first time in two decades, the Colgate men's basketball program captured the Patriot League championship, and with it came an automatic berth to the NCAA Tournament.
Regisford, helped the Raiders to conference supremacy for the first time in 23 years and helped the program to its first appearance at the "Big Dance" since 1996.
However, in its third-ever appearance, No. 15 Colgate fell to No. 2 Tennessee, 77-70, on Friday in a tightly contested first-round South Region game in Columbus, Ohio, that saw the Raiders take the lead twice.
Regisford played 13 minutes and recorded two rebounds, a block and an assist.
"Our guys stepped up and played great," Colgate coach Matt Langel told the Utica Observer-Dispatch. "They played their hearts out and they made some shots. ... You're just trying to hang in there, hang in there, hang in there, and hope that you can get enough stops and make enough shots down the stretch to steal a game like that."
The Raiders (24-11), who trailed by double-digits in the first half, came back in the second half to take a 52-50 lead Tennessee took a two-point lead shortly thereafter, and though Colgate made several pushes, the Raiders were unable to mount an upset.
On the season, Regisford, a former All-CIF Southern Section standout, was a consistent rotation player off the bench, averaging 16.1 minutes, 6.5 points and 3.6 rebounds.
The forward averaged 7.3 point and 4.1 rebounds on 17.1 minutes in Patriot League play.
The Raiders entered the NCAA tournament on an 11-game win streak.
Cosette Balmy (Bellarmine-Jefferson High) Pasadena City College, women's basketball freshman: Balmy enjoyed a great deal of playing time and played a major part in the Lancers' run to the third round of the California Community College Athletic Assn. State Southern California Regional.
She started all 30 games and averaged 13.7 points, five rebounds and 3.9 assists, as the Lancers finished 19-11.
Pasadena struggled in the South Coast Conference North Division with a 3-7 mark, but it was enough to earn a playoff berth.
The sixth-seed Lancers defeated No. 11 Palomar, 61-58, before Balmy's strong effort in the third-round game against No. 3 East L.A. proved not enough in a 78-53 loss. Balmy contributed 17 points, six rebounds and three steals against East L.A.
The freshman led the conference in steals with 38 and was selected on the All-SCC North first-team.
Balmy, a former All-CIF Southern Section Player of the Year, scored a season-high 26 points against Bakersfield on Nov. 3 in a 72-43 nonconference win.
Steven Hubbell (Burroughs High, 2016) Glendale Community College, men's basketball sophomore:
Hubbell, a former Athlete of the Year with the Indians, was selected to the All-Western State Conference East Division first-team.
The sophomore averaged 12 points, four rebounds and three assists, and hit a season-high mark of 23 points twice in the duration of the season.
Also making the all-conference first-team for the Vaqueros was former Bellarmine-Jefferson High player Isaac Etter. The sophomore led GCC in scoring and averaged 22.9 points per game. Etter averaged 21.3 points in the final four games of the season.
Etter's highest scoring performance came against Barstow with a 40-point effort in a 85-83 home win Nov. 30.
Glendale concluded its season at 11-17 and finished in a three-way tie for third with Victory Valley and Antelope Valley at 4-4.
.
Kate Wilke (Burroughs High, 2016) St. Francis University, women's water polo junior: Wilke has been a steady force as a goalkeeper for the Red Flash, with St. Francis posting a 5-2 record with her in the lineup.
Wilke has made 79 saves and allowed 67 goals and has averaged 11.3 saves per match for the Red Flash (9-15 overall).
Against Gannon University on Feb.10, the junior helped St. Francis to a 8-6 nonconference win, and the six goals allowed was her season-low.
The Red Flash have yet to begin Northeast Conference play, but Wilkes and St. Francis will battle conference rivals Harvard, Bucknell and George Washington in the George Washington Mini on Saturday.
Conference play begins Apr. 6 against Michigan University and Princeton University.
Davina Del Castillo (Burroughs High, 2015) California State University San Marcos, women's basketball redshirt junior:
The former All-Area Player of the Year averaged 14.5 minutes in 23 games and averaged six points and 4.6 rebounds per game for a Cougars team that finished 18-10.
San Marcos concluded conference play on a six-game winning streak, as Del Castillo contributed an average 4.8 points and 6.5 rebounds during that span.
The Cougars reached the California Collegiate Athletic Assn. Tournament semifinals where Del Castillo contributed four points and 10 rebounds in 24 minutes in a 70-63 loss to No. 2-seed University of California San Diego.
The Cougars previously defeated Cal State Dominguez Hills, 75-69, in the tournament opener for their first-ever win in the CCAA tournament.
Twitter: @ReporterVince
---