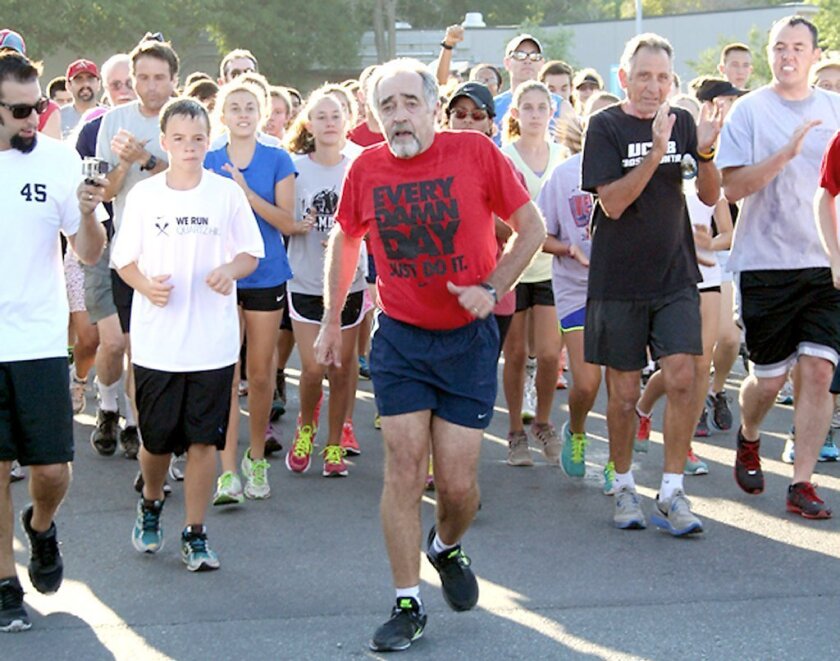 LANCASTER — His Wednesday began like any another throughout the last 45 years.
Burbank High alumnus Mark Covert awoke at 4 a.m. for his predawn workout.
The plan had been the same for the Lancaster resident, which is to say Covert scheduled an hour of exercise, followed by a shower, breakfast and then a short drive to Antelope Valley College for 6 a.m. practice with his men's and women's cross-country teams.
The only difference this Wednesday was that the 62-year-old Covert, a current coach and teacher at Antelope Valley College, didn't take his usual 2-to-4-mile jog-walk hybrid, but instead enjoyed a vigorous workout on his recently-purchased bike.
Such a minute change would seem trivial if not for the fact that Covert did not run at all on that Wednesday, which marked the first time the one-time Glendale Community College coach did not complete at least a one-mile run since July 22, 1968.
On July 24, Covert's all-time American streak of consecutive days of having completed a mile, according to the United States Running Streak Assn., ended at 16,436 days, or exactly 45 years. A streak which began shortly after Covert's Burbank High graduation, had finally come to an end.
During that time, Covert racked up 149,660 miles, which averaged out to 9.1 miles per day or roughly 6.4 trips around the earth or a two-thirds trek to the moon. During his journey, nine presidents were in office, beginning with Lyndon B. Johnson, signer of the Civil Rights Act, and ending with Barack Obama.
A mid-foot collapse that will require surgery slowed Covert to a hobble over the last six months and ultimately led to an eventual pause on July 24. Interestingly, though, it wasn't pain that brought about the end, but rather Covert's inability to train to his up tempo and high-energy standards.
Yet, with every reason to be sad about the ending of the streak, Covert was instead grateful and reflective of what he was able to accomplish.
"It was time to stop. For those who have seen me recently, I've struggled to complete my runs. I've hobbled most of my runs the last few months," Covert said. "I could have continued, but I wasn't really getting anything out it. There was no point.
"What I appreciate most is that I was able to end the streak on my own terms. That's special to me."
Covert was well aware of the bad fortune that's befallen his peers, including when then 70-year-old software developer Kenneth Young of Petrolia halted a 41-year streak in January last year due to an accident in which Young tore one of his Adductor muscles.
A month earlier, Julie Maxwell of Kasson, Minn., the all-time female leader, broke her ankle in a backyard slip and also didn't continue, thus ending a 33 1/2-year streak.
For Covert, there were a couple of close calls.
"The most difficult time for me to continue my streak was probably November when I had my kidney stone," said Covert, who also endured a broken foot and knee surgery during his streak. "It was an unbelievable pain and it was very difficult. I also hurt my back two years ago and I couldn't even pick up my computer bag. Fortunately with those two, I was still able to get out there every day."
Unlike Maxwell and Young, Covert's final lap didn't come as a surprise, as he was greeted by a crowd of approximately 250 well-wishers after the conclusion of his mile run at Antelope Valley College on the morning of July 23.
"It was remarkable to see all those people, so many old friends, college buddies, guys from high school and people I hadn't seen in years present," Covert said. "There were a lot of friends and a lot of memories and also a lot of people from school that I didn't know, but who took the time out to come and say hello. That was an exciting experience."
One such ally was Sherman Oaks Notre Dame High cross-country Coach Jon Sutherland, a former teammate of Covert at Los Angeles Valley College from 1968 to 1970, and the No. 2 man on the all-time streak list with just more than 44 years under his belt.
Despite the possibility that Sutherland would surpass Covert's current record within a year, there was nothing but fraternity among the giants of longevity.
"It's not really a competition that we have. How can it be? After all, Jon never got a day closer to me over the last 45 years until Wednesday," Covert said. "With my bad feet, I could have called this quits 20 years ago.
"So, for Jon, if he breaks my streak, that's fine with me. I hope he continues running until he's 80 or 85, or until he wants to stop, just as long as it ends on his terms."
While Sutherland may very well own the record in due time, the coach conceded that his success was partially due to Covert.
"Mark was never the biggest, strongest, fastest or most talented guy, but nobody, nobody, outworked him. His work ethic and desire were unbelievable," Sutherland said. "When he won the [NCAA Division II] national championship at [Cal State] Fullerton [in 1970], he put a spotlight on the Valley. No one from the Valley had done anything like that and here's a guy from Burbank High and L.A. Valley College winning a championship."
One of Covert's Cal State Fullerton teammates, Joe Nedza, remembered the intensity of a young Covert.
"We were all a bunch of junior college transfers with something to prove and Mark was certainly the leader," said Nedza, a retired Newport Beach resident and former Orange County deputy district attorney. "I liked to party, but Mark was the one at 5:30 giving us all these workout regiments and getting us into shape. He brought all these drills and ideas from Los Angeles Valley and his coach, Laszlo [Tabori]."
The aforementioned Tabori was there to support Covert. The 82-year-old Tabori, a resident of Oak Park, is a former member of the Hungarian Olympic Team who competed in the 1956 Games in Melbourne and was the third person in the world to break the 4-minute mile barrier. He recalled his early coaching success, beginning with the arrival of Covert at L.A. Valley College.
"There were some people who said that 'Laszlo couldn't coach cross-country.' So, I went to the guys on the team and asked them if they were ready for hard work. I was ready to do whatever they wanted," said Tabori, who once ran the San Fernando Valley Track Club and who owned a shoe store in Burbank. "We worked hard that summer and ended up winning a state championship in 1968, the first of three state championships. Mark was on that first team and he wasn't afraid of work."
Covert added to a career already full of titles in 1974 as a first-year coach at Glendale Community College, when his squad won a men's state cross-country championship.
"It's funny, but I remember that '74 Glendale team really well and that was 39 years ago," Covert said. "That was my first head-coaching job and I was very fortunate to have it. I was a 23-year-old who thought he knew everything and who thought it was going to be that easy all the time."
Covert coached a talented squad led by Bobby Thomas, who still holds the Vaqueros' Mt. San Antonio College record of 19 minutes, 19.8 seconds.
"I still talk to Bobby Thomas and I was fortunate to have a group of great guys," Covert said. "That job started my coaching career."
As for his running career, Covert was thankful to have run under the guidance of former Burbank High coaches Dave Kemp and Frank Kallem.
"I've said it before and I'll say it again. I really believe that I had a great opportunity at Burbank to be a part of the best cross-country program in the country," said Covert, who had three former Burbank High teammates in Richard Aspey, Larry Ehrlich and John Sargenti at his final-lap ceremony. "We had so many great runners who went to Burbank in [John] Musich, [Todd] Lewis, Rick Romero and Jeff Nelson. It was an amazing time to be at Burbank.
"After having run this streak for 45 years, I can remember back to when Kallem and Kemp got me involved in running and pushed me on this long journey that I've been ever since. I guess I earned a break."
---