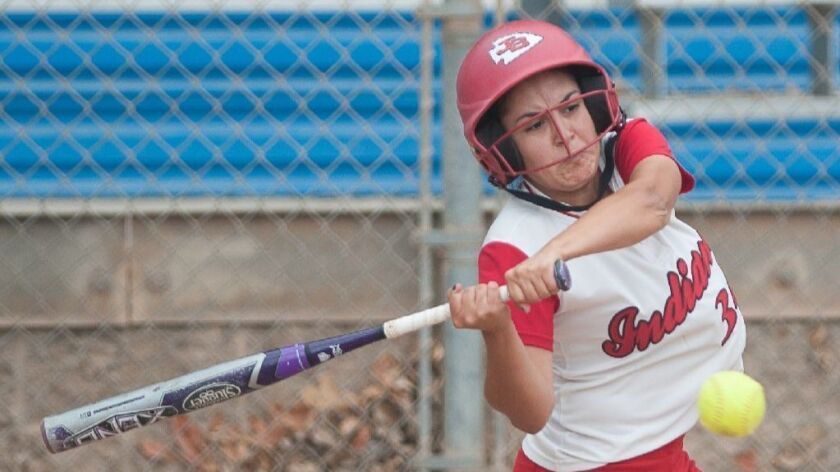 BURBANK — In this year's CIF Southern Section Division III playoffs, the Burroughs High softball players and coaches thought they had a reasonable chance.
After being swiftly dispatched from the Division I playoffs in 2017, the Indians were moved down two divisions where the competition was a bit more manageable.
Burroughs won its first-round game Thursday, which put it into Tuesday's second round. Facing an aggressive Redlands East Valley squad, the No. 3 seed, the Indians couldn't sustain their offense and suffered a 4-0 loss at Olive Park.
The loss ended the season for Burroughs (14-5-1), which finished second in the Pacific League behind Crescenta Valley.
"At least in this year's playoffs we had a fighting chance and we felt like we could compete," said Burroughs coach Wes Tanigawa, whose squad fell to Oaks Christian, 7-0, in 2017. "I think this is where our program needs to be as far as the playoffs are concerned."
Redlands East Valley (22-7), the runner-up from the Citrus Belt League behind Yucaipa, had an aggressive approach at the plate against Burroughs starting pitcher Presley Miraglia. The Wildcats continually took swings on first pitches and connected on a good share, ending with 10 hits.
"That is one of the things that we have been doing since the time we got started; being aggressive at the plate and attacking whenever we can," Redlands East Valley coach Debbie Garcia said. "If you don't attack and you aren't aggressive you get behind in the count; then you have to go after their pitches. So, if you attack, you select your pitches.
"Our top two batters usually report back and, if the first pitch is there, they tell us and then we go after it."
The Wildcats received a stellar effort from starting pitcher Eve Harvey, who went the distance, not allowing a run while giving up seven hits, striking out nine and not walking a batter.
In her Burroughs finale, Miraglia, a former All-CIF Southern Section selection and All-Area Softball Player of the Year who is headed to Long Beach State, went seven innings, striking out four and not yielding a walk.
"I had to kind of adjust today because the ump was not really calling strikes off the plate," Miraglia said. "That made it a little harder. I should have changed some things up a little more. My pitches were moving pretty good, but they were just on the plate too much."
The Wildcats got to Miraglia early, taking a 1-0 lead in the top of the first inning when first baseman Kailie McKee (two for two with a triple, run batted in and two runs) singled down the left-field line and was brought home on a double to left field by Harvey (two for four with two RBI).
Redlands East Valley had chances to add to their lead in the second, third and fourth innings when it put a runner at third with one out in each frame. But Miraglia got out of all three jams to keep it a one-run game.
Burroughs had a chance to score by putting runners at first and third with two outs in the bottom of the third. Designated player Kaitlin Escamilla reached base on a fielder's choice and took third on a base hit to left field by center fielder Hannah Talavera. But Harvey induced a 6-3 putout to keep the Indians off the board.
The Indians again had runners at first and third in the sixth after Miraglia reached on a fielder's choice and pinch runner Hannah Skinner went to third on a single to right-center by pinch hitter Sierra Harvey. But the threat was halted with a strikeout.
"We just missed some key plays and we missed a few bunts that we should have put down," Tanigawa said. "We just couldn't get the solid contact hits that we normally get.
"I told the girls in the second round of the playoffs, if you make mistakes you are just looking to get cancelled out."
Redlands East Valley increased its lead to 3-0 with two runs in the fifth inning and made it 4-0 with a run in the seventh.
Left fielder Jessica Amaya was two for three for Burroughs, which defeated Bonita, 2-0, in the first round of the playoffs.
Twitter: @jefftsports
---