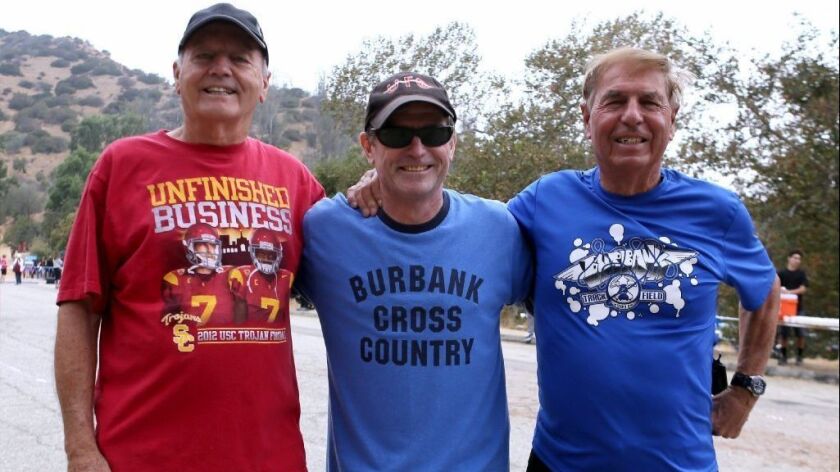 LOS ANGELES — He is arguably the best high school distance runner in American history.
He is a member of the hall of fame at two institutions, Burbank High and Glendale Community College, and was a California state champion in high school and college.
He turned the prep running world upside down when in 1979 he set a national two-mile record of 8 minutes, 36.3 seconds, a record that stood for nearly three decades. In his senior cross-country season, he won every race and set a new course record every time.
However, despite the wealth of success and acclaim he reaped from his exploits on the cross-country course or the running track, Jeff Nelson has remained modest and humble, almost to a fault.
"In my opinion, Jeff is the greatest high school distance runner in history," said Dave Kemp, who coached Nelson in track and field and cross-country at Burbank High. "Jeff just couldn't be beat. He was just amazing.
""But you know what is an even more amazing thing about him is that he never went around patting himself on the back. He remained humble and you never knew how great he was by talking to him because he wasn't going to tell you."
With that modesty still a large part of Nelson's persona, he reluctantly took center stage Saturday morning when he was honored at the inaugural Jeff Nelson Invitational at Griffith Park.
The meet was hosted by Burbank High and was the brainchild of Kathryn Nelson, Jeff's wife and the co-coach of the Bulldogs cross-country teams.
"It is a bit overwhelming," said Jeff Nelson, a 1979 Burbank graduate who ran at the University of Oregon before going to Glendale college. "It is kind of uncomfortable and a bit surreal to be in this position, having a meet named after you. But also I really appreciate it."
"But my success at Burbank High is directly related to the great runners who came before me in the program and they just set the bar so high. I just wanted to be on their level and to have some of the success that they had."
Said Kathryn Nelson: "Since I came to Burbank, this is something that I've always wanted to do, to have a meet like this and bring the tradition back. But when I first told Jeff what I wanted to do, him, being so humble, didn't want it. But I think he likes seeing that the kids are still interested in what he did and that he is inspiring them."
Jeff Nelson helps train the Bulldogs athletes and sometimes joins them in workouts.
"This is just so cool to have our own invitational, and its great that it's named after Jeff," Burbank junior Victor Goli said. "Since we have gotten here, we have worshiped Jeff and the success that he had.
"He has come to our practices and helped us and that has really helped motivate us."
Along with the tributes to Nelson, there were outstanding performances and efforts turned in by the 19 teams in Saturday's event.
In the girls' varsity race, sophomore Mia Barnett, a La Crescenta resident, from Village Christian ran away from the field to finish first in 19 minutes, 12.6 seconds.
"I felt really good, I was just kind of racing to be there for my team today," said Barnett, who was 12th in the state Division V cross-country in 2017. "I think my training over the summer helped me. It was a good course and there were equal uphill and downhill parts."
Burbank's Shalom Mejia placed second in 19:44.7. The next local finisher was Burroughs' Ceci Whitney, who finished 11th in 20:15.0. Also cracking the top 20 were Sol Fernandez (13th; 20:17.9), Noela Kim (18th; 20:56.1) and Natalie Danao (20th; 20:58.9) of Burbank, along with Julianna Navarro (17th; 20:49.9) of Burroughs.
Hoover also competed and its top finisher was Gabriela Quinones (31st; 20:17.1).
The Bulldogs (33 points), placed second behind champion Saugus (64), while Alhambra (107) took third. Hoover placed 11th (259) and Burroughs didn't have enough runners for an official score.
On the boys' side, Saugus' Jacob Kaufmann won the race in 16:03.0, while Goli was second in 16:16.4. The Bulldogs placed all five of their scoring runners in the top 20, which included Andres Leon (fifth; 16:20.2), Tadeh Shanazari (eighth; 16:44.2), Dayne Ellis (14th; 17:04.3), Anthony Chiaravalle (16th; 17:09.4) and Jahir Olvera (20th; 17:22.7).
The Indians' top finisher was Carlos Ponce (19th; 17:13.1), while Hoover's Omer Abdelrahim was 50th in 18:30.4.
Saugus, which placed its five runners among the top 10, finished first with 25 points and was followed by Burbank (36) and Ontario (125), while Burroughs was sixth (147). Hoover didn't have enough runners for an official score.
Twitter: @jefftsports
---