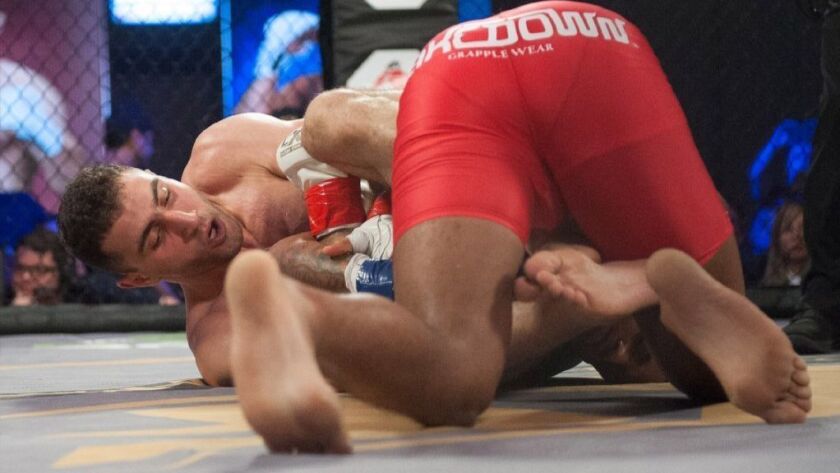 BURBANK — Roughly three years ago, Edmen Shahbazyan was making news when he advanced all the way to the CIF State Wrestling meet representing Hoover High.
On Saturday night at the Burbank Marriott Convention Center, the former Tornado tore through his latest opponent as the burgeoning mixed martial artist from the Glendale Fighting Club trounced Daniel McWilliams in just 30 seconds to remain undefeated and highlight a night of fast finishes at California Xtreme Fighting's Burbank Beatdown.
Glendale's Shahbazyan improved to 6-0, having won all his professional fights via first-round technical knockout, while Tigran Grigoryan, who fights out of Main Event Gym in Glendale, recorded his first pro win with a first-round armbar submission of Donte Stubbs.
"I feel really good," said Shahbazyan, who trains under Edmond Tarverdyan at GFC, of where his career is at at just 20 years of age. "Six and oh, I feel really good.
"One step at a time."
Grigoryan and Shahbazyan's first-round triumphs were part of a night that featured seven first-round finishes and eight finishes overall out of 11 bouts.
The Media City crowd saw a card that featured a trio of CXF title bouts, with the main event seeing AJ Bryant (8-2) defeat Brian Del Rosario (3-1) via unanimous decision to cap the night for the featherweight strap.
In a phenomenal three-round scrap for the CXF bantamweight title, George Garcia (7-3) rallied from a precarious first round to win a majority decision over Ultimate Fighting Championship veteran Chris Beal (10-6). Scores were 29-28 twice and 29-29 as an emotional Garcia, who recently lost his mother, defeated Beal, who was previously a member of Team Rousey on "The Ultimate Fighter," coached by Ronda Rousey and Tarverdyan.
In the first CXF title bout, 36-year-old former UFC combatant Estevan Payan (17-12) rallied to stop Dominic Clark (11-8) at 3:17 of the second round. Payan took the bout on just two days' notice and won the lightweight (155 pounds) strap – although the fighters weighed in at 159 – with a barrage of punches to a grounded Clark.
Training under Roma Kalentaryan at Main Event, Grigoryan (1-1) tallied win No. 1 in his MMA career when he subbed Stubbs (3-3) in a welterweight bout.
Grigoryan took a stiff leg kick from the southpaw Stubbs at the onset and soon after shot in behind a combination. Pressing Stubbs against the cage, Grigoryan worked a side throw, but Stubbs immediately got the fight back to standing. Grigoryan kept his clinch, though, and another throw took it back to the ground. Grigoryan went from side control to half-guard and then began working for the armbar. Stubbs fought it off for some time before throwing a hammerfist from the bottom. The strike landed, but it opened up the finish as Grigoryan sank in his hips and caught the quick tapout.
Shahbazyan (6-0) had an easy night against McWilliams (17-34) in their middleweight fight.
McWilliams shot in quickly and Shahbazyan easily stuffed it and went straight to top control inside McWilliams' guard. From there, without even working for better position, Shahbazyan postured up and began raining down punches until it was stopped.
"I was trying to keep it on the feet, but I knew he wanted to take me down," Shahbazyan said. "He went right to his back, so I'm like, 'OK, I'm gonna throw haymakers.'"
And that was it after just 30 seconds.
Among the many cheering on Shahbazyan was his GFC teammate Vanes Martirosyan, who will box Gennady Golovkin on May 5 at the StubHub Center in Carson. Shahbazyan, who was all smiles from the end of the bout through the end of the card, gave a shoutout to his teammate in his postfight in-case interview and wished him well.
In other bouts: Jose Marroquin (1-1) rallied to earn a technical knockout after he was busted open and looked to be on the verge of being stopped against Jon Saroyan at 3:25 of the first round in the opening bout of the night; Mark Alviderz (1-2) followed suit notching his first pro win in the first round, submitting Jose Aparicio (0-1) in 51 seconds with a belly-down armbar; with the fourth straight first-round finish, Arutjun Pogosian (3-0) defeated Arian Sharifi (4-1) via TKO at 1:49; popular Southern California fighter Mike Jasper (13-4), after entering the cage to Johnny Cash's "Folsom Prison Blues" battered Justin Baseman (15-18-1) for a TKO at 4:57 of the first to continue the first-round finish parade with three seconds to spare; the first fight to go past the first went distance as Serob Minasyan (9-9) won a split decision over Spike "The Alpha Ginger" Carlye (4-1); Team Hayastan's David Roberts (2-0) finished Raul Mota (0-1) with a walk-off knockout at 1:52 of the first.
Twitter: @TCNGrantGordon
---