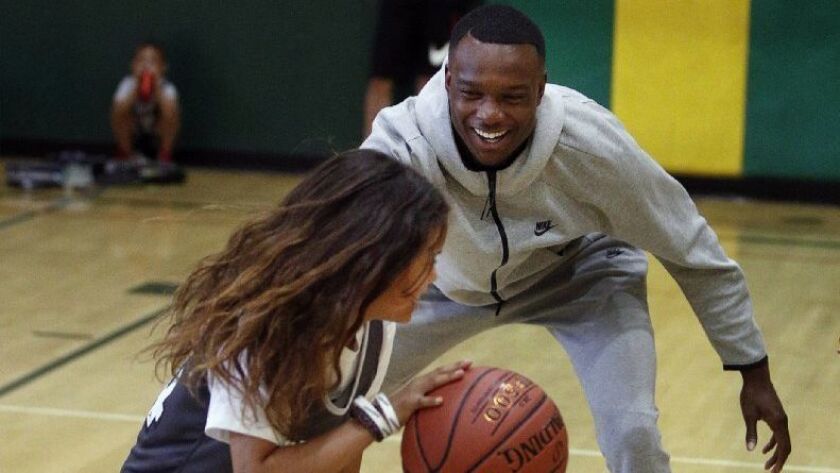 BURBANK — Affection for the city of Burbank is a subject that's very dear to Austin Pope.
It's where Pope was born, raised and given an opportunity to follow his dreams on the basketball court.
Pope played in the Burbank High boys' basketball program before heading to college in Idaho and Hawaii. That gave him a chance to go overseas and play basketball in several countries in Europe.
Pope's devotion to his hometown and his desire to assist young athletes was evident when he spoke to about 40 participants who attended the inaugural Breakthrough Sports Basketball Camp at Luther Burbank Middle School. The camp started Monday and concluded Friday.
Pope, who graduated from Burbank in 2013, stood near center-court in the gymnasium and addressed the campers on a variety of subjects.
"My parents put me in camps when I was 4 years old, but when I was your age there weren't any camps in Burbank," said the 6-foot-5 "Pope, who played college basketball at North Idaho College and Chaminade University. "The whole summer was about going to basketball camps, but I had to go elsewhere to go to them.
"I'm not on TV, so I've always been the underdog. It's about working hard and don't be afraid to ask questions."
Pope, a point guard, earned All-Pacific West Conference accolades at Chaminade and played professional basketball in Lithuania and Denmark last season.
Whenever Pope comes back to the Media City, he makes it a point to spend time giving back to the community. It can range from a public-speaking appearance to going over a drill at a basketball camp.
"I can talk about Burbank all of the time and I've loved it my whole life; I think about it quite often and I'm proud to be from here," said Pope, who played for Vaerlose of the Basketball League in Denmark. "It's a city with a lot to offer and the people evolve and get better at what they do. This city gave me that chance and that's why I feel lucky that I can give something back to the city.
"I've spoken in the past at Burbank and Burroughs and I've seen some of the games. When you see them playing, they are getting the same chances that I had. It was a dream of mine and now the next group has a chance to live that dream. Just be proactive in life."
Diego Cevallos, who has served as recreation services manager for the City of Burbank for nearly two years, said Pope has been an inspiration for the city's youth.
"I met him earlier this year and he's the perfect person to speak on a lot of topics," Cevallos said. "Austin wants to help these kids and others achieve their goals, whether it's in basketball or another career.
"It's just his willingness to be engaged in the community and the way he appreciates the things he'd had here. You like to see people like him be an influence to kids."
Kayla Archuleta, who attends Luther, recalled seeing Pope play against her brother, Anthony, in a couple of Burroughs-Burbank basketball contests.
Archuleta said Pope offered plenty of insight when he spoke to the camp.
"It's easy to give up, but he doesn't want you to do that," Archuleta, 13, said. "You can take advantage of any opportunity out there if you want to.
"When you do the different drills at the camp, challenge yourself to do them right so you can become a better player."
---