Providence girls' basketball outlasts Pasadena Poly to claim league victory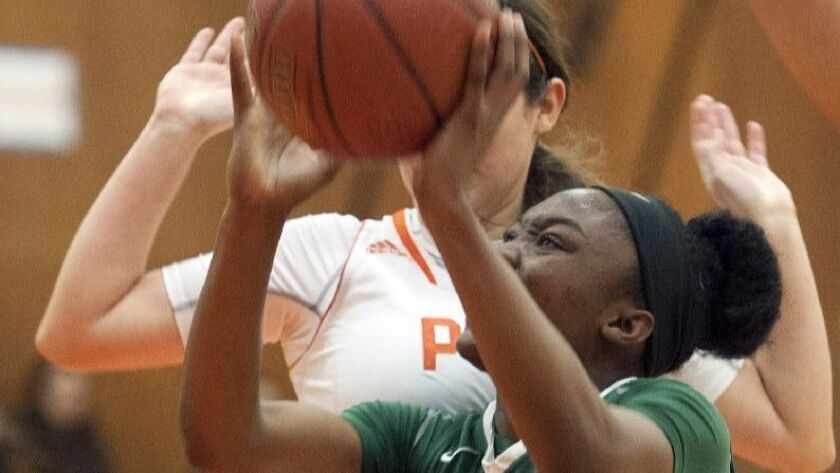 PASADENA — The Providence High girls' basketball team normally plays at a fast pace, a tempo that creates intense pressure on the defensive end.
The question Saturday was: Could the Pioneers could maintain that level of play against Pasadena Poly in a Prep League showdown after coming off of a league victory against Rio Hondo Prep the day before?
Providence finished the first quarter of its game with a team-total of eight steals, and despite experiencing foul trouble down the stretch, hung on for a 52-46 victory against host Pasadena Poly to earn its second league win in as many days.
""We know Poly was going to play hard," Providence coach Andrew Bencze said. "They always play good defense and they're well-coached, so we knew it would be a challenge.
"What really slowed us down was getting into foul trouble. It really hurt us because we have some great offensive players, but when they're sitting on the bench, it's hard for them to score. But we survived, particularly in that second quarter where we sat them all out and survived to get into the second half."
Providence freshman Jyah LoVett showed no signs of fatigue either, with a 24-point performance. The guard posted 32 points the night before in a 66-42 win against Rio Hondo Prep.
The Pioneers' defense in the first quarter was spearheaded by guards Audrey Sayoc, Ariel Gordillo and Ava Yood-Howard, as the trio hounded the Panthers into committing turnovers.
Sayoc posted seven of her 15 points, Yood-Howard stole the ball four times and Gordillo scored all 10 of her points in the first quarter to give the Pioneers a 20-14 lead at the end of the frame.
"With our [pressure plays], I feel like we're really good at that and really good at communicating," said Yood-Howard, who finished with eight steals. "We know what to do, and even though the refs were calling fouls, we just stuck to defending without fouling. "
Providence — which previously lost to Pasadena Poly, 44-35, on Nov. 21 in the third-placed game of the Providence Pioneer Shootout — forced the Panthers to turn the ball over nine times in the opening quarter.
"Right now, it's the first time since we've had everyone back," Bencze said,"… It's just, we've lost time, but at the same time, we've gotten a lot better. That group that played against Poly in that tournament is a lot better today than they were back then."
LoVett struggled to find a scoring groove in the first quarter, but then put up seven points in the second quarter as the Pioneers (13-8, 5-1 in league) finished the half with three players in double-digits in scoring.
"Our full-court press; we've gotten better at it," LoVett said. "And our chemistry's gotten better, so we know how to run it to the best of our abilities. It gave us a lot of steals, as you could see."
The Panthers (8-6, 0-4) battled back late in the first half to force three Providence turnovers and close the gap to 31-23.
Aside from a Pasadena Poly 6-0 run late in the third quarter, LoVett practically answered every Panthers' score with a drive to the basket or a shot from distance as the freshman finished the quarter with 10 points.
"I felt like the refs were calling it pretty tight, so we had to adjust to it," said LoVett on the Panthers' rally. "They gave them a lot of fouls and got them to the line and that's what got them [rallying]."
The Panthers pulled within 45-40 early in the fourth quarter and then closed in to a 50-46 deficit with 1:58 left. But a LoVett layup and a Yood-Howard steal sealed the deal for Providence.
"It was a tough game and we still had to fight, even though we were up," Yood-Howard said. "I feel like we did pretty well, especially since we lost last time. We're a different team now than we were last time."
Twitter: @ReporterVince
---