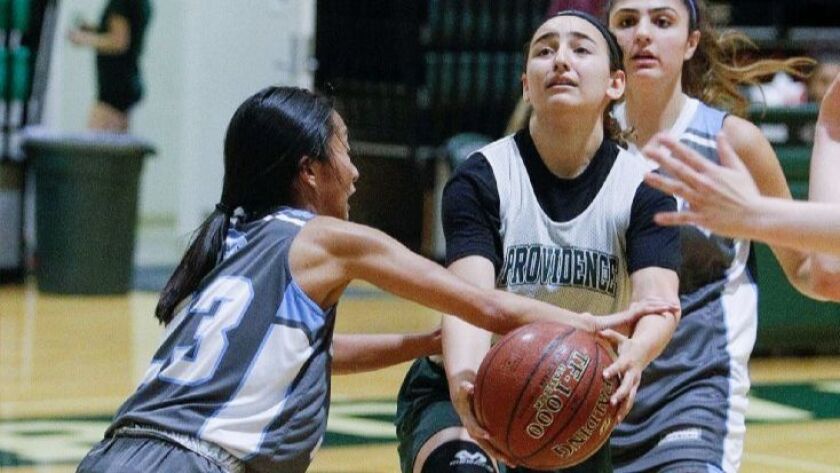 BURBANK — With the summer season nearly complete, there's been plenty of progress made over the last six weeks by the Providence High and Crescenta Valley girls' basketball teams.
The Pioneers and Falcons met in the beginning of the summer and competed against each other again Tuesday in a Providence Summer League contest.
Backed by a balanced scoring attack and an impressive second-half surge, Providence achieved plenty of satisfaction with a 49-38 victory.
Providence ended the game on a 19-7 run.
"It's exactly what we've been looking for during most of the summer," said Providence coach Andrew Bencze, whose team finished 16-13, 7-5 for third place in the Prep League before advancing to the second round of the CIF Southern Section Division IV-AA playoffs last season. "CV has got an excellent team, especially on defense with their pressing and trapping.
"You want to be able to practice against teams like that, so it helps you get better. We got into a good rhythm late in the first half and really had it going throughout most of the second half. I like where we are after the last couple of months."
A three-pointer by Audrey Sayoc gave the Pioneers a 33-31 lead with 11:43 remaining in the second half. The Pioneers wouldn't relinquish the lead the remainder of the contest.
Sayoc, who finished with a team-high 11 points, added a basket with 2:38 to go to make it 47-38.
"I liked the way we played in the second half," said Sayoc, a sophomore. "We were able to get over our mistakes in the first half and you could see the team getting stronger throughout the second half.
"We were able to grab some rebounds and get out on the fastbreak to score. Everybody got involved and that's what we've been looking to do in the summer. I got some open shots and stayed patient."
Providence received 10 points from Sydney Savoc and eight from Haley Laca.
Laca converted on a layup to give Providence a 39-33 lead with 6:02 remaining.
Crescenta Valley, which went 18-11, 10-4 to tie for second place in the Pacific League with Burroughs and Pasadena before reaching the second round of the Division II-AA playoffs last season, pulled to within 36-31 on a three-pointer by Natalie Minassian with 5:10 remaining.
Providence finished on an 8-2 run, picking up three steals.
The Falcons held a 26-23 halftime advantage.
Crescenta Valley assistant Mike Flot, who filled in for head coach Jason Perez, said the Falcons had no response in the second half.
"It's the summer and we're trying to get as many people possible to compete," Flot said. "We just had a pretty rough stretch in the second half and Providence made a lot of plays.
"Learning and making progress will lead to wins. We just want to make sure we all know our roles heading into the season. We just need to be fundamentally sound."
Crescenta Valley got 12 points from Minassian and 10 from Monique Arezoomanians.
Crescenta Valley took an 11-4 lead on a layup by Denise Dayag with 16:45 left in the first half. A basket by Melissa Dayag gave the Falcons a 26-21 advantage with 58 seconds to go in the opener.
Providence competed without sophomore Jyah LoVett, who Bencze said is focusing on academics during the summer. LoVett averaged an impressive 20.8 points, 8.6 rebounds and four steals a game last season en route to earning all-league and All-CIF accolades.
---