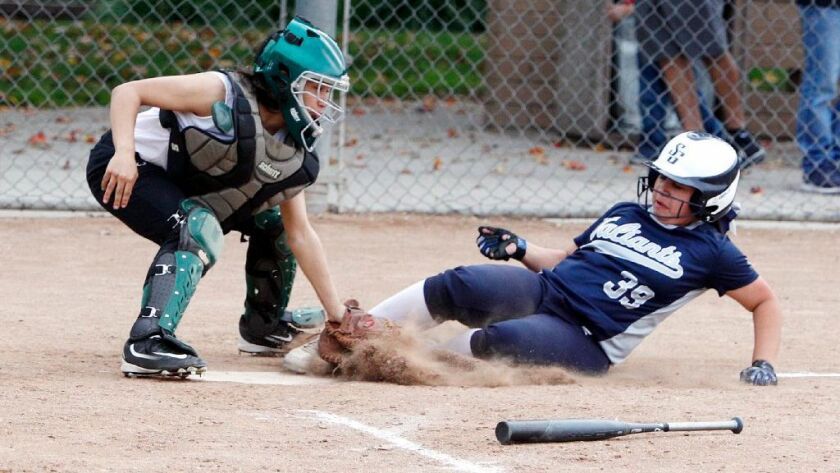 BURBANK — It will take some time for the Providence High softball team to get on track.
With four players just back from competing in the CIF State Division IV girls' basketball playoffs, the softball squad finally participated in a game Friday. Or less than 48 hours after the basketball season concluded.
Though Providence appeared rusty, coach Joel Curtis said the Pioneers will turn things around shortly.
"It's a little rough because the basketball season ended Wednesday and we've had just one full practice," Curtis said after Providence suffered a 13-1 defeat against St. Genevieve at Olive Park in a nonleague contest called after five innings. "They got back late from the basketball game in Chula Vista and then they we lagging a little bit Thursday because of all of the traveling.
"I think we'll be fine and we'll get in some more practices and then start heading in the right direction. I'm confident we'll see improvement."
St. Genevieve junior starting pitcher Mia Coomes, a Burbank resident, held Providence at bay. The right-hander struck out 10 and allowed one run on three hits in a complete game effort. The Valiants (2-0) got a cycle from catcher Natalia Pilpil, who hit an inside-the-park grand slam and finished with eight runs batted in and two runs.
Providence, which finished second in the Liberty League and qualified for the CIF Southern Section Division VII playoffs last season, didn't register a hit until Celeste Lee singled with one out in the fourth inning. Lee scored on a single by Francesca Maravilla to cut the deficit to 13-1. Lee and Maravilla competed on the basketball team, along with Ava Hood-Howard and Sarah Cox.
"It's a little tough to make the transition to softball, but I'm definitely excited to finally be able to play softball," said Maravilla, a senior third baseman. "We were kind of thrown to the wolves today and it's just our second day together.
"Things will come together. We'll get in some more practices and work on things. We'll be fine."
Coomes handcuffed the Pioneers, retiring the first 10 batters. She struck out the side in the third and fifth.
"Once you start pitching, you try to get in a zone," said Coomes, who walked three times and scored two runs. "You show what you can do.
"It's fun to come back here and pitch. I played in the Burbank Park and Recreation League and have played on all four fields here since kindergarten."
St. Genevieve, which won the Santa Fe League championship last season, scored six runs in the first. Pilpil had a bases-loaded double to give the Valiants a 4-0 lead.
St. Genevieve scored twice in the second to extend the lead to 8-0.
Pilpil homered in the third to give St. Genevieve, which finished with 10 hits, a 12-0 lead.
Madison Gibson had the other hit for Providence, a lead-off double in the fifth.
Twitter: @TCNCharlesRich
---