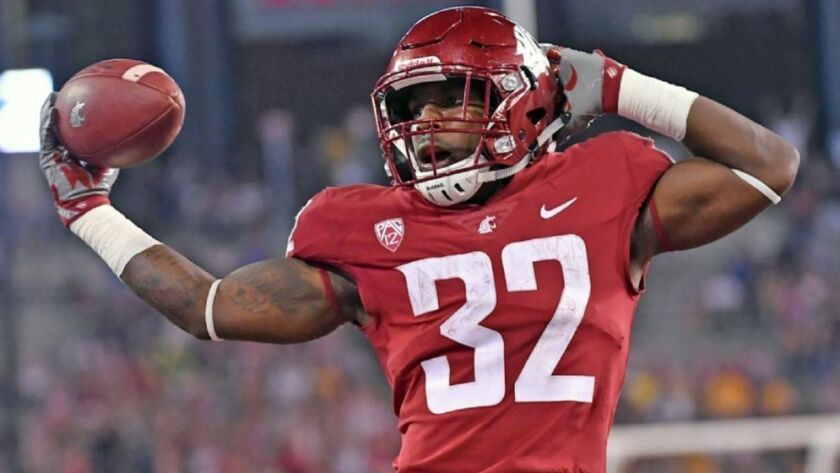 James Williams felt he should have prepared better in 2017 for his sophomore season as a running back for the Washington State football team.
"Really, I didn't come in as prepared as I should have," said Williams, a 2015 Burbank High graduate and former All-CIF Southern Section honoree. "I didn't work as hard as I should have coming into the season and that was all on me."
Despite his self-professed lack of preparation, Williams, a 6-foot, 205-pound multi-purpose running back, enjoyed a wealth of success for the Cougars, breaking records and leading the nation in receptions out of the backfield.
Williams is taking a different approach for his junior campaign.
"I have been working and really doing a lot of stuff differently from what I did before last season," Williams said. "This year I'm coming in way more focused and I'm really determined.
"This year I'm taking better care of my body and working harder and doing all the things that I need to do to succeed … I really want to make this a great year."
The Cougars opened preseason camp Thursday in Lewiston, Idaho.
"Coming into camp, we talked about what James needs to do and how he's going to approach the season," said Washington State running backs coach Eric Mele. "We said that along with what you do on the field, you've got to win the meetings every day and he agreed. We just had a meeting and he answered every question correctly and he just seemed dialed in.
"On the field, he's just a talented kid. He can do all the things that we ask of him, really in three different phases of the game: He can run, he can catch and he is very good at pass protection. Him with the ball in space provides a big problem for other teams. Last year, he just had so many missed tackles in the open field."
After red-shirting in 2015 and following a steady season as a freshman in 2016, Williams had a breakthrough campaign last season as a sophomore. In the pass-happy offense of head coach Mike Leach, Williams appeared in all 13 games with three starts, rushing for 395 yards and one touchdown with a team-best 92 carries.
Williams also proved his versatility out of the backfield, pacing the Cougars with 71 receptions, which was most by a running back in the Football Bowl Subdivision and most by a running back in Washington State history. In all, he tallied 482 receiving yards, caught three touchdowns and set a single-game school record by a running back with 13 catches for 163 yards and two touchdown catches in a win over Montana State. Williams finished second on the team with 964 all-purpose yards.
"What I'm doing here is really the same kinds of things that I was doing at Burbank, in that I can run the ball and I can catch the ball, as well," Williams said. "Because we throw the ball a lot, it's a nice balance for me that I can run the ball or catch the ball when they need me to.
"Opponents know that coach Leach likes to throw the ball, so to be able to add the run from time to time kind of throws opponents off a little and we are able to do some different things. It's really hard to scout for that, because there are so many things that we can do."
Williams ended his sophomore season with 10 catches for 65 yards and 14 yards rushing in a 42-17 loss Sept. 28 against No. 18 Michigan State in the Holiday Bowl.
Washington State is coming off a season in which it went 9-4, 6-3 in the PAC-12 North, and earned a second-straight Holiday Bowl appearance and third-straight bowl game overall. The Cougars opened the season with six-straight victories and posted wins over No. 5 USC and No. 18 Stanford.
"I can't wait at all and it's just been crazy waiting for the season to start," Williams said. "I feel I'm in a good position coming in and I will look to play a bigger role this year. I'm really excited about seeing what I will be able to do.
"I just want to go out there and give my best and help the team out in any way that I can."
Williams' success is not a surprise to his former coach at Burbank, Richard Broussard, who is now at Village Christian.
"I'm not surprised one bit at what James has been able to accomplish," Broussard said. "I always said he was a freak and he was a specimen and he is proving that in college. He is just able to do things that you just can't coach, like his balance and the explosiveness, things he was just born with. And that's what has helped him get to this point."
Washington State kicks off its season Sept. 1 with a nonconference road contest against Wyoming.
"We have been getting better every day and we are coming together as a team," Williams said. "I think a lot of other teams are going to sleep on us, but that's OK. We have a solid team and we are going to be good this season."
Twitter: @jefftsports
---