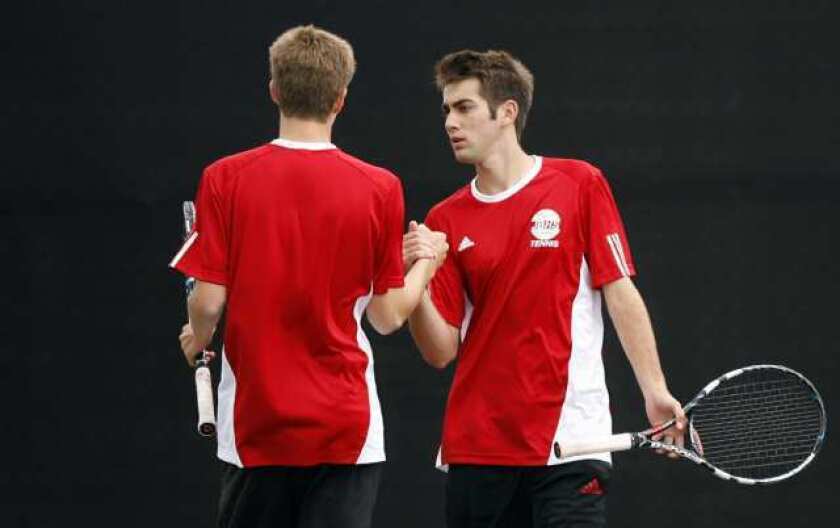 BURROUGHS HIGH — After reaching the CIF Southern Section Division II semifinals last season, the Burroughs High and Arcadia boys' tennis teams came back this season with high expectations and brimming with confidence.
For starters, the Indians and Apaches figured to challenge for the top-two spots in the Pacific League, and their lofty goals don't stop there, as they planned to again make deep postseason runs in May.
Burroughs and Arcadia met for the second of two head-to-head season meetings Thursday. But if the Indians were going to avenge a loss earlier in the season against the Apaches, they would have to do so without No. 1 singles Garrett Auproux, the reigning All-Area Player of the Year and league singles champion.
Without Auproux, Burroughs fell to visiting Arcadia, 10-8.
Arcadia, ranked No. 2 in the latest Division II poll behind champion Palm Desert, improved to 14-0, 9-0 in league. Burroughs dropped to 7-2 overall and in league. The Apaches can wrap up the league championship with one win in their final three matches.
Despite the loss, the Indians have been enjoying another successful season.
"I like where we are right now," Burroughs Coach Roy Bernhardt said. "I think we have a better team than last year.
"We have three more [league] matches left, then the league tournament and then CIF. We are playing well and everybody seems to be healthy."
Bernhardt said Auproux missed the match because of a previous engagement.
Auproux's absence forced Bernhardt to shuffle his lineup. The Apaches' singles lineup of Travis Tu, Andrew You and Albert Chen swept their respective sets without losing a game against mostly Burroughs reserves.
"We didn't think they'd win all nine in singles," Bernhardt said. "Arcadia's got some big-draw players."
The Indians fared considerably better in doubles, getting sweeps from their No. 1 tandem of Kevin Hoang and Phillip Lam and No. 3 team of Michael Whelan and Calvin Fox. Hoang and Lam worked together to win, 6-0, 6-2, 6-0. Whelan and Fox won, 6-0, 6-0, 6-2.
Burroughs' No. 2 team of Wen Yoo Lim and Sawyer Patterson won, 6-2, 6-0. Arcadia received a 6-1 doubles victory from Ryan Chuang and Tim Lin.
"Our doubles teams seem to be up to speed," said Bernhardt, whose team suffered a 12-6 road loss against Arcadia on March 1.
Arcadia Coach Jerry Dohling said the Indians and Apaches appear to be on schedule to excel in the playoffs.
"Both teams have a lot of experience and can build off what they did last year," Dohling said. "We have a good singles lineup, but we have to do a better job in doubles.
Burroughs is one of the top four teams [in the division]. I don't think anybody will want to play them [in the playoffs]."
---