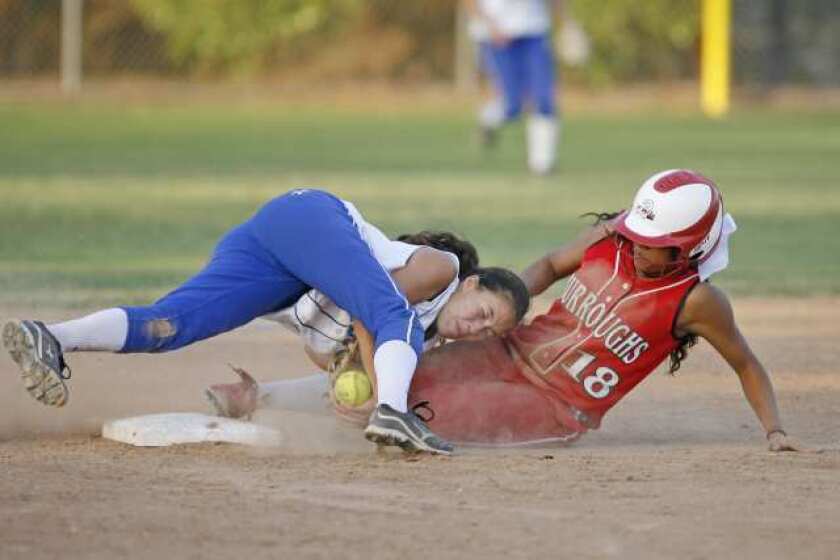 MCCAMBRIDGE PARK — Michelle Santiago knew when she felt the impact on her bat and watched the ball loft toward right field that she had done her job.
Just a freshman, Santiago stepped into a pressure situation Thursday with one out in the rival softball game against Burbank. With an Indians runner on third base in the eighth inning, the third baseman was just trying to get her bat on the ball. On a 1-2 count, Santiago lifted a fly ball to right that scored Brice Edrington to give Burroughs a 2-1 victory in the Pacific League game at McCambridge Park.
The victory was monumental for the Indians (23-3, 13-1 in league), because it gave them the outright league title. Burroughs has won or shared the league crown the past three years. With the loss, Burbank (20-6, 11-3) missed a chance to gain a share of the league championship.
Burroughs — ranked No. 2 in CIF Southern Section Division III — received a stellar performance from senior pitcher Haley Schulman. The right-hander threw a one-hitter, striking out 11 in the process.
However, Santiago provided the offensive spark for Burroughs. Along with the game-winning sacrifice, she also slammed a home run to lead off the game to account for both of the Indians' runs batted in.
On the game-winner, Santiago hung in against Burbank starting pitcher Caitlin Brooks before finally hitting the ball to the outfield.
"Honestly, I knew that I did it when I hit it," Santiago said. "I just knew because [the right fielder] was so far back and Brice is our fastest runner. In my mind, I was like 'Oh my, I just did it.'"
On her lead-off homer, Santiago pushed the count to 3-2 and then connected on a change-up, sending the ball over the fence in left field.
"It just feels amazing to get both of those hits being a freshman and all," she said. "But this was about the whole team. I can't be more proud of my girls."
Burroughs Coach Doug Nicol said although it is just Santiago's first high school season, the freshman has had her share of softball experience. Santiago was a member of the Burbank Major All-Star team that advanced to the 2010 Little League Softball World Series championship game.
"I've known Michelle since she was in kindergarten, and she's just a great player," Nicol said. "What a great game for her. That freshman has all the talent in the world."
Brooks pitched a solid game for the Bulldogs. The freshman gave up six hits and had five strikeouts.
After Santiago gave Burroughs the early lead, Burbank fought back with a run of its own to tie the score at 1. Junior Laina Do led off the inning with a single through the right side. Freshman Lily Winn followed with a sacrifice bunt, as Do was able to smartly motor from first to third on the offering. Junior Ashley Russo than hit into a fielder's choice to second base that scored Do.
The only other time the Bulldogs could manage to advance a runner to third base was in the seventh. Freshman Jazmin Orozco reached base on a fielder's choice and was replaced by sophomore pinch-runner Dakota Briseno. Briseno promptly stole second and advanced to third on a passed ball. After a strikeout, Winn was called out after bunting a ball foul with two strikes.
"We had some chances, but we couldn't come through," said Burbank Coach Nicole Drabecki, whose team finished tied for second in league with Crescenta Valley. "We just didn't get the hits. For whatever reason, we don't play well against Burroughs.
"But you have to give credit to their pitcher; she threw a great game."
Burroughs also had its chances to push across additional runs. In the fourth inning, senior Shannon Trujillo led off with a single and advanced to second on an error. A sacrifice fly put her at third base with two outs, but she was left stranded.
In the fifth inning, Edrington smacked a one-out double. But once again, Burroughs couldn't bring her home.
Nicol said his team is looking forward to the playoffs, as both the Indians and Bulldogs will begin the postseason next week. However, before then, he wants his squad to enjoy the championship.
"We didn't want to share the league title with anybody," said Nicol, whose team was co-champions in with Crescenta Valley in 2011. "We wanted to be selfish and have it for our own."
---