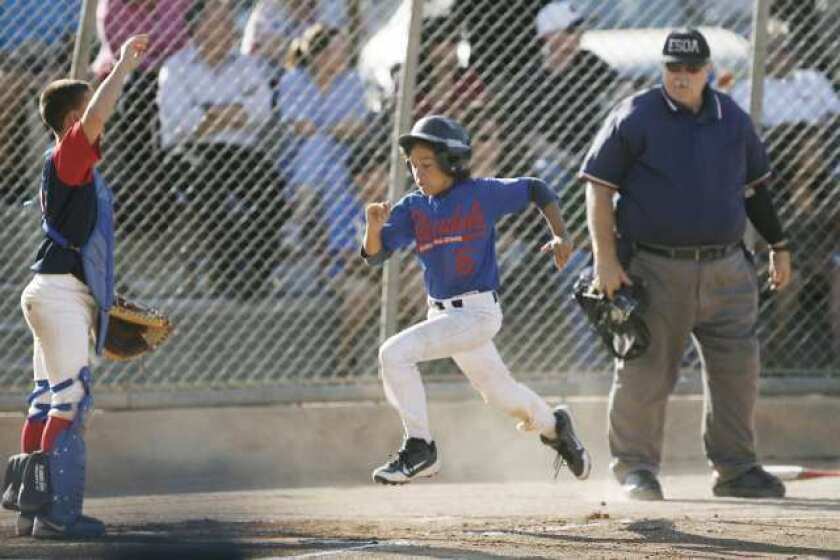 MONTROSE — Burbank had the game well in hand Friday when the 11-12-year-old Major baseball team took on Jewel City/Jewish War Veterans in a District 16 All-Star Tournament second-round contest.
However, despite enjoying a five-run lead heading into the final inning at Montrose Park, Jewel City staged an impressive comeback to tie the score.
Burbank was able to obtain a measure of redemption, though, when Anton Prather delivered a walk-off home run to open the bottom of the sixth inning that propelled his team to an 8-7 victory.
The win moves Burbank into the championship quarterfinal round at 3 p.m. Sunday at Montrose Park.
Despite surrendering the lead, Burbank Coach Michael Hooper said his players maintained their confidence going into their final at-bats.
"Heading into that last inning, we knew we could make something happen," Hooper said. "They don't quit and they were ready to go in that last inning. They know they always have a chance in every game."
After Jewel City pushed across five runs to tie the score at 7, it didn't take Burbank long in its half of the six to end the game. Prather took a 1-1 pitch and belted the offering over the right-center field fence.
"I just wanted to put it in play and try and help my team," Prather said. "When I hit it I felt it come off the bat and I knew I hit it hard. …It was the best feeling in the world."
Burbank enjoyed a 7-2 advantage through five innings, using five pitchers to limit Jewel City.
But Jewel City brought nine players to the plate in the sixth, tallied four hits and took advantage of three errors to account for five runs. Along with singles from Steven Gonzalez, Darrien Green and Fredy Sanchez, the big blow in the inning was delivered by Matthew Moyer, who hit a bases-loaded triple to plate three runs.
Jewel City had the go-ahead run on second base with two outs in the sixth, but was run out of the inning when a base runner got caught up between second and third and was tagged out.
"They believed they could win, and I believed they could win. We just ran ourselves out of a big inning," Jewel City Coach Phillip Palmer said. "They were able to come back against arguably the best team in the league.
"But I thought they played well, but [Burbank] was just one run better."
Burbank jumped out to a 1-0 lead in the first on a single by Damien Flores that scored Riley Hooper, who had doubled.
Jewel City got the run back in the second when Flynt Clayton walked and scored on a triple just inside the third-base line by Matthew Bejanian.
Green was two for four with a double and a run scored, Gonzalez was two for three with a walk and Sanchez was two for three with a run scored for Jewel City.
Burbank scored single runs in the second and third innings and Jewel City tallied one in the fourth to trail, 3-2.
The tight game was broken open in the fourth with Burbank scoring four runs, spearheaded by a double from Prather and a three-run home run to center field by Hooper.
Hooper, who also had a double, was two for three with three runs scored and three runs batted in. Prather was two for four with three RBI and two runs scored and Scott Breslin was two for two with a sun scored.
---