Passenger numbers at Bob Hope Airport remain level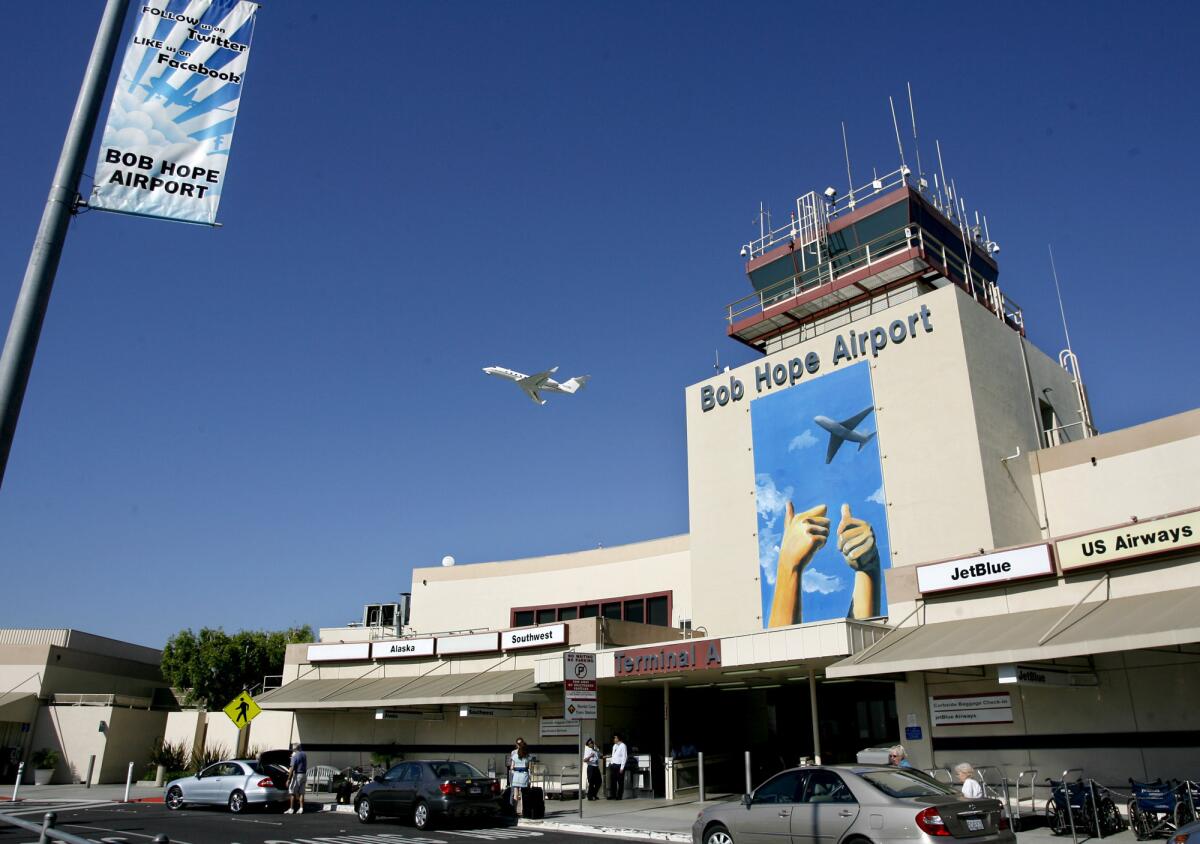 For the second month in a row, the number of passengers traveling through Bob Hope Airport was flat in September compared to the same month a year ago.
The relative flatline, up just 0.5% compared to September 2014, was reported Monday during a Burbank-Glendale-Pasadena Airport Authority meeting. It follows a similar plateau in August, but six months of increases before that.
There were 318,769 passengers in September, compared to 317,060 in September 2014, missing airport projections for the month by more than 5,500 passengers.
"September's numbers fell a little bit shy of the projected budget," said Mark Hardyment, the airport's director of government and environmental affairs.
For the first nine months of the year, there were more than 2.92 million passengers, compared to roughly 2.87 million passengers during the first nine months of last year, about a 2% increase.
Alaska Airlines saw a passenger hike in September of 12.5%, or roughly 4,000 passengers, while Southwest Airlines had a decrease of nearly 5,000 passengers, or 2%, compared to the same month in 2014.
United was up 16%, or 2,700 passengers, and SeaPort Airlines, the airfield's smallest carrier, grew from 221 passengers in September 2014 to more than 1,100 this past September.
The airport's remaining carriers saw numbers that were "pretty much even across the board," Hardyment said.
However, the airport's parking revenues in September decreased nearly 2.1%.
Dan Feger, the airport's executive director, said it's unusual that parking revenues would decrease during a month where passenger numbers remained largely the same.
"Historically, that would not occur," Feger said, attributing the phenomenon to the rise in popularity of transportation-network companies such as Uber, Lyft and Sidecar, which are "beginning to erode [the airfield's] parking revenue."
Drivers for those services are allowed to drop off passengers at the curb at Bob Hope Airport, but they're required to pick up customers in the short-term parking structure, where they must pay for parking while they wait. The minimum fee is $3 for the first half hour.
"We're seeing declines in all parking lots," Feger said, except the short-term parking structure.
While parking revenue was down, the number of drivers using parking facilities was up 7.5%, compared to the prior September. That's a direct result of transportation-network company drivers using the short-term structure, Feger said.
So far in 2015, Hardyment said the airport has contributed more than $1.5 million in parking-tax revenues to the city of Burbank's General Fund.
Most other airports in the region also reported rises in passenger tallies for September. The number of travelers at John Wayne Airport in Orange County rose by 11%. There was a 8.4% gain at Los Angeles International Airport and a roughly 1.6% increase at Ontario International Airport.
However, at Long Beach Airport, numbers in September showed a 5.2% decline, following four months of double-digit decreases compared to 2014.
--
Chad Garland, chad.garland@latimes.com
Twitter: @ChadGarland