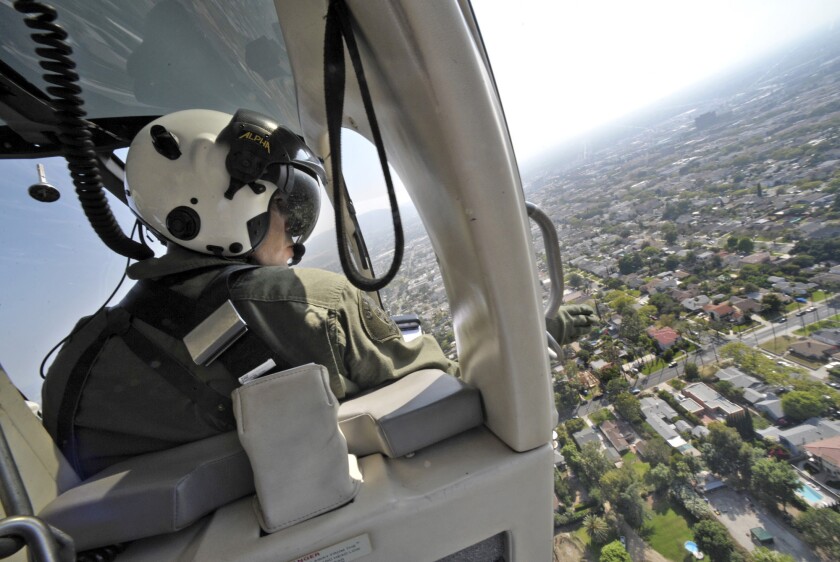 A 19-year-old Burbank man was arrested Friday night after allegedly pointing a green laser at a police helicopter three times, temporarily blinding the pilot, police said.
Shortly after 10 p.m., the Glendale and Burbank police helicopter was assisting officers on the ground with a burglary alarm call when the pilot reported that the cockpit was struck twice by the laser, 30 seconds apart, said Burbank Police Sgt. Claudio Losacco.
The pilot, along with the tactical flight officer, reportedly tracked the laser to a hillside home in the 1200 block of Verdugo Spring Lane.
Once the helicopter was hovering over the home, the suspect — identified as Karpis Sanosyan — reportedly shined the laser toward the helicopter a third time, temporarily blinding the pilot, who was able to maintain control of the aircraft, Losacco said.
Sanosyan was arrested on suspicion of pointing a laser at an aircraft. Police seized the laser pointer during the investigation.
Last year, the Federal Aviation Administration logged more than 5,000 laser strikes to aircraft, which can distract pilots and cause long-term eye damage, police said.
Sanosyan was released after posting $20,000 bail and is due in court next month.
--
Alene Tchekmedyian, alene.tchekmedyian@latimes.com
Twitter: @atchek
---