Burbank Unified to consider later start times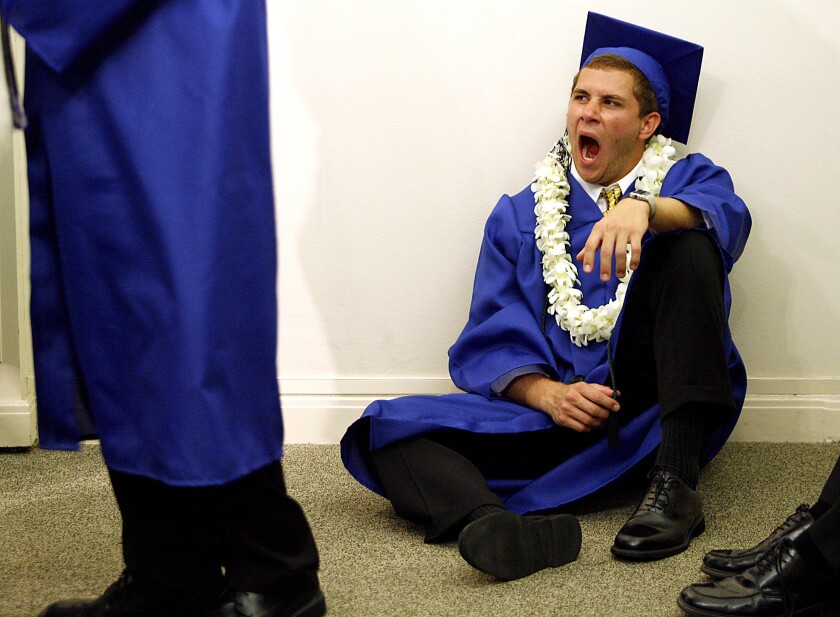 Noting a suggestion from a local mom, the Burbank school board has agreed to discuss later start times for middle and high school students, an idea gaining nationwide momentum following the American Academy of Pediatrics' endorsement.
Last month, the academy released a formal policy statement saying that starting school at 8:30 a.m. or later could help teens avoid depression, becoming overweight, getting into car accidents and may lead to better grades and higher test scores.
In addressing the Burbank school board last Thursday, Melinda Froelich, a mother of a high school sophomore and a second grader, said school start times are a topic "we should finally address." Currently, most Burbank middle school and high school students begin class at 8 a.m., with some beginning at 7 a.m. for "zero period" classes.
"If the evidence is so compelling, I just want to…suggest that we really need to look at starting our middle schools and high schools at 8:30 or later," she said. "By backing up the start time by the schools by half an hour, it seems that we will finally be in step with all the evidence with what's best for our kids."
In a statement, academy officials noted that after-school jobs, extracurricular activities, technology use and homework are some of the reasons to blame for teens' lack of sleep. Another challenge for many teens' is their natural sleep cycles that make it difficult for them to get to sleep before 11 p.m.
Overall, sufficient sleep provides them a "better quality of life," the policy's lead author, Judith Owens, wrote.
Despite the issue not being addressed before publicly, Burbank school board member Ted Bunch said that school administrators have already begun work on the idea.
"It's something that staff is looking into and I think both high school principals are actively looking at how to do this," Bunch said.
School board member Larry Applebaum said "it makes a lot of sense to at least talk about" potentially implementing later start times.
"I don't really need to do anything than to look at my daughter in the morning. I know that if I get her to bed at a certain point, she can get up in the morning and she has no problems. But that doesn't always allow her to get all the things she needs to get done, done."
He went on to say that many kids "are programmed to death."
"It's no surprise to me that they act out in a lot of ways because they are sleep deprived and they're just under tremendous pressure. And I know some of these kids who come into the [advanced placement] classrooms….have extremely rigorous academic schedules and they're engaged in sports and choir and do 500 service hours by the time they graduate."
If any changes were to occur, Applebaum said school officials would start by working with the teachers in discussing changes.
Fellow school board member Roberta Reynolds encouraged the conversation to continue.
"In my anecdotal experience, teenagers tend to be nocturnal. I remember being a nocturnal teenager and therefore getting them to go to sleep to get up earlier doesn't really work very well," she said. "I'd like to see that conversation continue, to see what we can do rather than all the right reasons why we can't do anything different we've been doing forever."
---