The All Amusement Fun Center appeared to be on its last tokens after the ownership announced to customers that the nearly 23-year-old arcade inside the Burbank Town Center would be closing its doors in March.
Jim Rowton, the 59-year-old La Cañada resident who has owned and operated the facility with his wife, Susan, since day one, thought his career in the arcade business would be over. However, Rowton has spent the last four weeks talking with CAPREF Manager LLC, the real estate operator who owns the Burbank Town Center, and it may not be game over for the arcade.
Rowton expects to sign a lease agreement in the next week with CAPREF to keep the All Amusement Fun Center at the mall, which is going through a $60-million renovation. Though he could not talk about specifics of the deal, Rowton said the arcade will move from the first floor to the third floor, should they sign off on the contract.
Join the conversation on Facebook >>
"I'm 99% certain we're going to have a deal, but there's a small chance we won't," Rowton said Wednesday afternoon at his arcade. "It's a pretty complicated and drawn-out process to really come to an agreement. We're very close. There were a couple of things that just had to get resolved in a way that worked for everybody. So I really do believe that we will ultimately reach an agreement."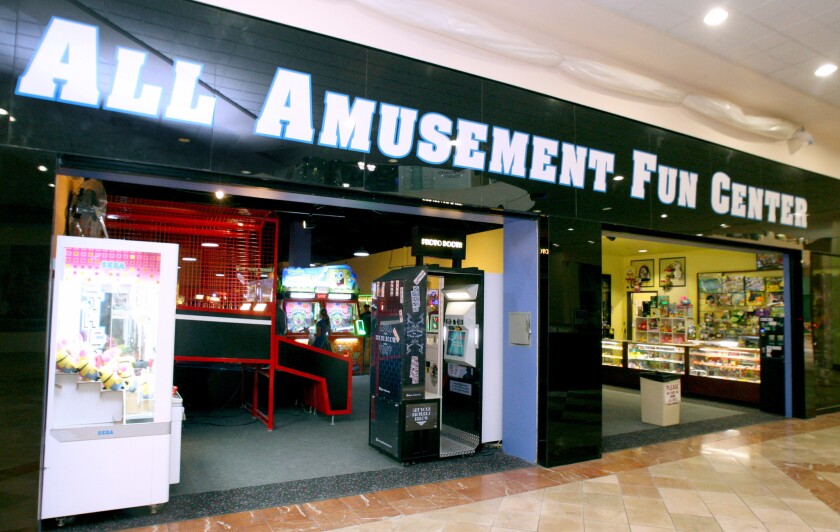 Talks about the arcade leaving the Burbank Town Center popped up this past fall, but Rowton said that he had been stressing about his lease agreement since last June, when CAPREF presented him with a short-term lease agreement that would have quadrupled his rent.
"It was a deal that was impossible," Rowton said. "There was no discussion. It was like that was it — take it or leave it."
Lance Taylor, a director at CAPREF, said that he and the company received numerous calls and emails from residents who pleaded with them to keep the All Amusement Fun Center at the mall.
Taylor said that the overwhelming support for Rowton and the arcade was something that could not be ignored. Additionally, he said that he could not ignore the rumors about CAPREF not willing to work with local businesses.
"We didn't want that impression of us out there because that's not who we are," Taylor said.
The CAPREF director flew out from Texas to Burbank specifically to talk with Rowton in person about what they could do that would be mutually beneficial. Taylor and Rowton talked for about 90 minutes during their first meeting and have been in contact with one another for the past month.
Both Rowton and Taylor said they believe they are at a point where all the parties involved will be happy with the deal.
"We're thrilled to have him," Taylor said. "He's been there a long time and he is a good traffic generator for us. There was never any intention of us just kicking him out just because we had something better planned."
It has been a stressful four weeks for Rowton and his family. Rowton said that he had many sleepless nights and was constantly worrying if he would have to sell off all his machines and vacate their location in the mall.
"I was prepared for whatever the outcome was going to be," he said.
Rowton said that he was moved by the Burbank community for coming out and fighting for his business. He was also grateful for Taylor willing to talk with him face-to-face and negotiate an agreement that satisfied both sides.
"[Taylor] has really taken the bull by the horns and really led all of that to bring us to where we are right now," Rowton said. "Lance is an honorable guy, and I was extremely thankful and appreciative."
--
Anthony Clark Carpio, anthonyclark.carpio@latimes.com
Twitter: @acocarpio
---