Burbank expects its bikeway to be completed next summer but still seeks public feedback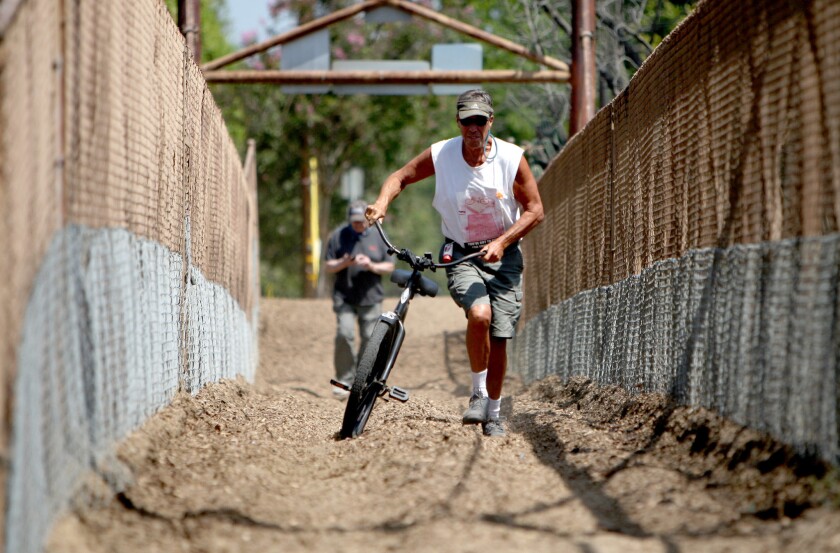 Staff members from the Burbank Community Development Department sought feedback Wednesday from residents regarding design features of the second phase of the Burbank Channel Bikeway as the city waits for initial plan checks to go through.
Ross Young, the city's project manager for the bikeway, told residents during a community meeting that the $4.4-million pathway — which would run along the Western Flood Channel from Alameda Avenue to Olive Avenue, where the Downtown Burbank Metrolink Station is located — is currently being reviewed by the Los Angeles County Flood Control District and will soon be reviewed by the Army Corps of Engineers.
He said he anticipates both plan checks will be completed this coming summer.
Young added that he expects construction to begin late next year and be finished by summer 2018.
Join the conversation on Facebook >>
While the routes are being reviewed, the Community Development Department decided to start gathering input from residents on what trees, shrubs and walls should be planted along the path.
City staff is suggesting using an earth-toned brick wall rather than a cement wall along the bikeway to give it a more appealing look. Mexican elderberry, cork oak and western red bud trees were recommended to be planted along the pathway, Young said.
Resident Mary Butler said that she liked the design suggestions for the project. However, she and a few other residents expressed concerns about public safety on the bikeway.
Butler, who lives on Elmwood Avenue west of the bikeway, said that a bridge that's off the bikeway and goes over the flood channel was once used by "gang members" as an escape route.
Unwanted activity has since stopped because the bridge is open only during the day for students to use when they walk to and from school, but Butler said she fears that criminal activity might come back to the bridge if it is opened for bicyclists.
"I hope we don't get started with the gangs again," Butler said. "That's what I'm afraid of."
Young said the bridge will continue to function as a footbridge for students and will not be permanently open.
Resident Mike Hollis, who is the chairman of bicycle-enthusiast nonprofit Walk Bike Burbank, said the overall project is an important asset for the city to have and is a step forward toward getting more people to ride bicycles.
"It seems like a short section of bike path, but it's an important link in what we need at this point," Hollis said, adding that the Burbank Channel Bikeway would connect the San Fernando Valley to Los Angeles and beyond. "I'm very excited to see this progress."
--
Anthony Clark Carpio, anthonyclark.carpio@latimes.com
Twitter: @acocarpio
---