Roughly 300 volunteers pitch in to finish Burbank's Rose Parade float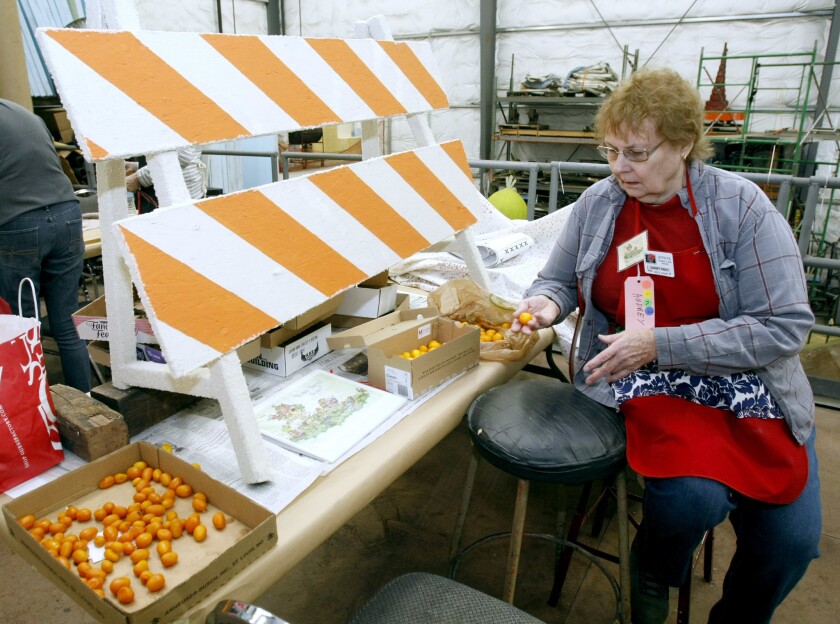 A warehouse next to Burbank Water and Power on Olive Avenue was buzzing with dozens of people Thursday morning as volunteers with the Burbank Tournament of Roses Assn. meticulously decorated their float and assembled its remaining parts.
Volunteers from Burbank, surrounding cities and even the East Coast were all working on some part of the float, which is titled "Home Tweet Home." Whether it was a bird fountain, panels for a bird house or a giant measuring tape, everyone was helping put crushed split peas, black rice or sunflower petals on anything that needed to be covered with plant materials.
Though the dedicated volunteers with the Burbank Tournament of Roses Assn. work on their floats all year long, the last week before the Rose Parade — dubbed by many as "deco week" — is arguably the most stressful time of year for volunteers.
Join the conversation on Facebook >>
Audrey Prest, chair of the decorations committee, had just arrived back at the warehouse after getting an additional 75 pounds of yellow split peas needed for the float after learning that they needed more.
However, that wasn't the biggest worry she and other volunteers had during the last five days.
An email blast from Steve Edward, the association's vice president, was sent at 1:23 a.m. on Christmas Day in search of a source of kumquats after a vendor informed the association that it had run out of the small citrus fruits a few days before deco week, Prest said.
"I think I ordered them in October, and he had my phone number," she said, adding that the vendor could have told her earlier.
Linda Cozakos, co-chair of the decorations committee, suggested that Edward send an email to everyone on the association's mailing list and hope for the best.
"Now, we're in kumquat heaven," Cozakos said.
"We've had people come as far as Fresno telling us that we can come and pick the kumquats off their trees," Prest said. "We've even had people from Ventura telling us that we can come get them."
With their kumquat crisis averted, Prest and Cozakos were able to go back and help the rest of the volunteers with the decorations.
Prest said that they are about 50% of the way through the decoration phase and that she and the estimated 300 volunteers helping this week will get the job done before parade time.
One of the volunteers, Santa Clarita resident Nancy Beg, was busy covering the giant measuring tape hanging off the front of the float with yellow sunflower petals.
Beg, whose family was from Burbank, said that she decided to volunteer this year because she wanted to keep a promise she made to herself after her brother passed away on Christmas Eve.
"I promised myself that I would say 'yes' to everything," she said.
Also volunteering was a trio of Maryland sisters who were covering the bird fountain with seeds. Their parents used to frequently volunteer with the Burbank Tournament of Roses Assn.
Lauren Latimer, 22, the oldest of the bunch, said that she started volunteering when she was in middle school and needed volunteer hours. Since then, she became hooked on helping Burbank with its float and tries to make it out to Southern California to help whenever she can.
"I love seeing it go down the street on New Year's Day," she said. "I know all the little details that I had my eye on or hands on."
--
Anthony Clark Carpio, anthonyclark.carpio@latimes.com
Twitter: @acocarpio
---