IKEA's largest store is set to open in Burbank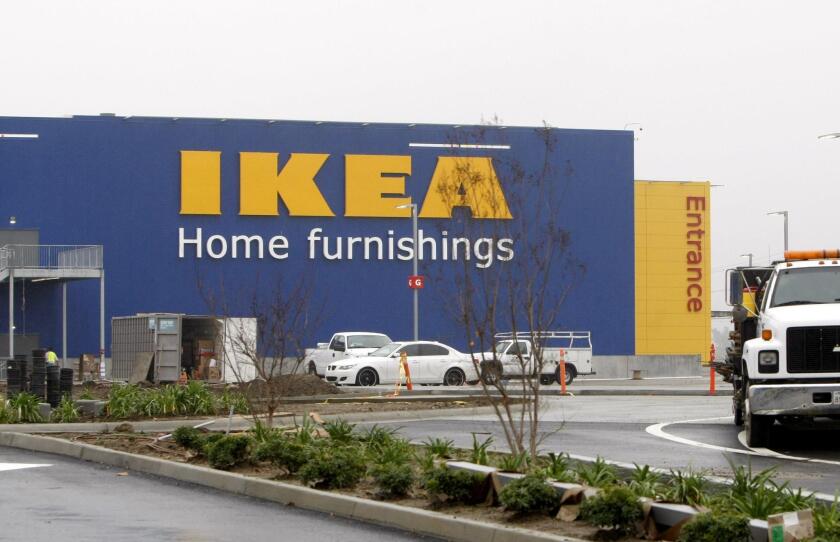 After more than a year of construction, the new IKEA in Burbank, which will be the largest IKEA store in the United States, will open in about a month.
Officials from the Swedish retailer announced on Tuesday that the 456,000-square-foot store at 805 S. San Fernando Blvd. will hold its grand opening on Feb. 8, according to a company statement.
People can line up at the store at 6 a.m. that day to join in the opening-day festivities and promotions.
"We are thrilled by the excellent construction progress and are confident we can complete the remaining milestones and interior build-up by early February," said Jeff O'Shaughnessy, the Burbank store manager in the statement. "We cannot wait for customers to experience our new store's ease of access, convenient parking and updated layout."
Join the conversation on Facebook >>
The existing 242,000-square-foot store, which is only a few blocks away at 600 N. San Fernando Blvd. in the Burbank Town Center, will continue its operations through Feb. 4 and will close permanently at the end of that day.
Last month, construction crews were working to finish all of the major plumbing and electrical work in the new store, while several employees from the current location started putting together the different showrooms.
The new store will have nearly double the warehouse capacity as well as feature a 600-seat dining area, a children's play area and 1,700 parking spaces, most of which are located underneath the store.
Joseph Roth, a spokesman for IKEA, said last month that the increase in square footage will allow the new Burbank facility to showcase all the latest items the retailer is selling. In the current store, officials have to pick and choose which items to display and decide what items to keep in inventory.
The Burbank IKEA first opened in 1990 and was the company's first store in California and sixth in the United States.
--
Anthony Clark Carpio, anthonyclark.carpio@latimes.com
Twitter: @acocarpio
---