What time should school start? Sen. Portantino introduces bill calling for 8:30 a.m. start time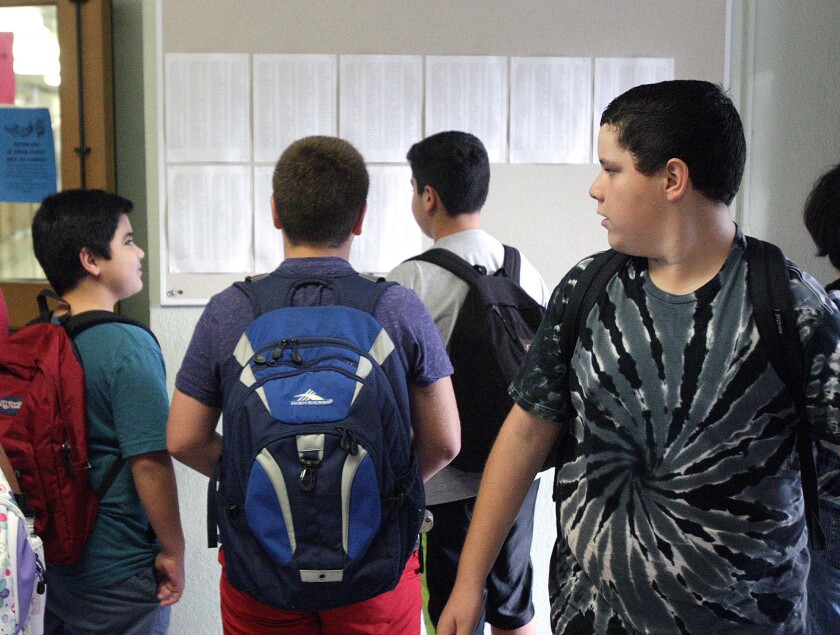 Local teens may catch a few more Zs during the school week under a bill that state Sen. Anthony Portantino (D-La Cañada Flintridge) introduced Monday.
Senate Bill 328 would require middle and high schools across California to start the school day no earlier than 8:30 a.m.
In his bill introduction, Portantino cited the American Academy of Pediatrics' policy statement released in 2014 advising school districts to start the day no earlier than 8:30 a.m.
Join the conversation on Facebook >>
Districts that have adopted the policy have reported improved attendance rates, state exam and college admission scores, and grade-point averages, according to the academy.
Research has also shown that students who start classes later are involved in fewer disciplinary measures and car accidents.
"I wanted to put an evidence-based, sound public policy discussion on the table," Portantino said, when reached by phone on Monday. "The educators I've talked to have all been supportive."
Since school districts coordinate with each other to schedule extracurricular activities and sports games, one district can't set classes back without others doing the same, which gave Portantino another reason to introduce the bill.
"I think it's important to have a statewide conversation on the issue," he said.
In Glendale and Burbank, most middle and high school students begin the school day at 8 a.m., but some students enrolled in a zero-period schedule, where there is an additional period at the beginning of the day, can start as early as 6:55 or 7 a.m.
Each year, a few Glendale parents call school officials or speak at a school board meeting to inquire about starting the school day later, said Kristine Nam, communications director for Glendale Unified, but most complaints are tied to the start time of a zero-period schedule.
Locally, the challenge in coordinating after-school activities and sports games at a later time has halted any serious change.
Shortly after the American Academy of Pediatrics endorsed a later start time, Burbank parent Melinda Froelich requested in 2014 that the school board look into making a change in Burbank's secondary schools.
School board members were not opposed to the idea at the time, but start times remained the same, spurring Froelich to return to the school board in 2015 to again ask about starting later, said Burbank Unified Supt. Matt Hill.
In response, school officials surveyed parents, employees and community members, but the results were mixed.
"We didn't have a consensus of people saying they wanted to move forward," Hill said.
Some respondents were concerned about pushing sports games and after-school activities back, while some working parents said they preferred dropping off their children at school under the current schedule.
In years past, Burbank school officials asked secondary teachers if they've wanted to teach periods two through seven instead of one through six, which would give some students the option to start the school day later.
While no teachers stepped up in years past, Hill said school officials have started asking teachers about their preference again.
--
Kelly Corrigan, kelly.corrigan@latimes.com
Twitter: @kellymcorrigan
---