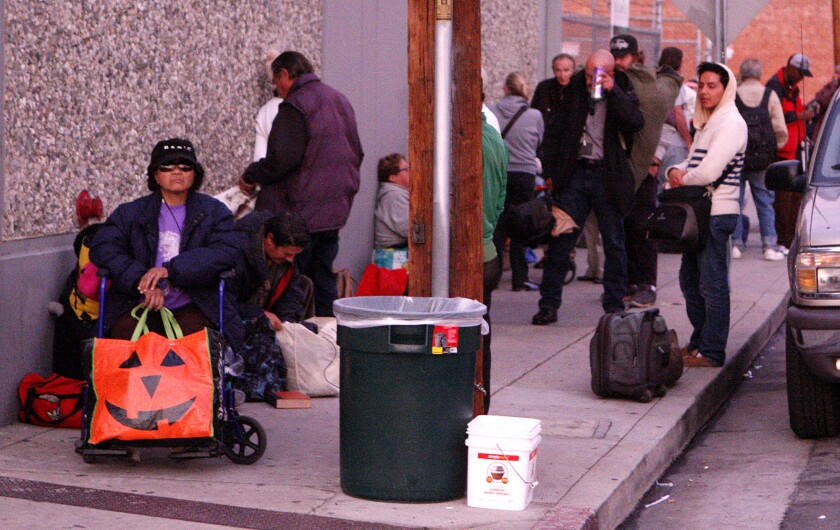 Voters in Burbank and Glendale were among area residents who supported a Los Angeles County ballot measure that aims to address homelessness.
With 100% of precincts reporting, the L.A. County Registrar-Recorder reported that 67.4% of voters supported Measure H, which was just above the two-thirds majority needed for it to pass. However, officials have yet to call the election because late absentee votes and provisional ballots will still be counted over the next few days.
Should the two-thirds majority hold, Measure H would establish a quarter-cent sales tax in the county to fund programs designed to combat the ongoing homelessness issue seen in cities across L.A. County.
The tax is projected to generate about $355 million annually over the next 10 years.
Join the conversation on Facebook >>
The revenue could be used for programs and services such as substance-abuse treatment, housing subsidies, case-management services, mental-health programs, transportation and affordable housing, according to an impartial analysis written by the Los Angeles County Counsel.
The money generated would be distributed to various cities and nonprofits in the county based on need, which would be decided by a panel of 50 people from various agencies and nonprofits.
In Burbank, 4,358 voters supported the quarter-cent tax, while 2,094 residents voted against it.
Barbara Howell, chief executive of the nonprofit Burbank Temporary Aid Center, known as BTAC, said she understands that although there are some people in the county who might be burdened by an additional tax, the ballot measure is necessary to start addressing homelessness issues she thinks have been ignored for years.
"I know that [an] additional tax is not what most people in [Southern] California really would like, but Measure H is going to help us aggressively address homelessness and the causes of it in our community," she said.
Howell said that she does not know if BTAC will receive any funding from the county, but she is pleased knowing that a big first step has been taken to deal with homelessness.
She added that, even though the ballot measure may be approved soon, it will still take some time to get all the programs up and running.
"It's not going to solve the problem tomorrow," Howell said. "There's a lot of pieces that need to fall into place, so I hope the greater Los Angeles area will also be patient and supportive as we get those things in place."
In Glendale, there were 6,392 voters who supported Measure H, while 3,531 residents voted against it.
Natalie Komuro, executive director of the nonprofit Ascencia in Glendale, said her organization sees Measure H as a possibility that could increase local investment in homeless services and help with emergency housing.
Komuro, who has about 30 years of experience with homeless services, said the ballot measure's approval is the result of years of working and understanding the different ways to help homeless people.
"For the casual observer, it may seem like it's something that's been thrown out there as a Hail Mary, but this is not that," she said. "This is something that has been building up for years and years. I'm looking at this like, 'Holy cow, finally.'"
Additionally, there were 727 voters in favor of the special tax in the unincorporated areas of La Crescenta, and 527 residents who opposed it.
--
Anthony Clark Carpio, anthonyclark.carpio@latimes.com
Twitter: @acocarpio
---