Burbank, Metro to negotiate agreement for new Metrolink station at Hollywood Burbank Airport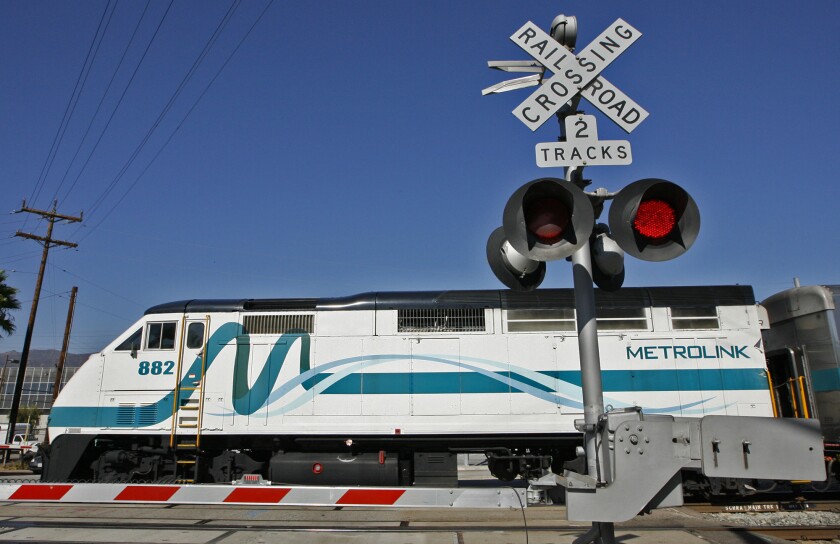 With Metro moving forward with its project to build a Metrolink station on the north side of Hollywood Burbank Airport, Burbank City Council directed the city manager to negotiate with the transportation agency to draft an operations-and-maintenance agreement for the new facility.
Council members unanimously voted during a meeting Tuesday to have City Manager Ron Davis start talks with Metro, the Southern California Regional Rail Authority — known as Metrolink — and the city of Los Angeles to figure out which agency will be in charge of operating and maintaining the estimated $15-million station on San Fernando Boulevard west of Hollywood Way.
About $12.3 million from Measure R and a $2.7 million grant from the Burbank-Glendale-Pasadena Airport Authority will fund the project.
Join the conversation on Facebook >>
The new Metrolink station, with construction expected to begin in February and completion slated for the following December, is aimed at providing those living in and around the Antelope Valley a stop at the recently approved replacement terminal on the airport's northeast quadrant, known as the B-6 parcel.
"We will truly provide a truly transit-oriented development with the newly [voter-approved] adjacent terminal, as well as the future B-6 development," said Jeanet Owens, senior executive officer of program management and regional rail for Metro.
David Kriske, assistant community development director of transportation, told council members that he estimates annual maintenance costs for the station will be about $80,000, which includes cleaning, lighting, utilities and graffiti removal.
The city of Los Angeles has agreed to pay for a third of the costs, while Burbank will pick up the rest, which Kriske estimates will be about $53,000 per year.
To possibly offset those costs, Kriske said that the city could modify the Empire-to-downtown BurbankBus route, which could save the city $80,000 annually.
Councilman David Gordon, who was hesitant to approve the item, asked whether Metro was planning to put in a second train track in that corridor, and if so, why not wait until the track is put in and build a platform in the middle of the two tracks.
Kriske said that Metro does have plans for two tracks in that corridor and they are currently in the design phase. However, he added that the Measure R funds allocated to this project need to be used within a certain amount of time. If not, the money will be allocated to another Metro project.
"In my opinion, based upon my experience, I would seize this opportunity to get this station constructed and funded by an outside entity," Kriske said. "If you've decided that that's a valuable thing to the city, I wouldn't wait for the perfect, opportune way to build the facility."
--
Anthony Clark Carpio, anthonyclark.carpio@latimes.com
Twitter: @acocarpio
---