Burbank school board reaffirms district as 'safe' for all students, regardless of immigration status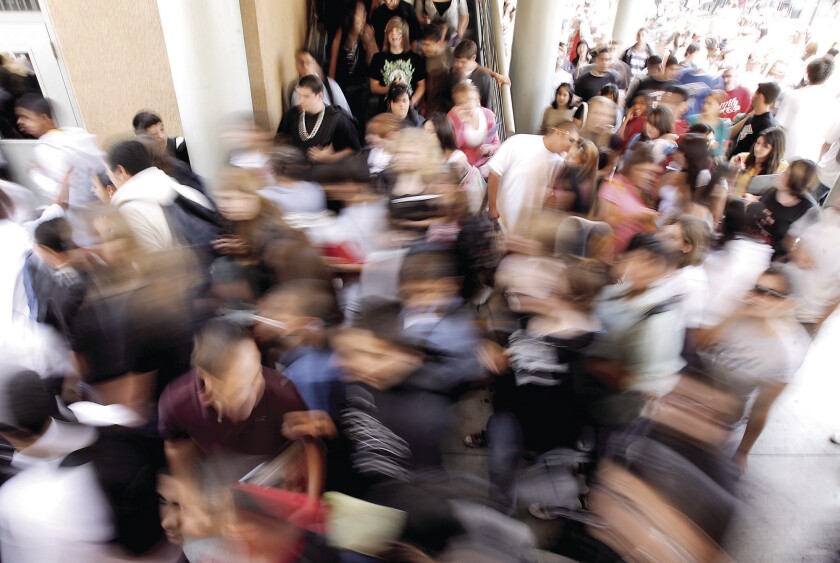 Several local parents broke out in applause during a Burbank school board meeting last week after board members passed a resolution that reaffirms a safe and equitable environment for all students, regardless of their immigration status.
Titled "Reaffirming a Safe and Nondiscriminatory School Environment," the resolution was brought to the school board for consideration last Thursday following California state officials' desire for school districts to be declared "safe havens" for students and their families.
The board passed the resolution with a 5-0 vote.
Join the conversation on Facebook >>
State officials began pressing school districts to pass resolutions in December, before President Donald Trump issued a ban last month on the entry of refugees and citizens from seven Muslim-majority countries into the United States. The ban has since been blocked and met with skepticism from federal appeals court judges.
Burbank school officials said they sought to make it clear to residents that district employees "shall not inquire about a student's immigration status" and that "district personnel shall treat all students equitably," according to the resolution.
"I don't want there to be confusion in our schools. Our responsibility is to have safe learning environments. I find that this resolution clarifies that," said Burbank Unified Supt. Matt Hill. "There are families that have come to me privately saying, 'I am concerned.' If we have not walked in their shoes, then we do not know what they're going through."
Hill said some residents criticized the resolution for being "redundant," but Burbank parent Chris Cookson supported the resolution.
"We have a diverse and strong school district," she told the school board. "It is important that we put the well-being of our children — all of our children — first. Last spring, my 8-year-old son came to me scared. He was legitimately frightened that a friend of his would be deported if Trump was elected because she's Mexican. Even the little ones pick up on the political climate right now in our country. But this should not affect them."
--
Kelly Corrigan, kelly.corrigan@latimes.com
Twitter: @kellymcorrigan
MORE EDUCATION
Burbank Educational Foundation brings back State of the Schools breakfast among its fundraising activities
Burbank school board hopefuls state their cases in candidate forums
Mechanical engineer shares how JPL scientists communicate with Curiosity rover
---